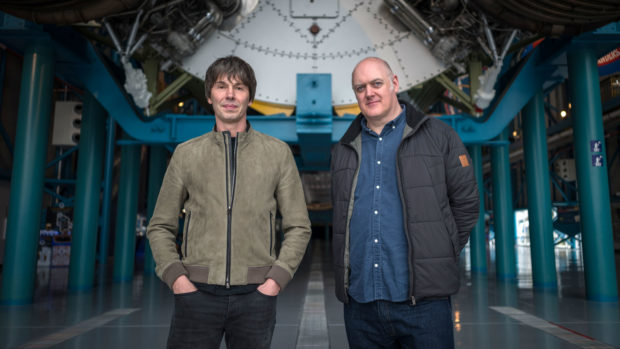 This week, Paul travels to the moon and gets back in time for tea with Bros.
NEXT WEEK'S TV
STARGAZING: MOON LANDING SPECIAL
Monday, BBC Two, 9pm
The 50th anniversary celebrations of the Apollo 11 moon landing – face facts, conspiracy theorists, it happened – continue with this 90-minute excavation hosted by those friendly faces of popular TV science, Professor Brian Cox and Dara O'Briain. They travel to Cape Canaveral to mark that, to say the least, historic achievement while shedding light on the future of human space travel. However, it's largely devoted to examining the fascinating step-by-step details of launching Armstrong, Aldrin and Collins into space. It's packed with tremendous nuggets of trivia: did you know that astronauts, for luck, urinate on the back wheel of the bus that ferries them to the Launchpad? Crude, maybe, but humbling in a way. One giant wee etc.
NADIYA'S TIME TO EAT
Monday, BBC Two, 8pm
In which top TV cook Nadiya Hussain breathlessly proclaims "These days, we all seem to be rushed off our feet!" I will never be in any danger of being mistaken for a stunningly perceptive social historian, nor indeed a normal person with an actual life, but I daresay comfortably middle-class people aren't more harried now than they've ever been. Keeping up with all these aspirational lifestyle guides can't be easy, though. That is their exhausting curse. Anyway, this harmless new series finds the likeable Bake Off winner showing us how to rustle up "cheeky" stress-free meals for the working mum on the move. She begins with some of her favourite time-saving recipes, including pancakes, noodles and omelettes.
GAMEFACE
Wednesday, Channel 4, 10pm
The excellent Roisin Conaty will be familiar to viewers who managed to get through Ricky Gervais' boring, inane and inept After Life. Thankfully, this self-penned starring vehicle shows off her talents to better advantage. It's a sitcom in which she plays a jobbing actor going through therapy. Don't let that synopsis put you off, it's not self-indulgent at all. Conaty is funny, smart and charming. In the first episode of this second series, she goes for a driving test and pretends to fail so she can see her slightly weird yet handsome instructor again. Gameface is what Miranda would look like if someone with an actual recognisable life had written it. A good, perceptive series, you'll probably like it.
A NIGHT IN WITH BROS
Friday, BBC Four, 10pm
When Matt and Luke Goss, formerly best known for their 18 months of pop idol fame in the late '80s, agreed to participate in a 'comeback' documentary last year, they couldn't have anticipated the overwhelming response. That's because Matt and Luke are a pair of endearing bozos whose Spinal Tap-esque pronouncements are hilarious in ways they will never truly understand. Good luck to them, I say, they mean no harm. They've had the last laugh? During this no doubt immaculately curated evening they'll be capitalising on their unlikely second wind with a roster of newly filmed backstage clips, archive snippets from the artists who inspired them and, inevitably, a repeat of that extraordinary documentary. You'd have to possess a heart of sludge to begrudge them this 'ironic' resurgence.
FILM of THE WEEK
HAIL, CAESAR!
Monday, Film4, 6:50pm
Not the best of the Coen Brothers crop, admittedly, but this daft farce is not without its charms. Their favourite screwball star, George Clooney, plays a '50s Hollywood icon struggling with a tumultuous day involving kidnap, a secret pregnancy and a difficult director. A sly satire of showbiz hypocrisy and outright madness, it also stars Tilda Swinton and Josh Brolin.
LAST WEEK'S TV
IMAGINE… EDNA O'BRIEN: FEARFUL AND FEARLESS
Sunday July 7, BBC One
One of the greatest and most influential writers of her generation, O'Brien caused cassock-clutching scandal in her native Ireland when, in the '60s, she dared to publish books declaring that women had sexual thoughts and impulses. Now aged 89, this brave, bold, brilliant woman led a mercifully unobtrusive Alan Yentob through a saga during which she survived appalling, stifling prejudice. A hero for the ages.
ARENA: THAT SUMMER
Sunday July 7, BBC Four
Reader, if I could live my life again I would be photographer Peter Beard. He was the subject of this absorbing documentary in which he idly, warmly flicked through the pages of a life spent in the company of Mick Jagger, Jackie Onassis, Andy Warhol, Truman Capote and herds of elephants. What a fascinating man.
CLASSIC ALBUMS… THE CRICKETS: THE 'CHIRPING' CRICKETS
Friday July 12, BBC Two
Here's a concept for Richard Curtis to chew on: imagine a world in which Buddy Holly's first album didn't exist. There would be no Beatles, no Rolling Stones, God forbid, no Ed Sheeran. This pleasant documentary traced the origins and growth of a band who basically defined the classic guitar/bass/drums template. Contributors included original Cricket Jerry Allison and awestruck acolyte Cliff Richard.