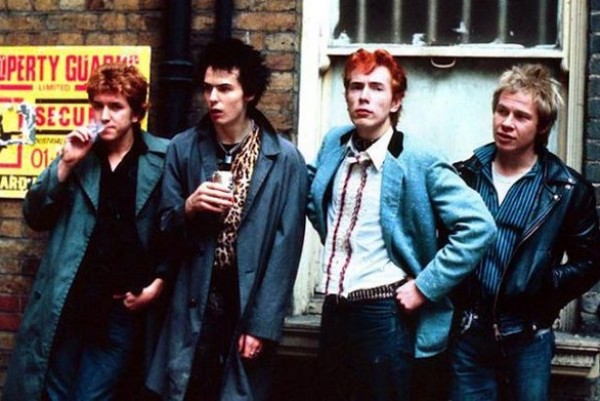 Murray Chalmers writes regularly for The Courier's food magazine The Menu. Here he takes us back to the 1970s with a retro-inspired meal  complete with prawn cocktail and steak…
I've been thinking a lot about the 70s recently – both the over 70s and the 1970s.
But today let's focus on the happier time – the rocket-fuelled decade that was the biggest trip of my life and which made me the man I am today.
Often called the decade that taste forgot, I would have to disagree.
I became a teenager in 1972 and thus felt that the decade was mine – as ripe as a pear poached in cheap red wine, as oven-ready as a factory chicken or a distinctly continental gratin dauphinois, I grasped the years with the arrogance, bravery and naivete that only really belongs to the young, the thin and the beautiful.
Youth was not wasted on us, and neither were platform boots.
School became a fashion show, where we would trade David Bowie's home address for a Mars Bar, and where carrying the first Roxy Music album under your arm made you the undisputed king of Harris Academy.
I was so androgynous that Mr Stibbles, our alpha male PE teacher, would bellow that I'd better get a haircut otherwise my father would think he'd raised a girl.
This was in a class titled 'anatomy, physiology and health' and Stibbles, fermenting with testosterone, clearly thought I was lacking in all three.
Oh, how I wished David Bowie could have been there to see me swell with pride at this attempted insult –  he would have thought his job in Scotland was done.
I was Bowie's feather-cut, stack-heeled self-appointed representative on earth – well, Tayside at least, and at the very least my bedroom in 140 Broughty Ferry Road.
We lived for Bowie; Alan Yentob's brilliant 1975 Cracked Actor' documentary summed it all up when a fan spoke of living in a universe where we were the space cadets and David was the commander
So really, how can a decade that gave us T.Rex, Bowie, the Sex Pistols, Siouxsie, platform shoes, Biba, flares, Patti Smith, 'The Female Eunuch' and chicken kiev be accused of lacking anything in the taste department?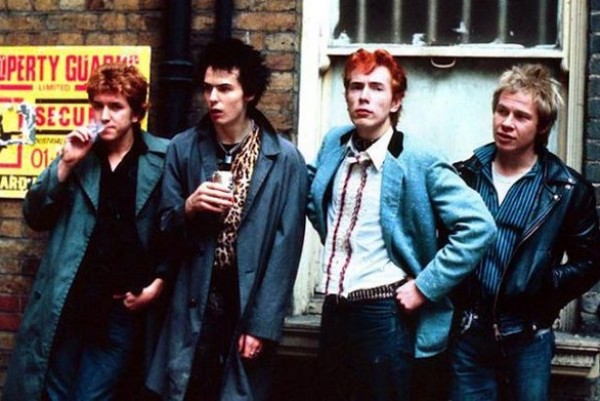 Hell, the decade was just GROANING with taste, like a hot 1976 summer of strawberries that just kept producing an abundance of fruit – and most of it was strange and most of it was free and there for the taking.
The 70s were when I first heard the Ken Kesey phrase "you're either on the bus or off the bus" in terms of whether you live your life open to new experiences.
I was welcomed onboard by a student who had come to work over the summer in the factory I worked in, where the workforce (mainly women) would test and pack surgeon's gloves all day.
The atmosphere was febrile and the chat was filthy, and naturally the filth was instantly ramped up to embarrass any stray male in the vicinity.
My mum was the general manager so the boss's son was fair game and I had to brazen out a lot of banter. Most of the women were great, many coming from the school of hard knocks, and sadly not all of those knocks had been only mental.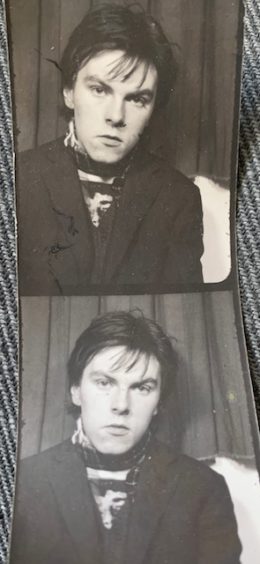 It was a huge learning process for a 16 year old but amongst the sadness and inevitable boredom that comes from repetitive work, there were huge moments of kinship and levity.
I remember a wonderful woman called Ina who was the unwitting Germaine Greer of Lochee, fearless, sexual and free – at a time when women and gays were kept in their place she was definitely on a bus going somewhere new and open.
The work was pretty soul-destroying and only the radio kept us going until tea break. I was a punk at the time (I turned 17 in 1976) and would go to work in an Anarchy in the UK T-shirt which cost me £5 in Vivienne Westwood's shop Sex; yet it was two distinctly non-punk records that defined factory life for me.
The first, Thelma Houston's Don't Leave Me This Way would create an instant disco frenzy amongst the women, during which the machines could barely match the beats per minute of their increased productivity.
No surgeon's glove was safe with Thelma and woe betide any tannoy announcement that would break the communal reverie when she sang.
After this disco fever only factory favourite Demis Roussos could quench a hysteria that hung in the sterile air like sweat in a sauna.
We might not have been able to pronounce his name – within these walls he was Dennis Roussof – but Forever and Ever was still played every summer, promising a life of Aegean beaches, kebabs and sun, far away from the grim reality of clocking in and rent books.
Food in the 1970s wasn't great, although in truth we rarely ate out. Every Saturday we would have pie and beans for lunch and steak and chips for dinner.
The steak would be wafer thin "minute steak" fried towards bovine unrecognisability and served with chips, grilled tomato and mushrooms.
After a frenzy of frying worthy of a chip shop, Mum would proudly ask if we wanted gravy and then she would pour the fat from the frying pan over the incarcerated meat.
That was gravy and of course it was delicious because it was all we had and it was all we knew.
This column was prompted by memories of the last protracted time I can remember being stuck at home without being ill – and that was the 1970s, when strikes, an energy crisis and political unrest led to a three-day week and regular power cuts.
Reliving those years in culinary terms, there was really only one cookery book I could turn to for inspiration.
The Prawn Cocktail Years by Simon Hopkinson and Lindsey Bareham (now out of print) chronicles, celebrates and updates food from a time when Tupperware was ubiquitous, having wine with meals was kept for Mateus Rosé or Blue Nun served warm at Christmas and when fruit juice was billed as a starter on many restaurant menus.
Our wine was kept in a 1940s behemoth of a cocktail cabinet which had somehow landed in our council house from an age that didn't celebrate plastic. We would eat and then watch Cilla Black on the BBC and my mum would go out and I'd be left to my dreams – which, in truth, were mainly of escape.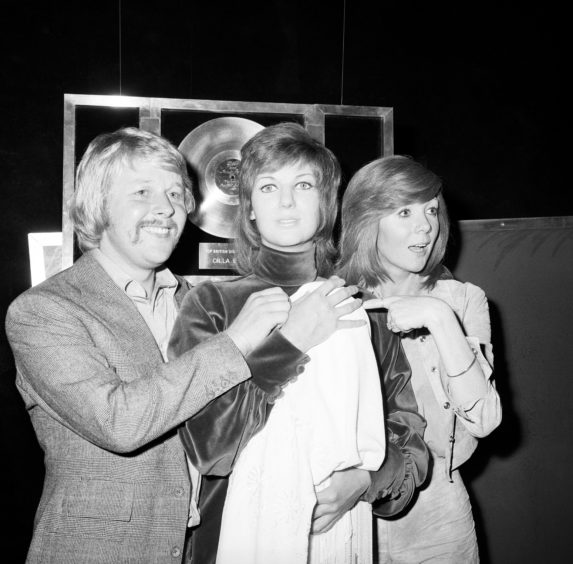 This was a time when grilled grapefruit sprinkled with brown sugar was a thing, when you shared a phone line with your neighbour and when affectations became the norm.
Council houses like ours, just a few years on from hiding behind the sofa when the insurance man attempted to collect his weekly payments, would suddenly have hostess trolleys, coffee percolators, food warmers and steak knives – a sort of aspirational bow to the upper classes and the idea that a better life was just a Boots orange sun lamp away.
After Eight mints were served after the meal, although my unsophisticated palate preferred Matchsticks, the Coronation Street to After Eight's Dynasty.
The Prawn Cocktail Years (1997) is such a brilliant distillation of the times in that it is written as a serious, well-researched book (the Hopkinson/Bareham partnership is as buoyant as a Space Hopper) and yet it retains affection, warmth and humour for a decade that was previously much maligned.
By the time of the second printing nine years later it must have been gratifying to see so many of the dishes in the book become respected staples on many restaurant menus.
Looking through it now I see many rediscovered classics like duck à l'orange, beef wellington, leeks vinaigrette, cheese fondue and wiener schnitzel and they now bring a warm glow of gratitude, rather than a feeling of dread.
The sense of breaking free of a dreary small island is palpable – no brown Windsor soup here. Just as Hopkinson's classic Roast Chicken and Other Stories (also written with Lindsey Bareham) helped redefine great home cooking, so does this follow up volume redefine an era.
This week was our friend Alvin's birthday. He's stranded next door to me, unable to travel back to his home in Spain until lockdown is eased. So I decided to cook him the classic 1970s menu which introduces The Prawn Cocktail Years: prawn cocktail; steak garni with chips; black forest gateau.
All three dishes became obvious cheap jokes, throwbacks to a bygone age – but they are delicious when prepared properly. The prawns must not be those "tasteless, bulk-frozen little pink commas" ridiculed by the authors (mine were huge plump beauties from Balgove Larder).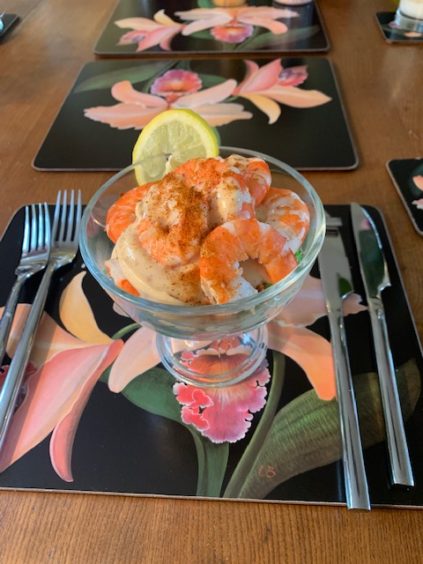 The mayonnaise must be homemade (it's dead easy) and the tomato ketchup for the Marie Rose sauce MUST be Heinz, as specified in the book; "however hard one tries it is impossible to replicate the taste of Heinz tomato ketchup. No other will do".
I have to tell you that this prawn cocktail was glorious.
The steak also came from Balgove and was just the best. Head butcher James Lothian told me that the beef – an Aberdeen Angus cross from their own farm – is aged on the bone for at least 28 days and you can tell.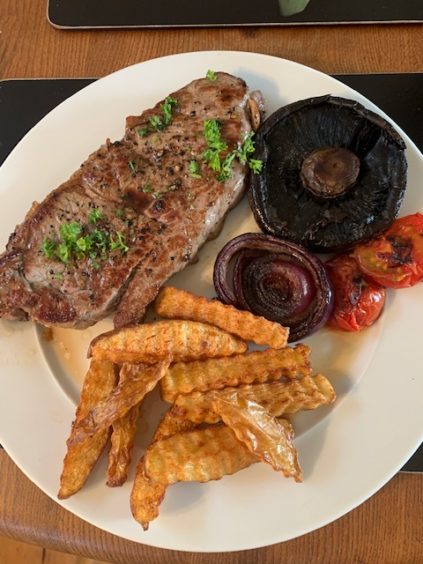 To respect all the work that had gone into producing such quality meat, I cooked the steaks in butter from the Edinburgh Butter Company (available at the Newport bakery), and brushed them with sticks of rosemary and a crushed clove of garlic.
This anointing might seem a frippery too far but, trust me, sweeping a steak has never been so worthwhile. The steaks were served with tomato, mushrooms and crinkle cut chips.
The Black Forest gateau was a mild faff because I couldn't find tinned cherries in the Co op and I forgot to order kirsch online. But making the sponge took minutes and the filling – an ambrosial mix of cherries and cream – was a doddle.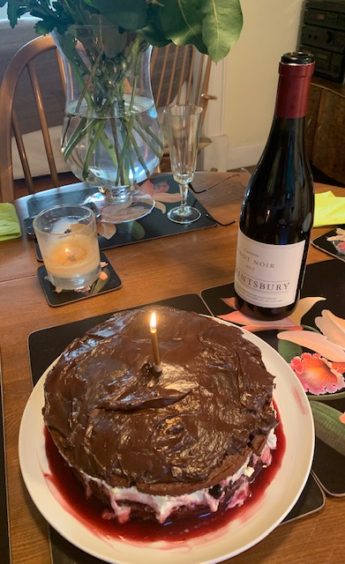 I normally can't be bothered icing cakes but here it was a necessity, both to cover up the cracks on the top of my sponge and as a complementary hit of bitter-sweet chocolate after the sugar rush of the cream.
I couldn't find any Blue Nun and anyway that's a retro step too far but actually the best accompaniment to ANY 1970s dinner party comes in the form of this brilliant playlist which was specially compiled to go with this meal by my friend Alexis Petridis.
Alexis is the Guardian's award-winning head rock critic and the ghost-writer of Elton John's best-selling autobiography Me, which was published last year. What he doesn't know about 70s music could fit on the bell of a Chopper bike.
Alexis says: "The idea is this playlist starts out very mellow, picks up a bit of steam around the time you serve dessert, by which time everyone's pissed on Blue Nun or Black Tower – then there's a bit of dancing around the coffee/ 'anyone for a crème de menthe'?".
---
Alexis' playlist:
Deniece Williams     Free
David Essex                Rock On
Susan Cadogan         Hurt So Good
David Bowie              Drive In Saturday
Harry Nilsson            The Moonbeam Song
Todd Rundgren        I Saw The Light
Lou Reed                   Satellite Of love
Joni Mitchell             Free Man In Paris
Helen Reddy             Angie Baby
Ann Peebles             I Can't Stand The Rain
Kiki Dee                     Amoureuse
T.Rex                          Life's A Gas
Mink DeVille            Spanish Stroll
Roxy Music              Pyjamarama
Lynsey de Paul        Sugar Me
Cockney Rebel        Judy Teen
Grace Jones             La Vie En Rose
Marshall Hain         Dancing In The City
Stevie Wonder      He's Misstra Know-It-All
Fox                           Only You Can
Sailor                        A Glass Of Champagne
Curved Air              Backstreet Luv
Blondie                   (I'm Always Touched By Your) Presence Dear
Diana Ross             Love Hangover
George McCrae    Rock Your Baby
Candi Staton         Nights On Broadway
Space                     Magic Fly
A Taste Of Honey  Boogie Oogie Oogie
Hot Chocolate       Heaven Is In The Back Seat Of My Cadillac
Thin Lizzy                Dancing In The Moonlight
Boz Scaggs            Lido Shuffle
See the full playlist here: https://open.spotify.com/playlist/50m1qjj9P6g0lojokD0oJZ?si=-JZ3SdUVQ9is_wXN23BCEQ
---