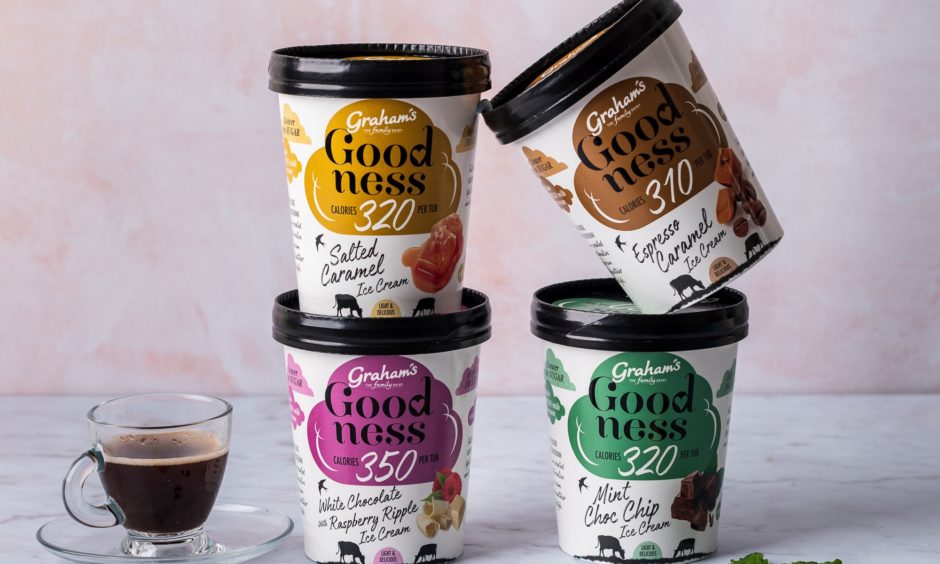 As the weather takes a turn for the better, Julia Bryce finds out what it takes to create best-selling ice cream brands that rival international competition.
On those rare hot summer days in Scotland, nothing quite beats the cooling, indulgent taste of ice cream, the drips melting down your hand as you lick furiously to ensure every last drop is consumed.
And while the weather can't quite decide what to do with itself just now, ice cream sales have continued to rise, despite the recent lockdown.
Turning to something sweet, many have taken sanctuary in tasty treats to see them through what was an uncertain time.
Statistics show the retail value of ice cream in Great Britain from 2007 to 2018 have increased year on year, rising from a value of 597.5 million British pounds in 2007 to over one billion British pounds by the year 2018. In total, this amounts to an increase of approximately 400 million British pounds in an 11-year period.
While many of the brands benefiting from this rise in sales may be international, there are a few Scottish ice cream manufacturers who have managed to capture these markets and become major players in the field, including Mackie's of Scotland, and Graham's The Family Dairy.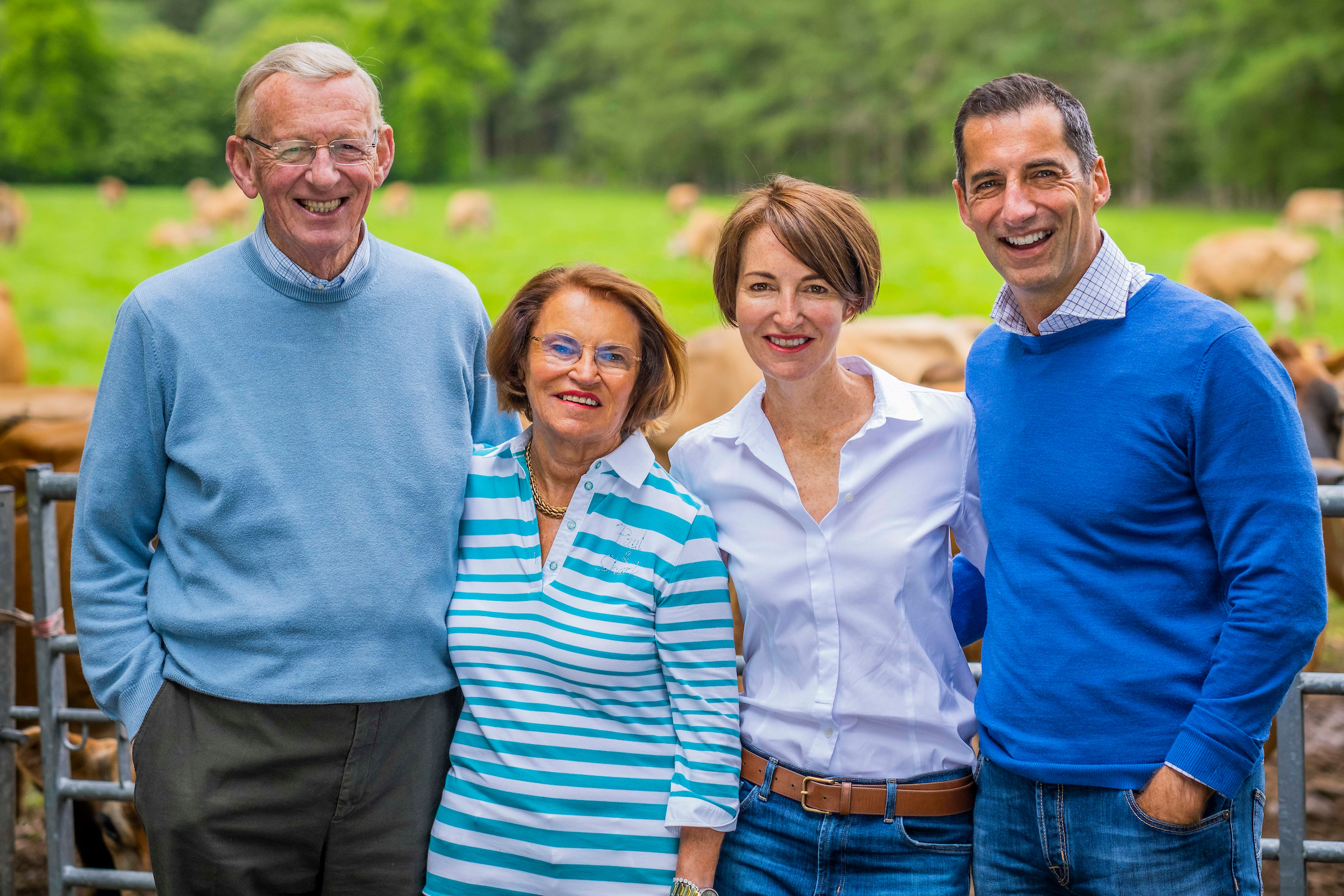 Robert Graham, managing director of Graham's The Family Dairy in Bridge of Allan, says lockdown has seen the firm experience a rise of 70% in sales, with the sunnier weather in April playing a part, too.
He said: "The company has grown through three generations of Scottish dairy farmers and is celebrating over 80 years in business. We have experienced a 70% increase in sales over the lockdown period. Sales of ice cream have now fallen behind, however, our sales are up overall as a result of our new development and success of our Goodness ice cream range. With the unusually hot weather at the beginning of April, people began to treat themselves while stuck at home. As we started to experience our sales increasing earlier in the season than usual, our teams worked very hard trying to keep up with demand."
Supplying major supermarkets across Scotland and the UK, the firm has 15 staff working on ice cream production alone.
He added: "We supply all major supermarkets. Aldi UK stocks our Goodness ice cream as well as Home Bargains, Spar, Aldi, Asda and Tesco across Scotland. We also develop Aberdoyle products for Lidl including their ice cream range.
"Our ice cream is now all made on our Glenfield site in Fife. We have made significant investment in our ice cream production and our Goodness ice cream is now a multi-million-pound product. We have 15 full-time staff making and packing and our top-of- the-range filler and machinery fills a tub in seconds."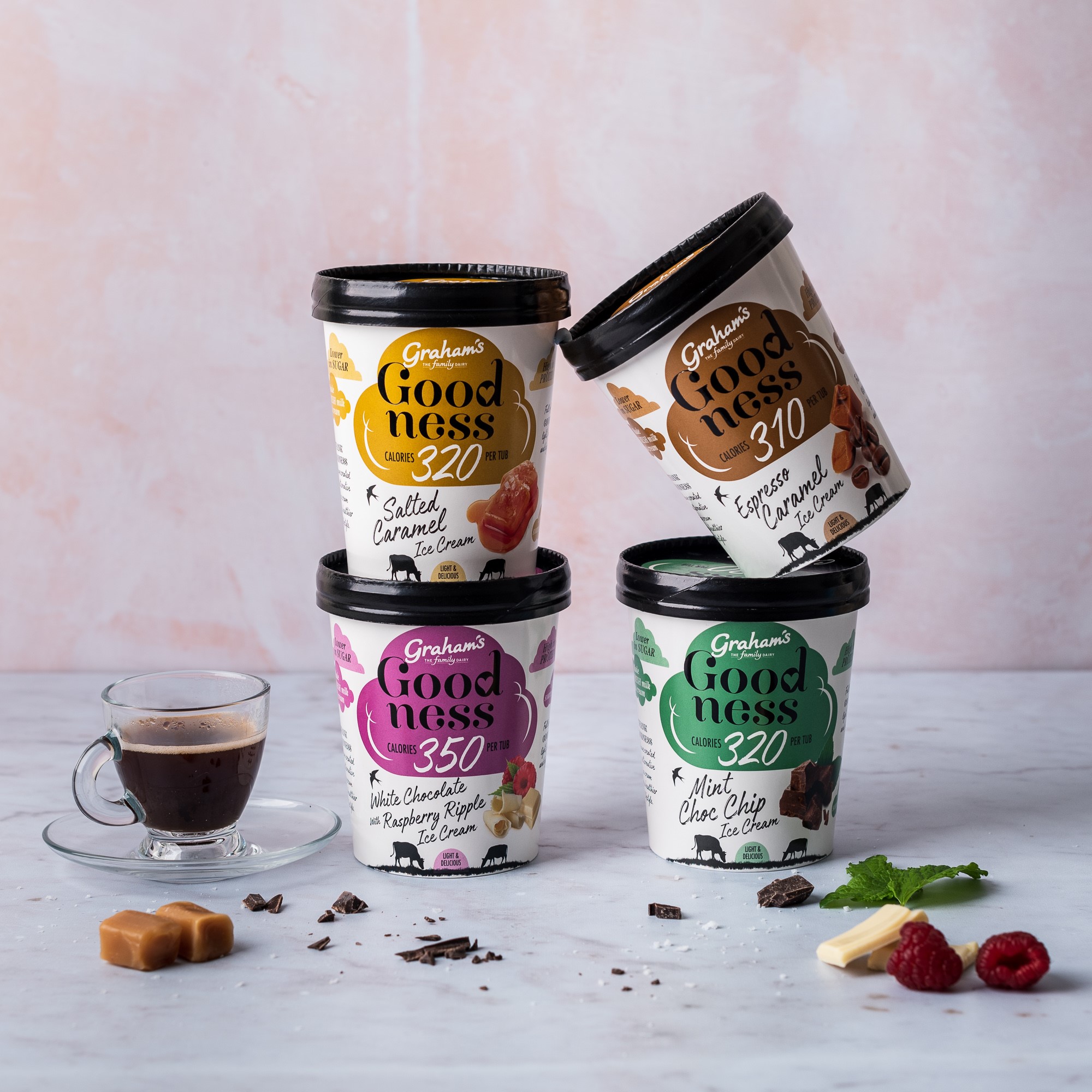 Starting to sell ice cream more than 10 years ago, the business works with more than 100 farming partners and has moved its production site to meet demand.
"We started producing ice cream just over ten years ago and had a slightly smaller scale production back then in our dairy in Bridge of Allan. We acquired the Glenfield Dairy in Fife from First Milk in 2015. This deal enabled our business to significantly develop our range, exploring new product development and supporting the Scottish dairy industry.
"We created a brand-new purpose-built ice cream production facility there, purchasing three new fillers and industrial freezer. Our full ice cream operation is now permanently in Fife.
"The ice cream category is worth £342m in the UK convenience channel alone, with significant and steady growth of 5% year on year. Customers are seeking out delicious tasting products made with ideally locally-sourced ingredients they understand and trust."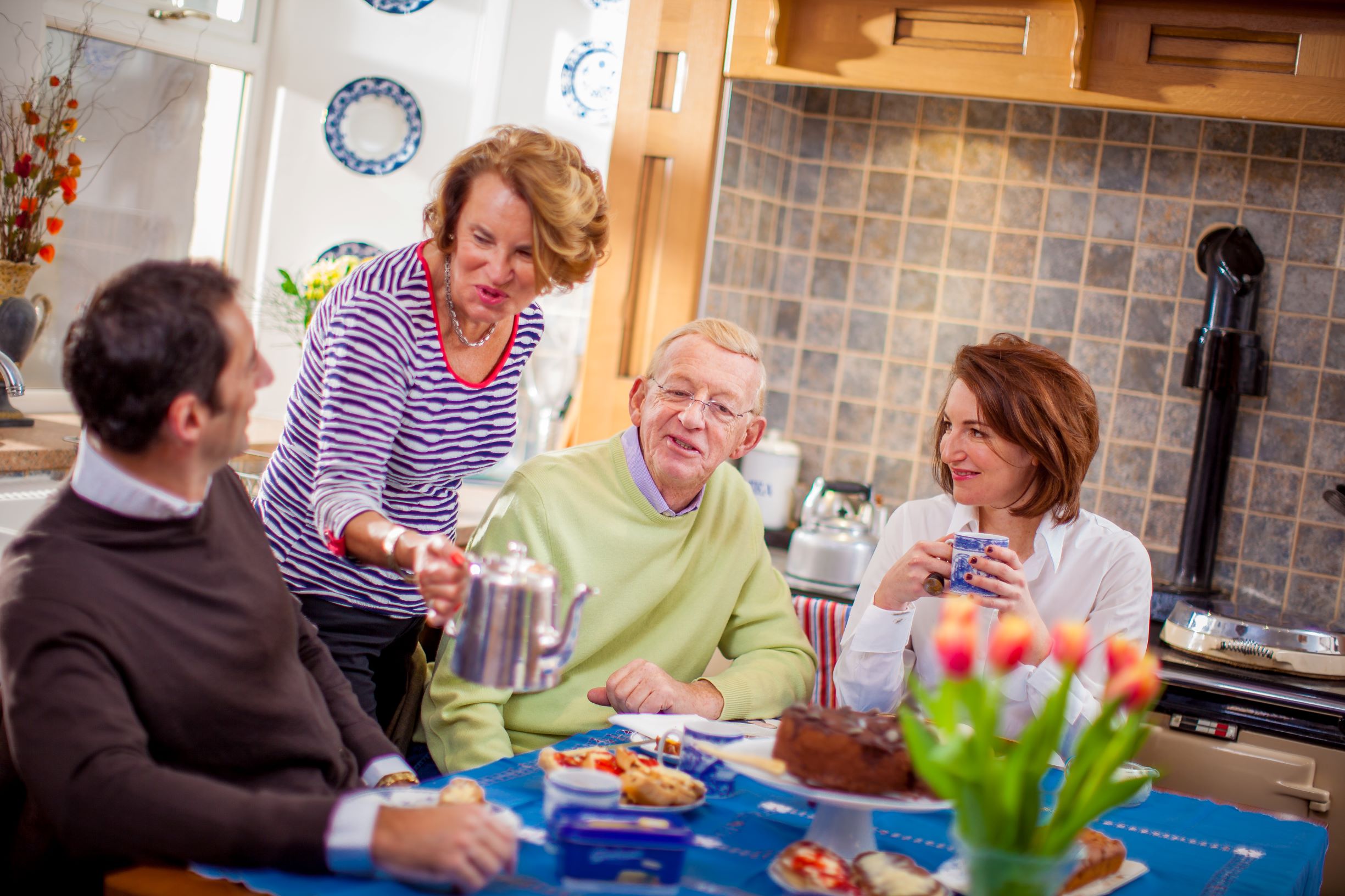 Launched in March 2019, the Goodness collection is a low-calorie, high protein ice cream inspired by US trends.
"The ice cream developed for the UK market was in direct response to the low calorie and lower in sugar ice cream currently trending in the United States of America," said Robert.
"Foods with functional benefits such as high protein, good source of fibre or gut health is also a thriving market. We are introducing healthier products in the ice cream market with an authentic brand and message, as well as high-quality fresh ingredients and taste. By creating new formulations that reduce sugar or fat, or radically reduce the calorie content, there is an opportunity for ice cream to appeal to a new health-conscious generation.
"We continually review trends across the globe to see what is emerging as an exciting new flavour or benefit. New product development is a key focus to ensure the range is diverse enough to appeal to everyone.
"We recently introduced a new Choc Chip Cookie Dough flavour to our Goodness range. It was created directly from feedback from our own community of over 300 Graham's taste testers."
Scotland's best selling ice cream brand, Mackie's of Scotland based in Westertown, Rothienorman, now produces more than 11 million litres of ice cream every year.
The 1,600-acre farm has been home to an ice cream factory since 1986 and is run by the fourth-generation of the Mackie family.
Available in every supermarket across the UK, Mackie's is the fourth best-selling premium ice cream in the country, championing some of the world's biggest international brands.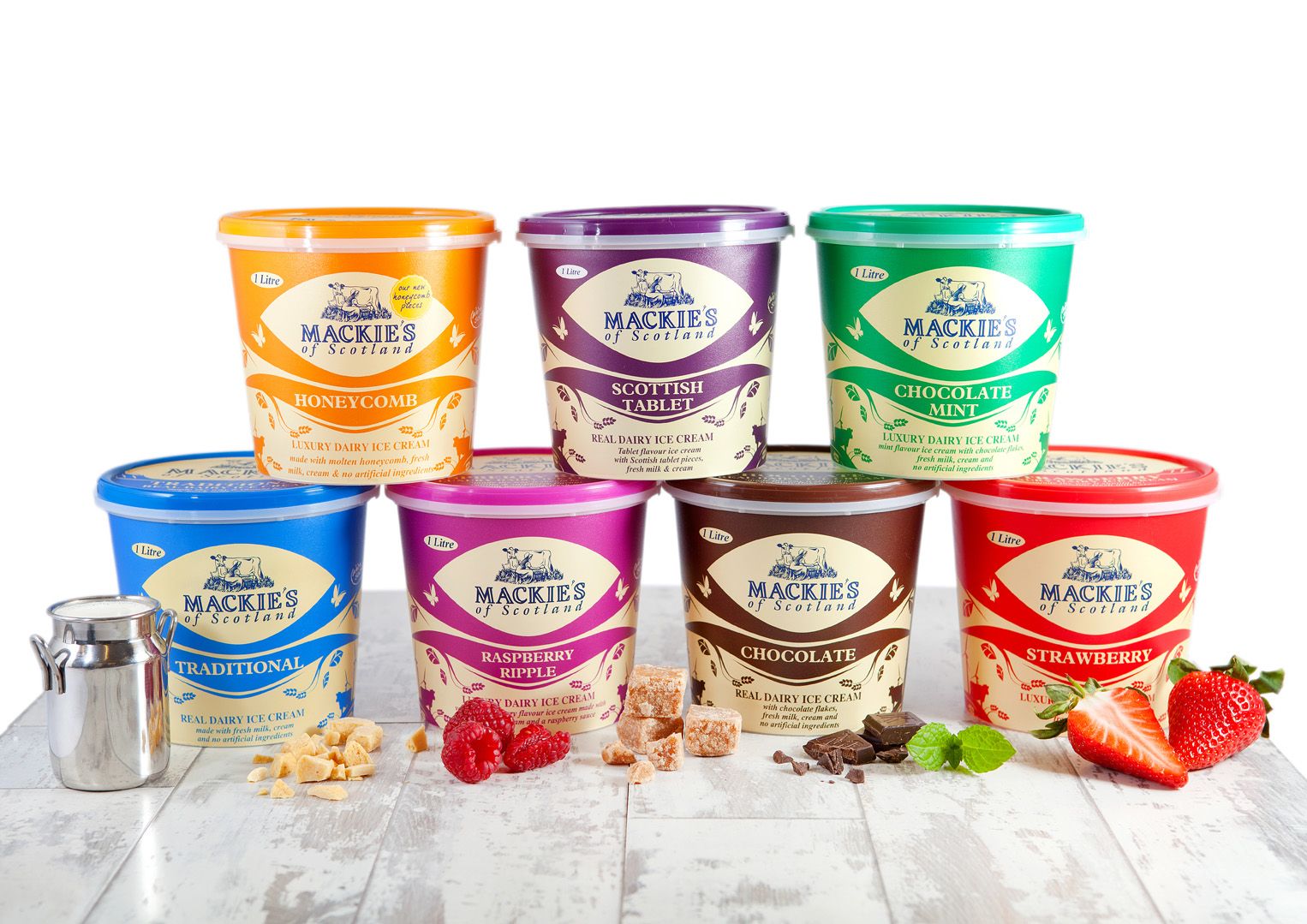 While lockdown has been a challenging time for the firm, it has also seen a big rise in sales, and has continuously been exporting throughout the global pandemic.
Experiencing 78% growth in export markets last year, The Far East is the biggest export territory for Mackie's, with the company noting in its annual report that it now accounts for 12% of total sales.
Stuart Common, commercial director of the firm, said: "When things were starting to reopen in the countries of our biggest exporters we were going into lockdown. Overall export has been pretty good, just because of the timings. It was difficult initially as when lockdown happened and the Government told everyone to stay at home, we had to communicate to our staff that food and drink businesses were key to keeping the country going.
"We experienced an increase of demand, but it was more difficult to make the product and source ingredients from some of our suppliers as they weren't seen as key businesses, so it was very challenging. We are very fortunate as we've continued to have a market for sales.
"Our biggest market is Taiwan, followed by South Korea, China, Japan and a little in the Middle East. We were quite lucky as a lot of these countries are taking in the product for their summer (which is similar time to ours) so they were taking it in around April/May as it takes six weeks to get there on a boat."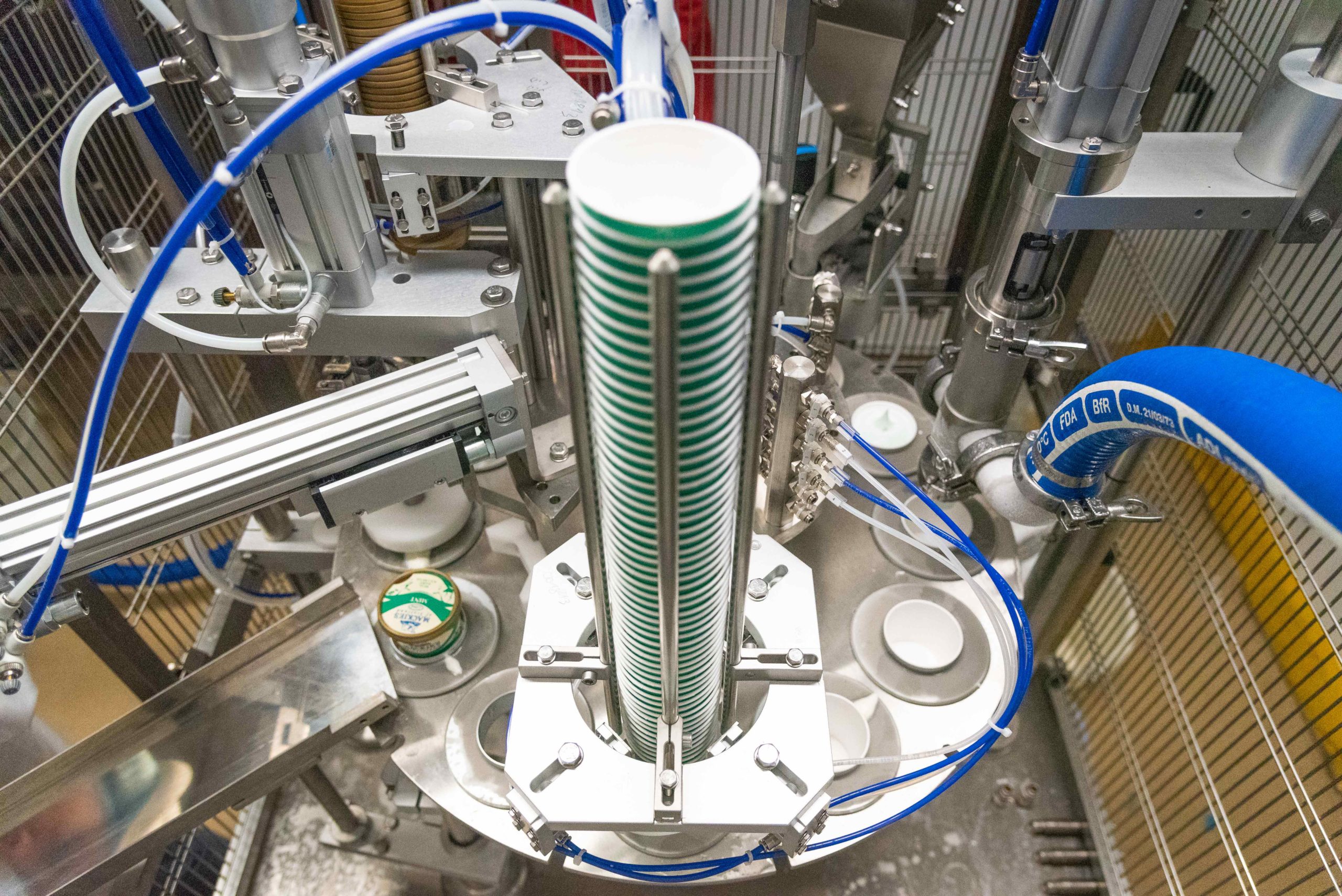 Experiencing a 20% rise in turnover to £16.7 million during the year to May 31, 2019, this primarily retail-focused business is a major player in the market.
Stuart added: "About 20% of our business is export, 20% food service and the rest is retail. We're a retail-focused business but we do have the food service side which is theatres, restaurants, hotels and more. You can get the ice cream in Edinburgh Zoo, Blair Drummond Safari Park, Crieff Hydro, His Majesty's Theatre, Aberdeen Art Centre, to name a few.
"Mackie's is the best selling ice cream in Scotland and we outsell all of the big international household names. We're also the biggest independent ice cream brand in the UK. We outsell all of these big companies and our one-litre traditional is the fourth best-selling premium ice cream product in the UK. Half of our UK sales are from England, too.
"The retailers are our biggest customers but we need to have the end customer in mind as we can get the listing with the retailer, but we need the consumer to go in and purchase it so we always have to have their needs in mind."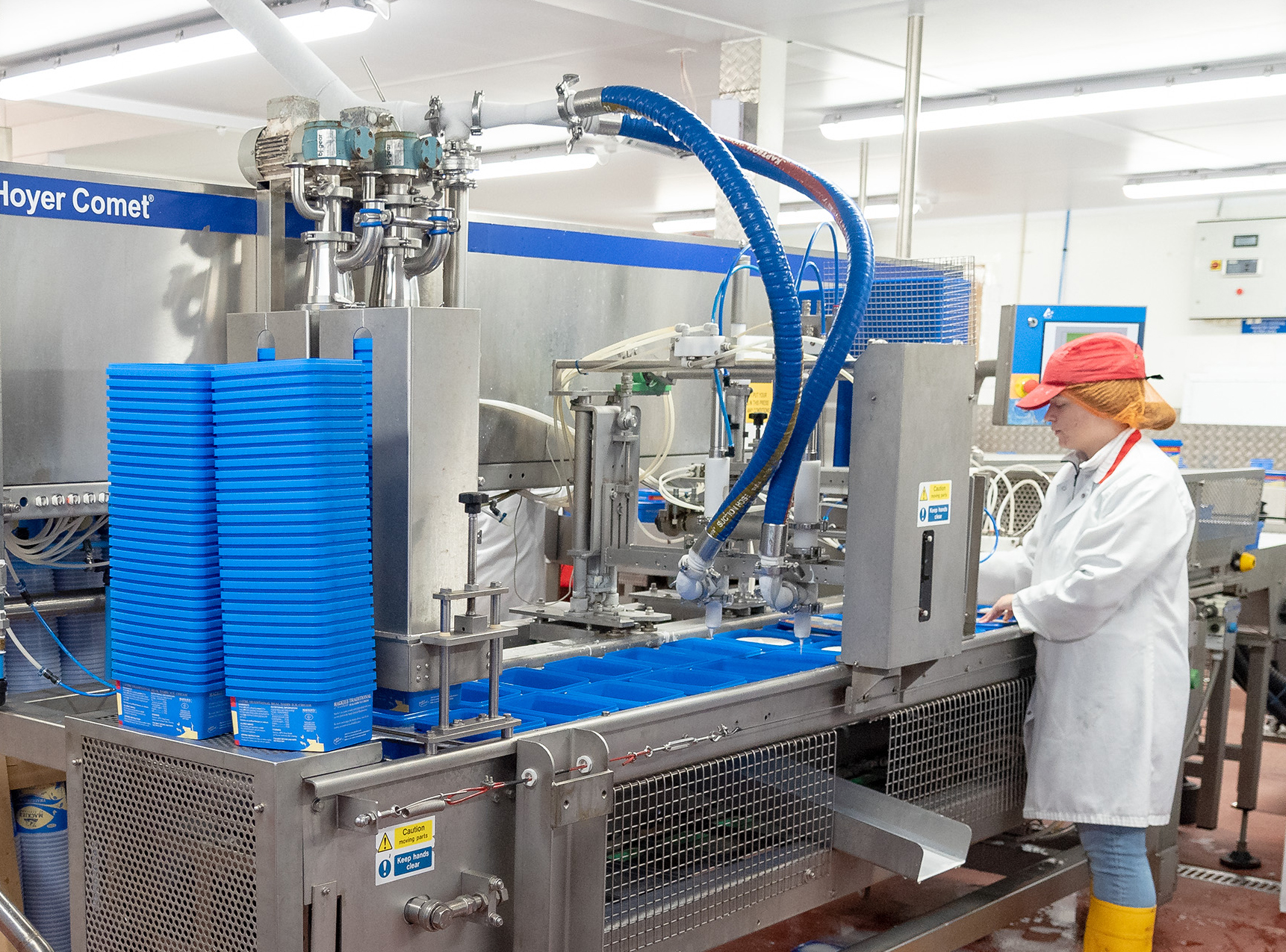 Identifying key target markets and understanding buying habits helps Mackie's when it comes to launching new flavours.
While looking into UK and global trends is of importance, it is gaining invaluable insight from the firm's 50,000-strong mailing list and customers of their first ice cream parlour in Aberdeen city centre, Mackies 19.2, which helps identify which flavours are more likely to prove a hit.
The company also experienced year-on-year growth in sales of 136% last year at the parlour which is home to more than 20 flavours at any one time.
"The demographic for our products are generally older, more affluent individuals with a certain taste. We're all about the quality of the ingredients, the product and the provenance of them, too," said Stuart.
"The parlour (Mackies 19.2) really helps us as we can get live feedback from the public. On the whole, we always have the consumer in mind. We're always keeping on top of trends, too. Take rhubarb for example, it was big in gin and now it is popular across many products. Keeping an eye on trends in other markets is also something we actively do, too.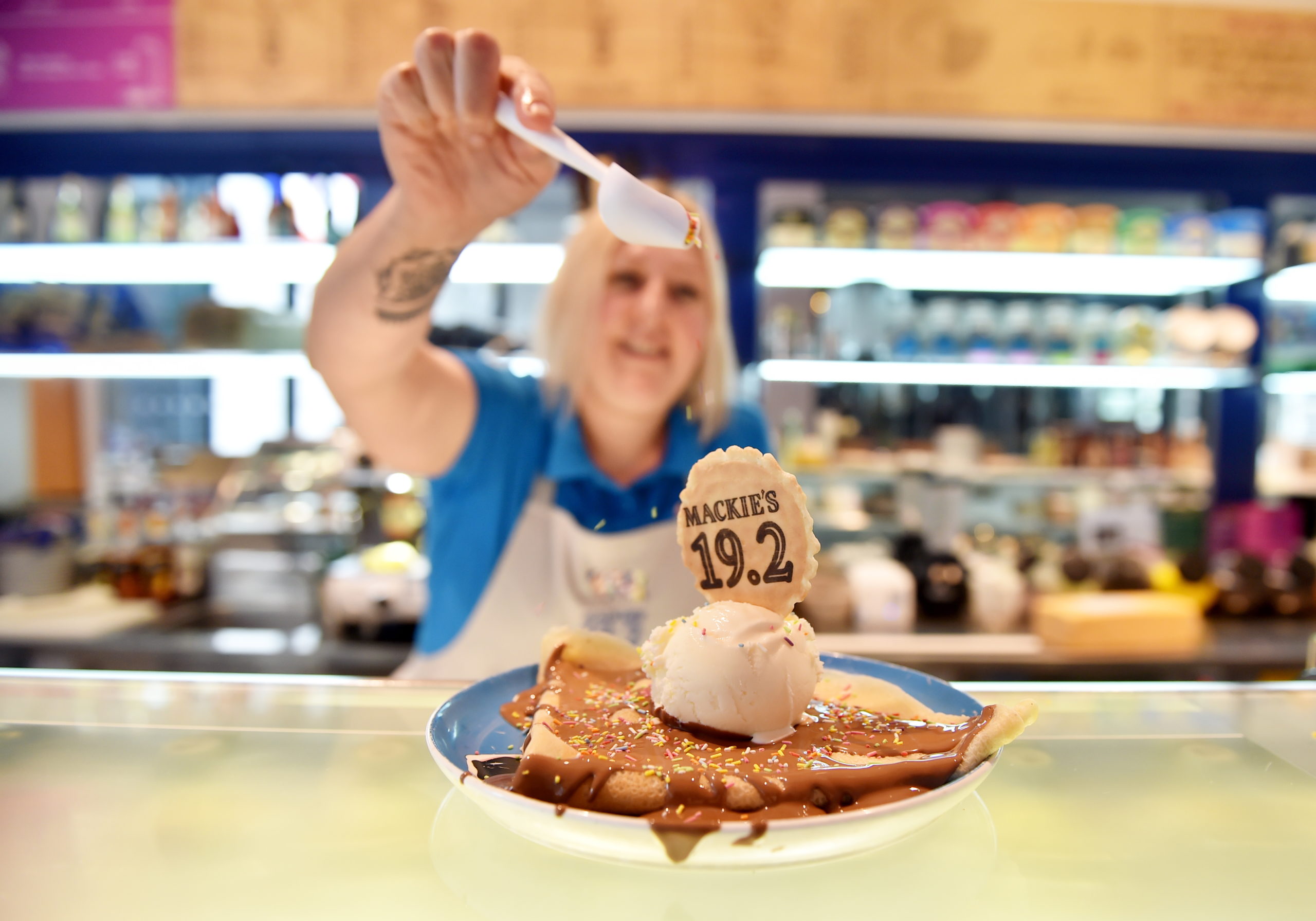 "We do some research on the new flavours and we have an email club with 50,000 people on it so we speak to them and get their feedback. We also do focus groups and when we refine the flavours – you might have 10 versions of the same product – we get our expert taste panel to try them. It's quite a process so when you see it on the shelf, it is great. You also have to persuade the retailers and show them evidence of market and trend data.
"We have our traditional classic range which are traditional flavours you'll have had growing up, the indulgent range is a little more expensive and we're just spending a little more on the ingredients like Madagascan vanilla and salted caramel. They are a little bit more indulgent. The cream of Scottish still has high-quality ingredients and is a slightly softer scoop."
The family's longstanding environmental focus and passion for sustainability is something the firm prides itself on in working to become 100% self-sufficient in renewable energy.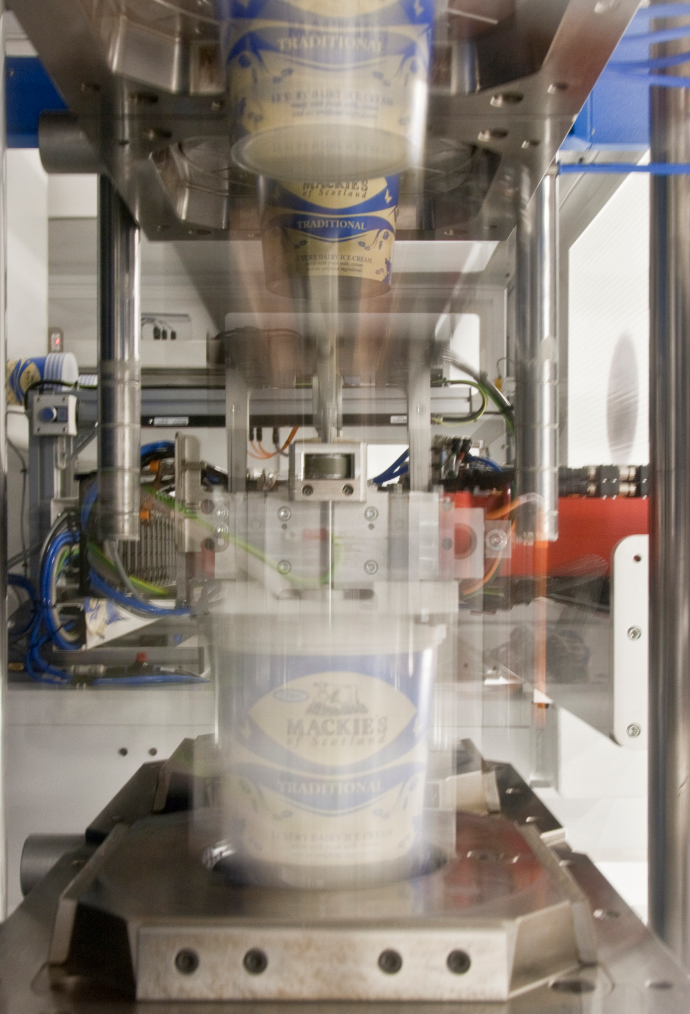 He added: "Part of our mission statement is to be the greenest company in Britain. Sustainability and looking after the environment is a real passion of the Mackie family. We have four full-sized wind turbines, 7,000 solar panels – when it is windy and sunny, we can power our own site, and can sell the excess onto the local area. We can't say we'll always be using our own power as you can't store this power. We are a carbon positive company and have biomass boilers which we burn wood chip in. We grow trees, chop them down and burn the chips.
"We're doing a big eco-refrigeration project just now and will be replacing our refrigeration plant to make it the greenest one in the UK. We'll be using an environmentally-friendly refrigeration systems which burns wood chip. Everything we do, we've always got the environment at the heart of it. Same goes for our own packaging which we now make on site."
---
Stewart Tower Dairy – Stanley
The ice cream by the team at Stewart Tower Dairy is a Italian gelato-style which is super creamy and is made in specialist Italian batch freezers which ensure it doesn't have ice crystals throughout. The firm boasts an on-site coffee shop and ice cream parlour where you can try out a range of the freshly-made ice cream. Flavours include; Jammie Dodger, Malteaser, Drumstick, Milkybar, McVities Gold bar and more.
---
Rizza's of Huntly – Huntly, Aberdeenshire
The family-run business was established in 1914 and supplies businesses across the north-east of Scotland and further afield.
Rizza's produces a range of wholesale products as well as bespoke flavours for local cafes and ice cream parlours. The company also makes the Balvenie St ice cream range made with a variety of Balvenie's whiskies.
---
Simpsons of Buckie – Buckie, Moray
Another family-owned business, Simpsons of Buckie manufactures all of its products in Buckie and has been making luxury ice cream since 1995. You'll find their ice cream in hotels, restaurants and food stores up and down the country, and its best sellers include; vanilla, mint chocolate chip, toffee honeycomb, raspberry ripple Scottish tablet and chocolate to name a few.
https://www.facebook.com/simpsonsbuckie/photos/a.465687803460905/2236467716382896
---
Stew 'n' Drews – Buckie and Hopeman, Moray
Best known for their unusually charming flavours, Stew 'n' Drews offers its in-store and wholesale customers a whole range of options from apple pie to peach and mango, not to mention tubs of cask-strength whisky ice cream and a BrewDog beer one, too.
The firm's first ice cream shop is based in Hopeman and the second can be found in the fishing town of Buckie.
---
Equi's Ice cream – Hamilton
Pietro Equi left Coreglia Antelminelli in Tuscany to seek his fortune and in 1922 he opened his first cafe in Hamilton.
In 2020 the ice cream firm is now regarded as one of Scotland's most recognisable brands and is stocked in Spar and One O One convenience stores, too.
---
Crolla's – Glasgow
Celebrating 125 years of business, the firm, which originally supplied ice cream vans, now supports shops, cafes, wholesalers, restaurants and hotels with its quality products.
Peter Crolla, founder Serafino Crollo's great-grandson, is the fourth generation of the Crolla's family and is in charge of keeping the family recipes a secret.
---
For more in this series…
Industry Insights: Scottish langoustines battle to stay on top
Industry Insights: Why the 'hipster' drink kombucha is here to stay