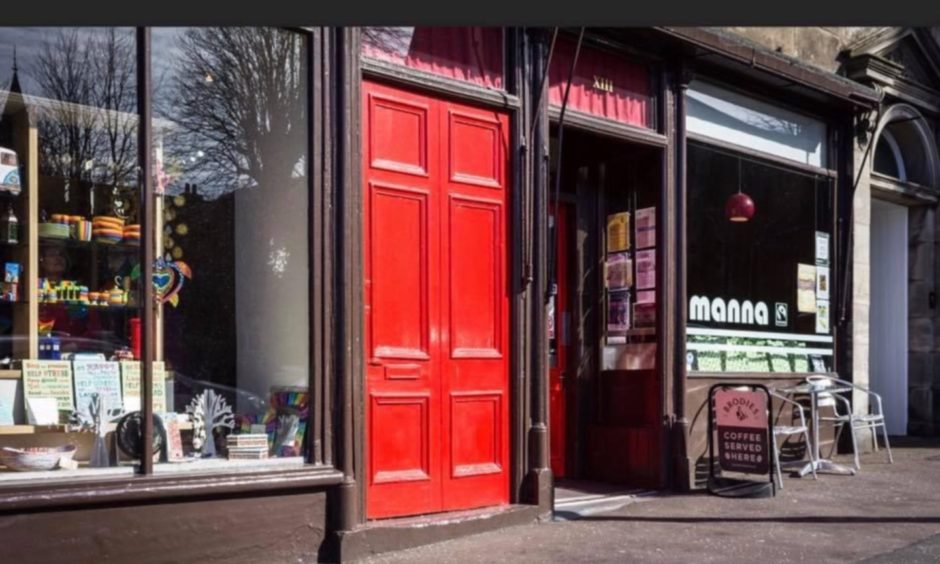 Murray Chalmers is a regular columnist for The Courier's food and drink magazine, The Menu
After travelling to Sicily recently I decided to clip my own wings and ground myself for 10 days – voluntarily and actually rather happily.
There is something perversely liberating about choosing to close your own doors and batten down the hatches; for one thing you feel like you're playing your part in terms of responsible behaviour, and for another it's always nice to have the choice.
Enforced lockdown had obviously been hell for us all – this time I decided to treat the 10 days after Sicily as more of a holiday, albeit a reverse-Midas sojourn offering constant rain, cold and comparatively mediocre food.
To paraphrase the Sex Pistols, it was a cheap holiday, but in my own misery. Ten days in isolation was about right – much more and madness would have begun to nudge the happy/sad feelings from my mind, already overflowing with irrational thoughts of revenge on that man who coughed incessantly next to me on the plane back from London.
Incidentally, a memo to British Airways – in the middle of a pandemic that sees us all afraid to even clear our throats lest we're instantly cast into an ICU unit – why do you serve only shortbread and crisps on flights? Both are seriously like taking a rasp to your throat and it was worrying to see people start choking in their seats rather than let a cough condemn them as Covid-casualties.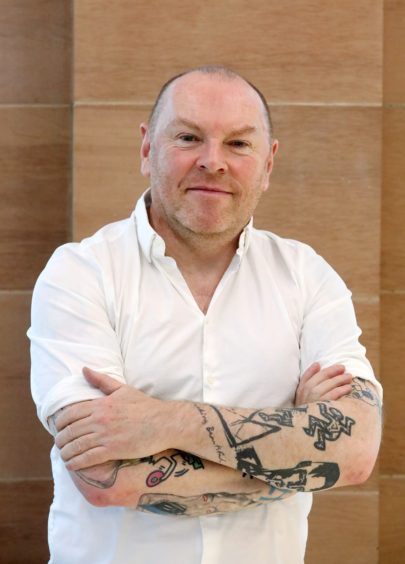 Happy isolation
Give us something that slips down the throat a little easier – like a glass of champagne or a sleeping pill. But I digress; having survived the flight home, here I was in Wormit in happy isolation – actually my reality and not the 1991 Morrissey B side it sounds like.
The first issue with isolation was food and that was easily sorted by ordering a gargantuan delivery of too many vegetables from Les Turriff, whose website is both easily navigable and highly dangerous.
Each click of an exotic veg seems particularly alluring as winter approaches here on Tayside. Watermelon? Yes please. A daikon? Yes, I will do something creative with it just like Ottolenghi would do. Kale? Well, it's good for you.
Really, give me everything that's going to make me a better person and healthy and strong – anything but turnip, which I have yet to see successfully reimagined as anything other than cattle-fodder, even by the divine Nigella.
My vegetables cost me £54 and could have fed a family of six plus the cattle and sheep they keep on their 20 acres of land – yet I live alone with a cat who is yet to show any love for a roast celeriac or a cauliflower coated in tahini.
Fruit flies
Three days in and the fruit flies were already mounting a coup in the kitchen. Archie, next door's cat, who delights in catching flies faster than any sticky traps, even gave up in boredom and exhaustion as the little b****** took over my kitchen.
Zoom calls for work meetings made it look like I was calling from a dugout toilet in the Sahara – participants with impaired vision and punk memories probably thought I was trying to perfect the rather deranged movements of Joy Division's Ian Curtis, all flailing arms and hands clasped tight around the swarms of my tiny prey, all while discussing Kylie's new single on a conference call.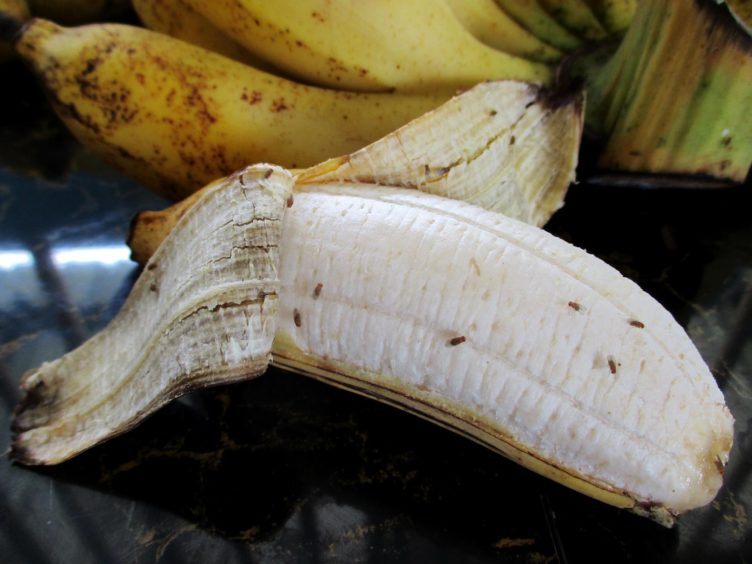 There was no hope – I was in the middle of my own fruit fly pandemic, admittedly and thankfully concentrated within a three-bedroom house in Wormit. But then the answer arrived via Twitter and I hope you will remember the day you read this household tip for fruit fly mass extermination – vinegar and clingfilm.
Vinegar and clingfilm are no lovers of fruit flies but fruit flies love acetic acid literally more than life itself. The home-made traps see them off quicker than Tim Davie, the new director-general of the BBC, on a promotional visit to we rough barbarians in Scotland.
Yes, that quick! This is what you do – and here I have to give thanks to my friend Marina O'Loughlin, who not only is restaurant critic of the Sunday Times but also runs a very good sideline in tips on household management, the disposal of fruit flies being her finest so far.
For this battle of wills you need an empty jar with a lid, some vinegar (I used apple cider but I have foodie delusions of grandeur) and some clingfilm. Put your vinegar in the jar.
About an inch should do it – there's no need for profligacy here and, for once, size doesn't matter. Cover the top with clingfilm, as tight as the elastic on your vest. Take a skewer or something equally small and sharp and prick about 10 holes in the clingfilm, enjoying that almost cathartic popping noise as you create an homage to artist Lucio Fontana in an old jam jar.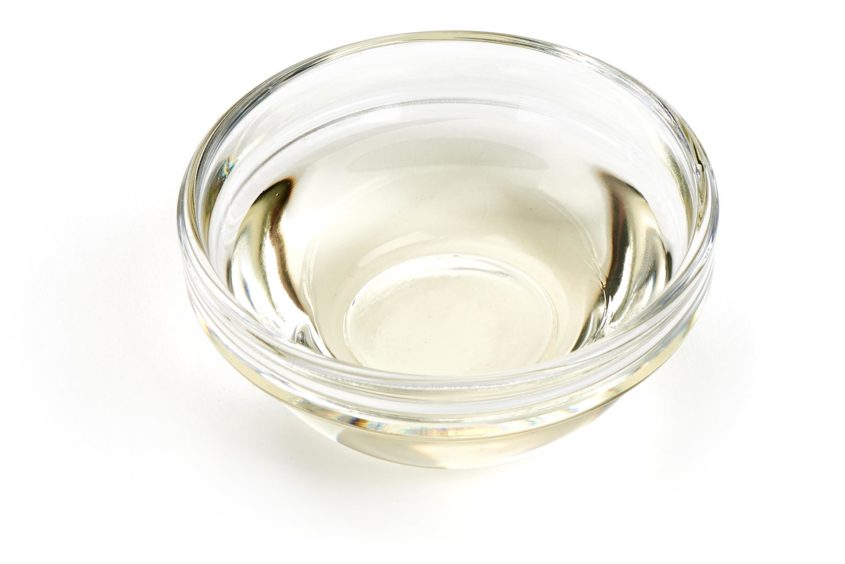 Place the jar somewhere where you won't forget it because it's really all about the thrill of the chase here, and you do want to see the spoils of your victory quite fast.
I am wholly opposed to killing things (although, hypocritically, I am not vegetarian) yet I have to say that nothing – NOTHING – can give a cheap thrill better than the sight of a whole lot of filthy pointless fruit flies dead in a stinking pond of vinegar. And it's the thrill that keeps on giving! Truly, isolation has never been more fun, or maybe I was actually losing my marbles.
Buoyed by that small victory and after 10 days I did venture out, firstly for a celebratory lunch at Manna in Newport and then for a few supplies at the Newport Bakery.
Manna is one of my favourites; the café is run in alliance with the Church of Scotland and is a lovely spot for lunch: pre-lockdown I would be there having their delicious soup, sandwiches and cakes at least once a week. Now reopened and serving a smaller menu, it's still a great spot for coffee and cakes, all of which are delicious.
Great baking
I had assumed that lockdown had meant the end of the great baking at Manna but I have now discovered that the volunteers at the café got involved in a project which saw them bake for NHS staff, a project that grew and grew and resulted in them supplying baked goods to a staggering number of hospitals, staff and wards.
The team of Manna bakers initially found a problem though – lack of supplies. As we know, the rush by us all to bake at home meant that ingredients like flour were in short supply and it is here that true community spirit came to the fore when local chef-restaurateur Jamie Scott and Sainsbury's and Tesco supermarkets both stepped in to help. The project became much bigger and grew to include staff in health centres, food shops, hub schools and the local police forces. An amazing endeavour.
A few doors down from Manna, Jamie Scott has enlarged the stock in his excellent Newport Bakery and this was really where my end of isolation celebratory shopping became slightly frenzied.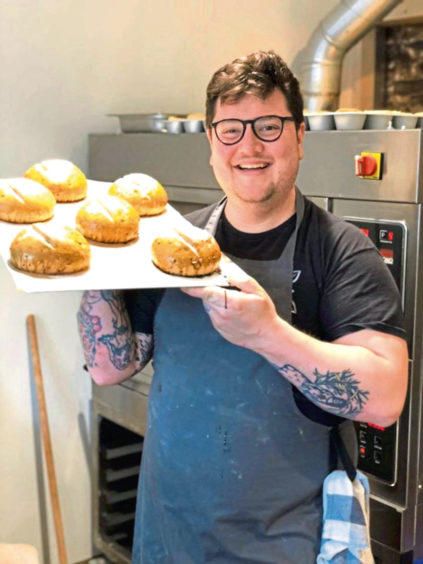 Really, this is the deli that Newport always needed and deserved and, from quite humble beginnings at an obviously difficult time in February, here is a business that has grown into something just wonderful.
An expert buying eye is at work here; the shelves groan with a tightly edited but immaculate selection of produce which could not only cater for an excellent working lunch at home but also a party where your intention is really just to serve exquisite things.
So, I bought an ace loaf of rye bread, the best butter from the Edinburgh Butter Co, and some fantastic Ailsa Craig cheese from Dunlop Farm. With some Gordal olives, that's a great lunch. What made it stellar was the porcini and truffle salami from East Coast Cured which was an absolute triumph. But the best thing among the 40 quid of gorgeousness that I bought was the Thai chicken curry pie which, at £3.50, is a bargain for such flavour-socking joy.
Goodies
Other goodies stocked include the fantastic Bad Gal Kombucha, milk in glass bottles from the Dundee Dairy Co, Sacred Grounds coffee, dressings from the little Herb Farm, brilliant charcuterie from Great Glen, and Isle of Skye sea salt. I could go on but hopefully you get the idea – it's just quietly studied perfection.
I asked Kelly Scott what the aim of the shop is: "We want to bring back real, skilled baking, promoting local produce and producers.
"Retail within the shop will always support the best of Scottish suppliers. We also have our own preserves, pickles and jams.
"Right now we are working our way through local harvests of apples, plums, pears and figs because we did an exchange of people's garden harvests for pastries."
How lucky we are in Newport and Wormit to have such enterprising businesses as Manna, the Newport Bakery, The Newport restaurant, Kitschnbake, Boat Brae and The View, all within a very small radius. Foodie heaven!
Manna, 13 Cupar Road, Newport-on-Tay, DD6 8AF. Tel 01382 542781
Newport Bakery, 7 Cupar Road, Newport–on-Tay, DD6 8AF. Tel 01382 541970.
---
Read more in this series:
MURRAY CHALMERS: Exploring the art of dining out alone and how you can master it too
Why a trip to Montrose proved to Murray Chalmers that music really is the food of love