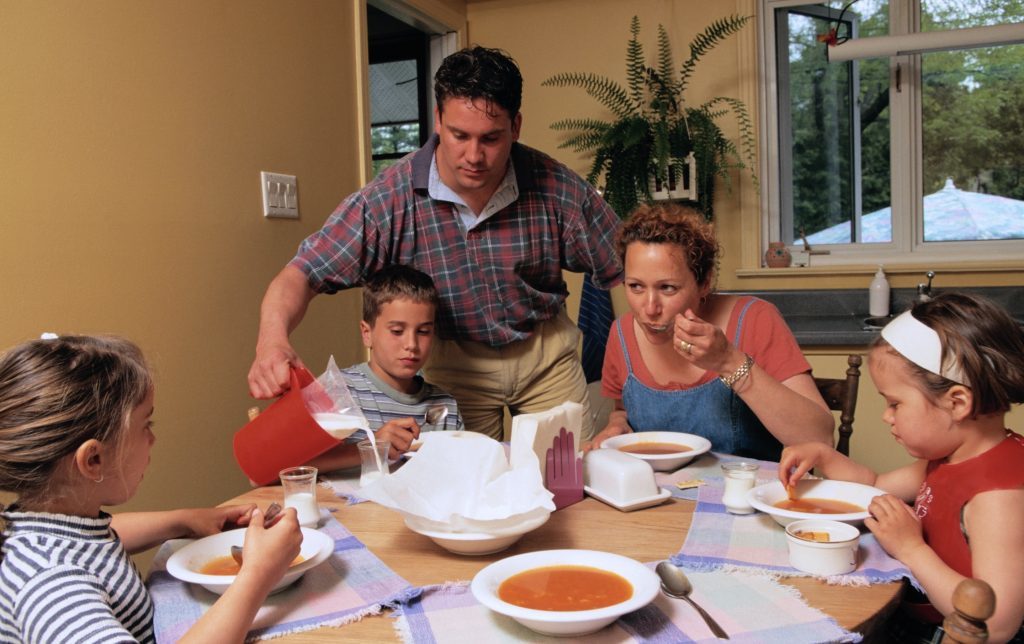 As a new survey suggests 73% of people no longer regularly sit together at the dining table, have family meals had their chips? Michael Alexander investigates.
The traditional scene of a family sitting to enjoy a meal together is becoming a thing of the past as nearly three quarters of British householders say they only eat with their family seven times a month, according to a new survey.
The research suggests that the number of us who eat at the dining or kitchen table is now shockingly – but perhaps not surprisingly – low with seven in 10 adults eating in front of the TV or a tablet and 60% of children also allowed to eat their evening meal in front of the TV or gadget.
When asked what stops them sitting down as a household, over half of those surveyed blame long working hours and commuting whilst a fifth complain that coming up with recipes everyone likes puts them off family mealtimes, according to the research by recipe box delivery service Hello Fresh.
Yet the survey respondents also indicate they have regrets with nearly 44% believing the benefits of sitting down to eat together is a great way to spend quality family time.
Of those polled, 34% agreed that family meal times would not only save time and effort but also discipline fussy eating habits by children at mealtimes.
The Courier spoke to several families connected to the area to see if they think family meal times have had their chips.
Broughty Ferry-based Linda Isles, 37, head of digital media for a children's charity, and her husband Roddy, 47, head of corporate communications for a university, sit down at the kitchen table to eat with their children Joe, 7, and Martha, 10, "probably around six out of seven nights". On Fridays they tend to eat in front of the TV and on Sundays they often go to Linda's parents' house where her dad cooks for 16.
"I think it's really important to eat together without distractions," says Linda. "Definitely no phones at the table! It's a time to discuss everyone's day and it's good for the kids to see the adults eating food they might not like themselves because it encourages them to try new things."
Cupar-based planning consultant Pippa Gardner, 40, her husband Chris and seven-year-old daughters Lucy and Evie, try to sit at the table for all meals.
Yet Pippa admits that it's not always easy. The conflict between busy lives, the girls taking on more activities and her husband's former commute to Edinburgh and long working hours often meant that "relay meals" were necessary.
"It's really important that the girls learn to eat and have table manners and interact in that environment," says Pippa.
"It's time for when they are older that they can share worries or more realistically we can gauge from their demeanour rather than words if all is ok in the world.
"I strongly believe food is a core element of family and sharing it together in a more formal setting is central to being a family.
"We do have meals in front of the TV on Fridays though – treat night – and the girls love it!"
Burntisland-raised Alison Younger and her husband Fergus, both 41, are farmers in the Stirling area where they live with their daughters Katie, 7, Ellen, 5, and Nelleke,4.
The family almost always eat their meals around the table. And whilst the children tend to eat earlier, they  make sure there's at least one parent to sit down with them.
"Our adult dinners are eaten after the kids are in bed, again, round the table with both parents and any farm workers who are staying with us," explains Alison.
"At the weekend we make sure we always have a family lunch together. As the kids get older we plan to eat more dinners together which will be great to cut down on the cooking.
"Life is so busy it's a good opportunity to get everyone together. With the children I think it's important that they see mealtimes as not just about food and table manners but about conversation and sharing."
South London-raised St Andrews University medieval history graduate Brett Langridge, 42, grew up around family dinners.
"My dad would use clichés like 'families that eat together stay together'," he says.
Yet Brett fell into poor eating habits as a student and in the eight years afterwards whilst working in a St Andrews bar and beach shop café.
Times have changed, however. And now that the Crystal Palace supporting school assistant is living in Norway with his teacher wife Gjertrud and their four-year-old son Leon, sit-down family dinners are back on the menu .
Brett says: "At first I struggled to adjust to the Norwegian tradition of finishing work early and eating around 4.30pm-5pm every day.
"But I think the fact that Scandinavians eat dinner in the early evening makes it a lot easier to both eat together and do other social activities like sports, meeting up with your friends and so on."
Brett thinks that because British people tend to eat later, it makes it more challenging to eat together every night. But he also thinks it's part of British culture to sit around the TV a lot more.
"The Royle Family is a classic example of this!" he laughs.
"I think it's great eating together and it's something I'd recommend. But at the end of the day families have to decide what works best for them. We're finding there are no set rules to family life. We just take each day one step at a time and make sure we enjoy every moment."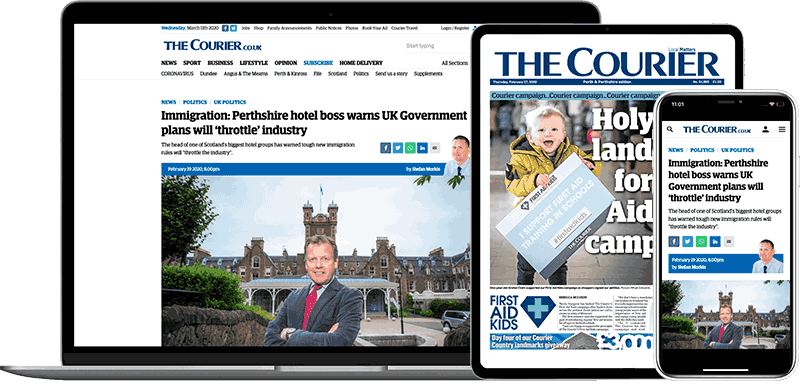 Help support quality local journalism … become a digital subscriber to The Courier
For as little as £5.99 a month you can access all of our content, including Premium articles.
Subscribe