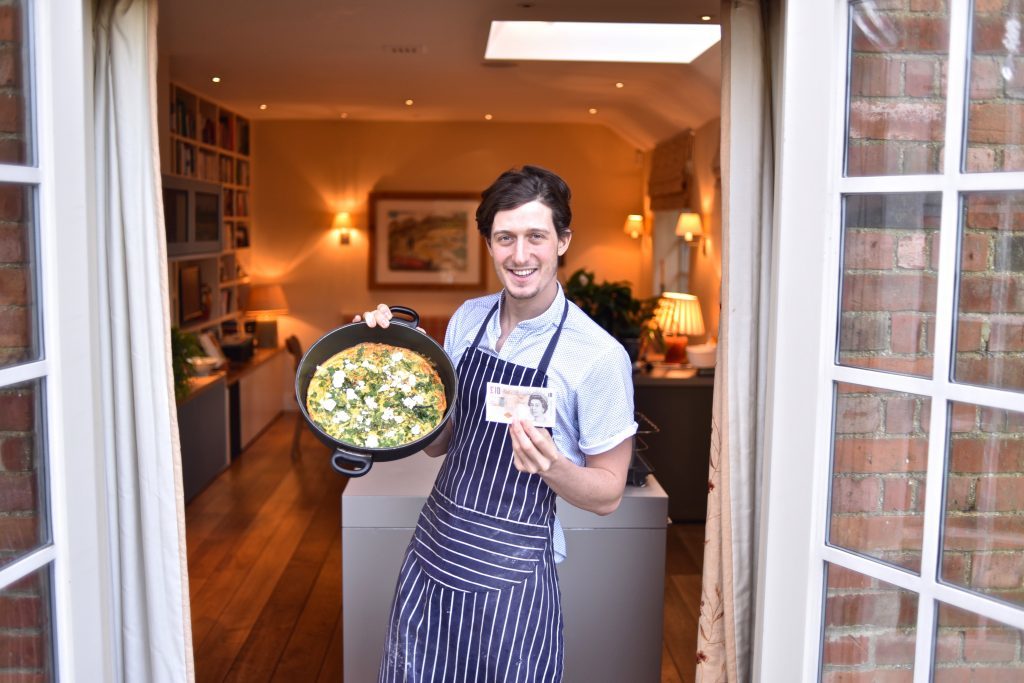 For someone like Ben Lebus, for whom food is a bit of an obsession, it was hard to see his flatmates struggling to make anything remotely nutritious and delicious.
Ben takes up the story: "From a young age I was obsessed with everything culinary," he smiles.
"My dad ran the best Italian restaurant (in my opinion), and I picked up lots of tips and tricks from the chefs and Italian waiters there. And I love cookery shows – I just find watching beautiful, delicious, healthy food being made the most satisfying thing.
After finishing school, Ben went to the University of Edinburgh to study history, and in September 2013 he moved into a house with four of his best mates.
"The girls knew how to cook well, but the boys were pretty clueless. It seemed inconceivable to them that they could cook good, healthy, delicious food on a budget," recalls Ben.
"When they looked online, lots of the shoestring recipe pages were difficult to follow. Many made ridiculous store cupboard assumptions in order to keep the price of the recipes down," he continues.
"But we didn't have the odd dusting of cumin here or the perfect number of bay leaves there. We just had some mouldy apples and some unpaid electricity bills."
These pages also used unrealistic prices that put them off using the recipes.
"We didn't have fancy spices in our cupboard and we couldn't go out and buy a teaspoon of it for 10p! We needed to buy the whole jar," says Ben.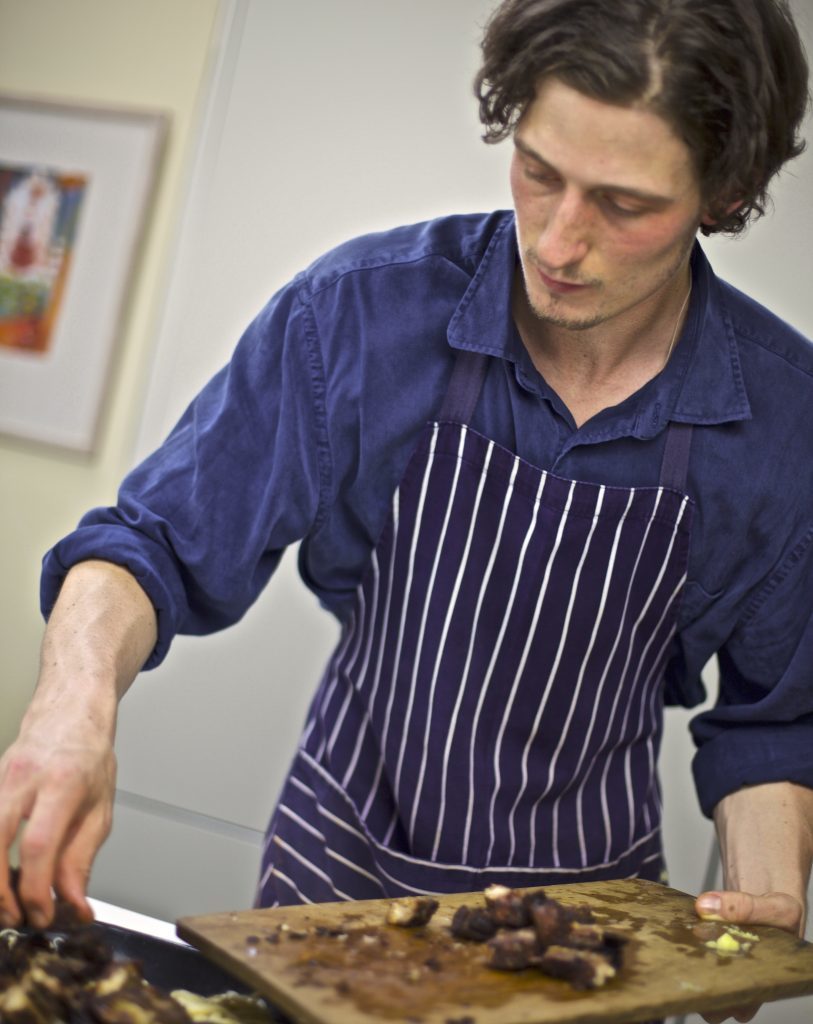 So he devised a list of recipes that would feed all five of them for under £10, only assuming we had salt, pepper and olive oil in the kitchen, and pricing every ingredient in the recipe at the cost of the full product in the supermarket. These recipes were posted on an online publication called Y-Magazine.
"Then," says Ben, whose other passion is film, "at the start of 2016, with the eruption of short form media content on Facebook and Instagram, I decided that filming these recipes would be the best way to spread the word. I teamed up with a couple of guys who also went to the University of Edinburgh, who run a production company, and started planning how we would film the recipes. As we were planning, I decided that four people was a more common number of people per house, so the 'Feed 4 for under a tenner' concept was born."
Since graduating Ben has launched Mob Kitchen, a website full of recipes for "food you'll actually cook", all for under £10.
"However, without any proper funding yet, I've had to pick up part time jobs here and there to keep the ball rolling. I am a fully trained food delivery rider, which brings in a bit of cash and keeps me fit."
All Ben's recipes are healthy, real food, and all easy to cook.
"All of the ingredients are fresh – I don't use any processed food or premade sauces. Lots of the recipes are vegetarian, encouraging people away from eating cheap meat too regularly," he explains.
"In terms of ease, I make lots of tray bakes, which are the easiest things in the world – just chop everything up, whack it in a tray, pop it in the oven, set a timer and forget about it. Then, there is the added bonus of only one tray and one chopping board to wash up."
So far Ben, who plans eventually to include desserts in his repertoire, has posted 26 videos with more in the pipeline.
"For the first batch of videos, I asked a mate from university to produce 12 tracks. I also approached lots of bands and asked them if they would let me use their music," he smiles.
"The music is a key part of my offering, and I these collaborations will form a central part of Mob Kitchen in the future.
"If you've got a mob to feed, you know where to come. Spread the word!"
Chorizo Shakshuka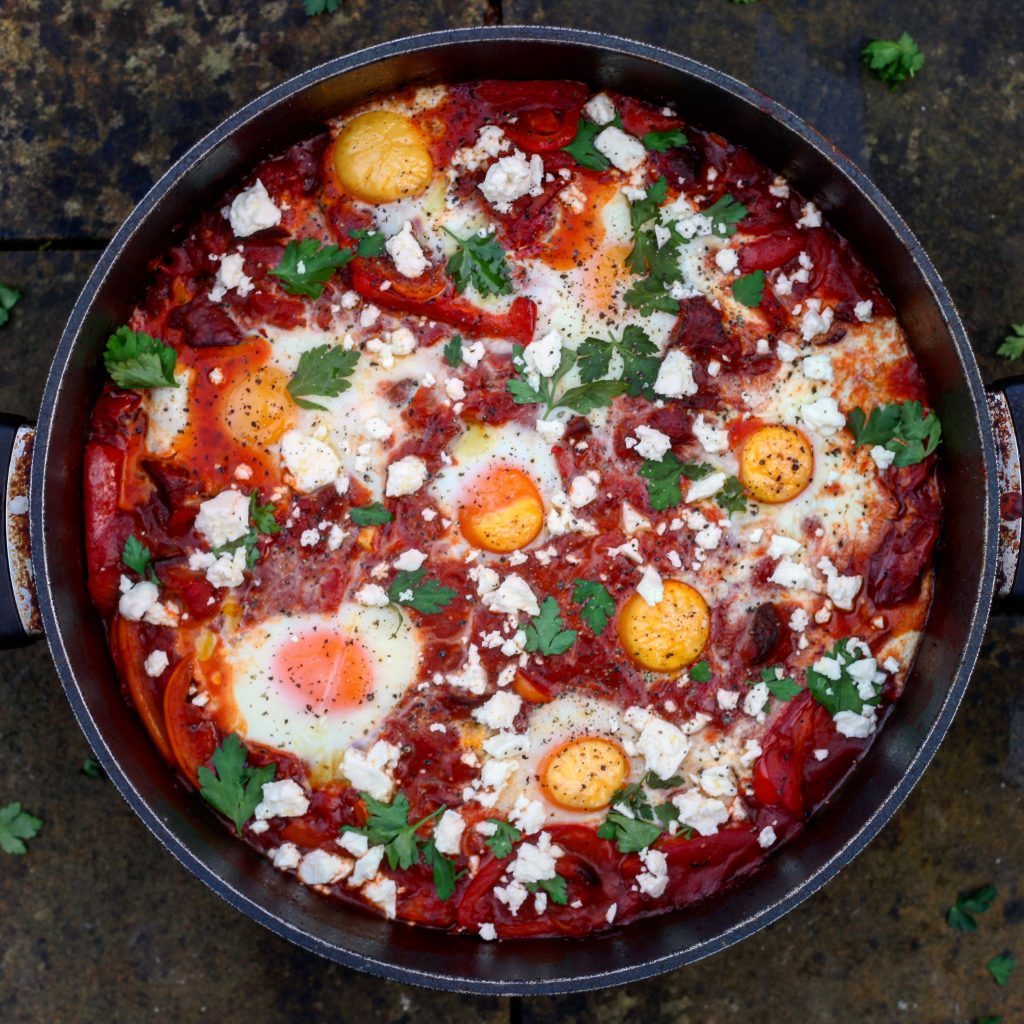 This recipe will change the way you look at breakfast forever.
Fry your chorizo so it is nice and crisp before adding the vegetables
Cooking time (includes preparation time): 1 hour 10 minutes
Ingredients
Red chillies – £0.60
1 brown onion – £0.16
I bulb garlic – £0.30
2 peppers – £1
Chorizo – £2.50
Tinned tomatoes – £1.90
10 eggs – £1.50
Feta – £1.20
1 bunch of parsley – £0.70
Total cost – £9.86
Directions
Preheat the oven to 180ºC/356ºF. Finely chop the 1 chilli, the onion and 3 garlic cloves. Cut the peppers into strips, and break the chorizo into little nuggets.
Add the chorizo to a big pan. Fry until crisp. Then add the vegetables. Fry until slightly softened, for 5 or 6 minutes, and then add your tinned tomatoes. Fill up both tins with water, and pour that in to. Give it a stir and let it to bubble away. You want the sauce to be a thick consistency, so allow it reduce by around half.
Take the sauce off the heat and smooth out the surface. Then, make little holes in the sauce and gently drop in the eggs, so the yolks stay intact.
Place the whole pan into the oven for 12 minutes. Remove the pan, and add crumbled feta and parsley.
Chicken, Pepper & Almond Tray Bake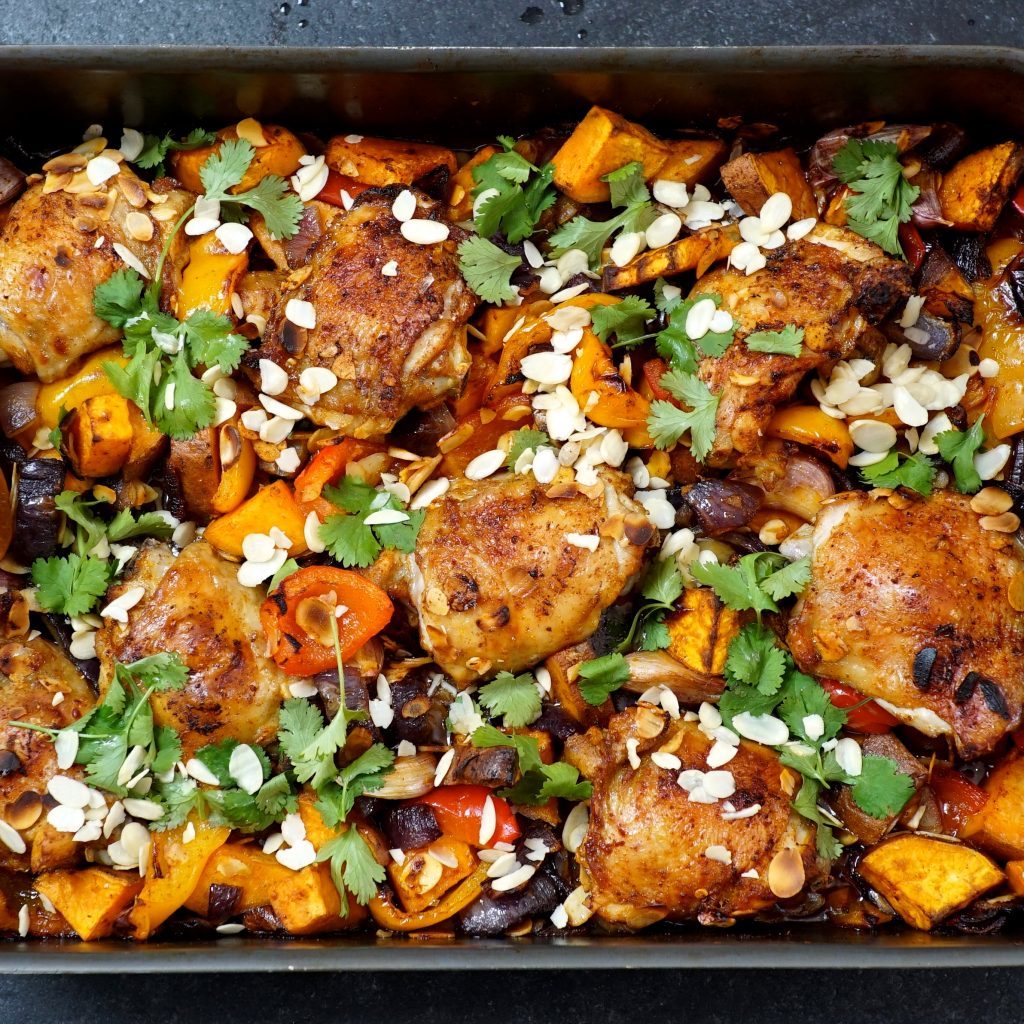 Almost too simple. Whack everything in a tray, bake it, and eat it.
Scatter on some almonds just before you finish cooking, so they toast on the top.
Cooking time (includes preparation time): 1 hour
Ingredients
Chicken thighs – £3
2 peppers – £1
2 sweet potatoes – £0.66
2 red onions – £0.33
Garlic – £0.30
1 lemon – £0.35
Ground cumin – £0.85
Smoked paprika – £0.85
100g flaked almonds – £1.15
1 bunch coriander – £0.70
Total cost – £9.19
Directions:
Preheat the oven to 180ºC/356ºF.
Place chicken thighs in a tray, skin side up.
Add chopped peppers, sweet potatoes, onions and a full bulb of garlic (leave the cloves unpeeled).
Add the zest of one lemon, two teaspoons of cumin, two teaspoons of smoked paprika, and a scattering of almonds.
Mix everything together, and put into the oven for 40 minutes.
Take tray out of the oven and mix everything about.
Place bake into oven for 10 more minutes.
Serve with a scattering of coriander, and your left over almonds.
Sticky Miso Aubergines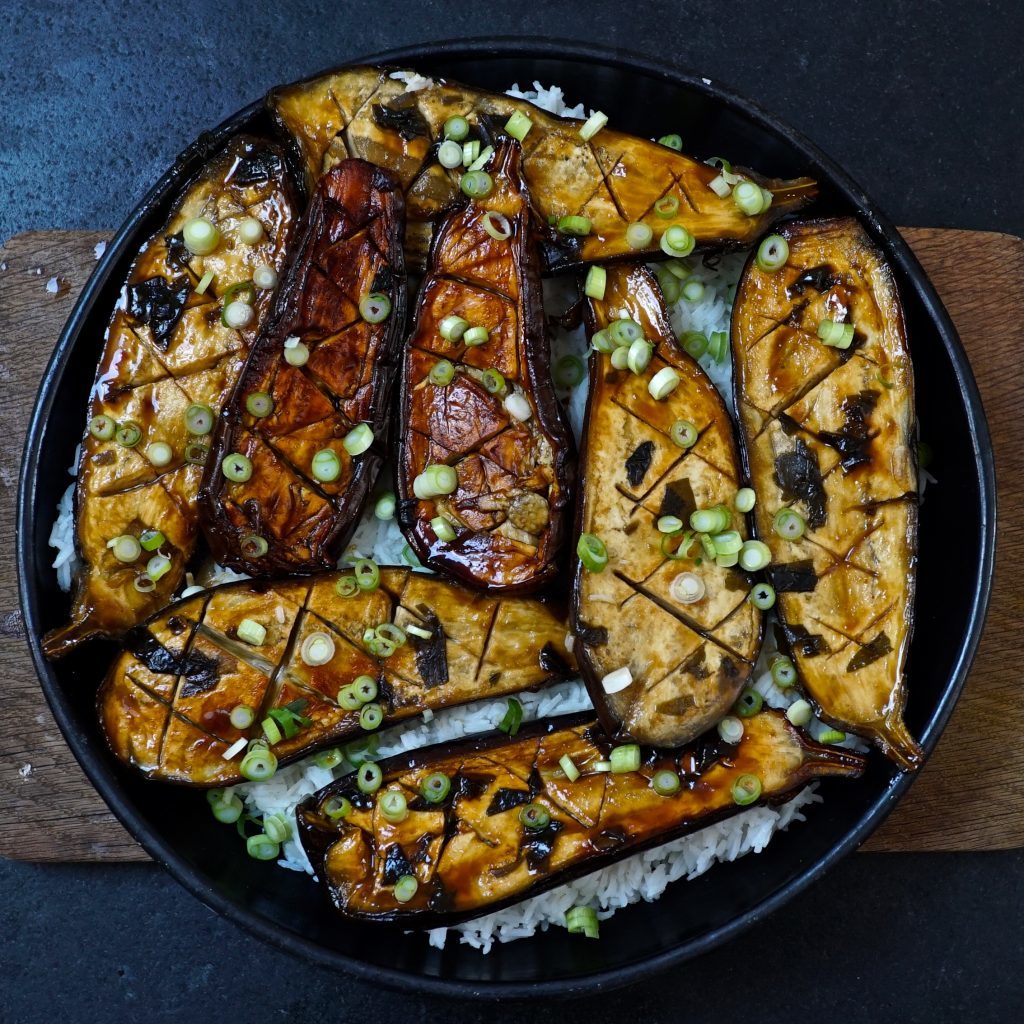 Make sure you marinate the aubergines for the full 15 minutes to ensure best flavour.
Cooking Time (includes preparation time): 1 hour 10 minutes
Ingredients
Miso soup paste (3 sachets) – £2
1 jar runny honey – £0.99
50ml toasted sesame oil – £1.60
4 aubergines – £2.80
500g basmati rice – £0.89
1 bunch spring onions – £0.49
100g sesame seeds – £0.85
Total Cost – £9.62
Directions:
Preheat the oven to 180ºC/356ºF.
Put 4 tablespoons of miso paste, 4 tablespoons of honey and 2 teaspoons of sesame oil into a bowl. Add a small cup of warm water so the mixture is loose, and mix together.
Halve your aubergines length wise. Score the aubergine flesh, so you end up with diamond cuts across it.
Pour marinate into a baking tray and place aubergines on top, flesh side down. Leave to marinate for 15 minutes.
Then, cover baking tray with tin foil, and place into the oven for 45 minutes.
10 minutes before the end, add 1 part rice and two parts boiling water to a pan. Allow this to boil down until the rice has absorbed the water. This method should ensure fluffy, steamy rice.
Remove aubergines from oven and place on top of the rice.
Serve with a scattering of chopped spring onions and sesame seeds on top.
Plus: Vegetable curry video: