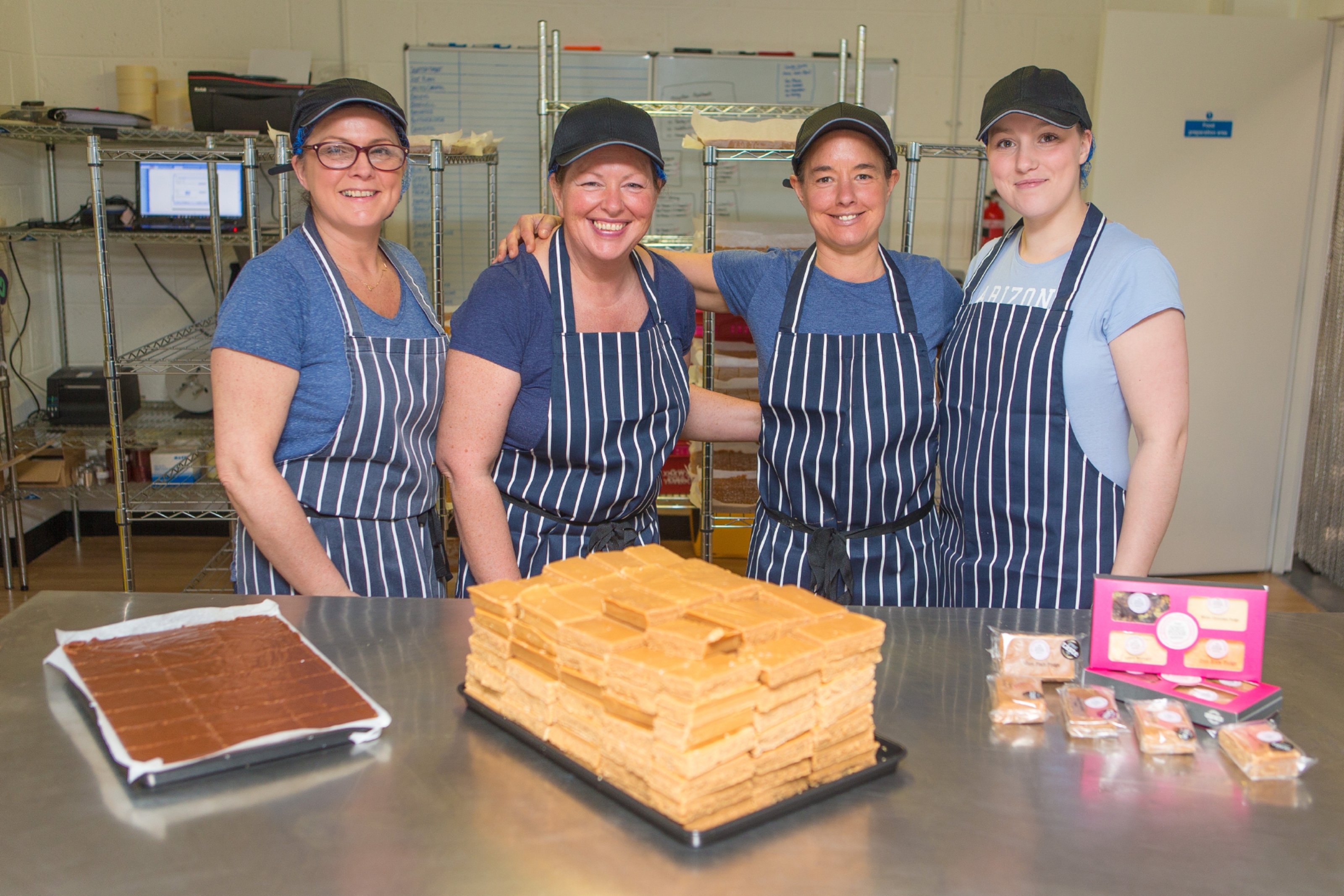 Susan Fleming and Angie Craven gave up their jobs and set up Ochil Fudge Pantry. Gayle Ritchie takes a trip to fudge nirvana….
The aroma of hot butter, sugar and condensed milk wafting through the air is absolutely divine.
Rows and rows of freshly cooked fudge and tablet are enticingly laid out on shelves to cool, and a new batch is cooking in a giant pot.
This is the beating heart of Ochil Fudge Pantry, aka heaven.
Friends Susan Fleming and Angie Craven set up the business in December 2010.
But it wasn't something they ever planned, and rather, it came about purely by chance after they discovered a lonely tin of condensed milk lurking at the back of a cupboard.
"We're quite tight and we like to use up absolutely everything in our kitchens," explains Susan.
"It was a few days before a farmer's marker and we were wondering if we could make something to take along.
"When we stumbled on this tin of condensed milk, we decided to make a batch of fudge using my gran's recipe and see if any sold.
"If it had been a tin of tuna we'd found, who knows where we'd be now!"
Much to their surprise, everyone who tasted the hand-crafted fudge absolutely loved it and as word got out, people were clamouring for them to make more.
Demand grew until nine months later, in 2011, they decided to quite their jobs – Susan as an IT buyer and Angie in retail management – and turn their hobby into a full-time business.
In 2012, production moved from Susan's tiny kitchen in Alva, Clackmannashire, to a slightly bigger factory in Alloa where they made both fudge and tablet.
And as business boomed, they took on two members of staff.
It's hard not to drool as Susan, 46, describes how the confectionery is made and takes me through some of the 130 fabulous flavours.
"It takes about 50 to 55 minutes for tablet while fudge only takes 45 minutes," she says.
"It's a very physical job – each batch is hand beaten, the traditional way – but that's what gives our fudge its unmistakable smoothness."
Flavours includes Irn Bru, ginger, heather honey, whisky, Baileys and white chocolate, banoffee, butterscotch, cherry bakewell, lemon meringue, rhubarb and custard, run and raisin, treacle, sticky toffee pudding, espresso chocolate…the list goes on!
They used to make puff candy and Scottish potato macaroons – which customers loved – but it became too time-consuming.
"We make about 40 flavours of fudge each week and stay as local as we can, using heather honey from Perthshire and Scottish products like Irn Bru," says Susan.
They can produce up to three quarters of a tonne of fudge and tablet each week, which equates to a staggering 7,200 bars!
These end up in farm shops and delicatessens across the world, as well as online and at National Trust for Scotland and Historic Scotland gift shops.
They don't sell to supermarkets, preferring to keep full control over the business.
"We're a wee company making a product in small batches and we like to be flexible and creative. You lose that when you team up with supermarkets," says Susan.
Over the years, they've picked up nine Great Taste awards, as well as the BBC Good Food Show bursary award in 2012.
While they love making (and eating) their product, things can get exceptionally busy over the Christmas period, with no time off for months.
And while they admit they may have piled on the pounds in the first few years of setting up the business – "we had to taste a lot of it" – they say fudge and tablet are fantastic fitness aids!
"A lot of marathon runners and cyclists use it as a sugar replacement," explains Susan. "It's an instant hit and of course, it tastes great.
Feedback means a lot and Susan and Angie have a lot of fun selling their products at fairs and markets where they can meet the people who appreciate it.
"The only thing we don't do is eat it all – it's too good for us not to share!" says Angie,38.
"Ultimately, we set out to make the best fudge we could, using Susan's gran's recipe, but we've been amazed by how popular it is."
info
Ochil Fudge Pantry is offering Courier readers a discount code for their website which entitles them to 20% off. Use the code DUNDEEMENU20 for online orders only. They also supply stockists in Dundee's Little gift shop in the Overgate Centre  and Clementine of Broughty Ferry.
For more information and to order, see www.ochilfudgepantry.co.uk