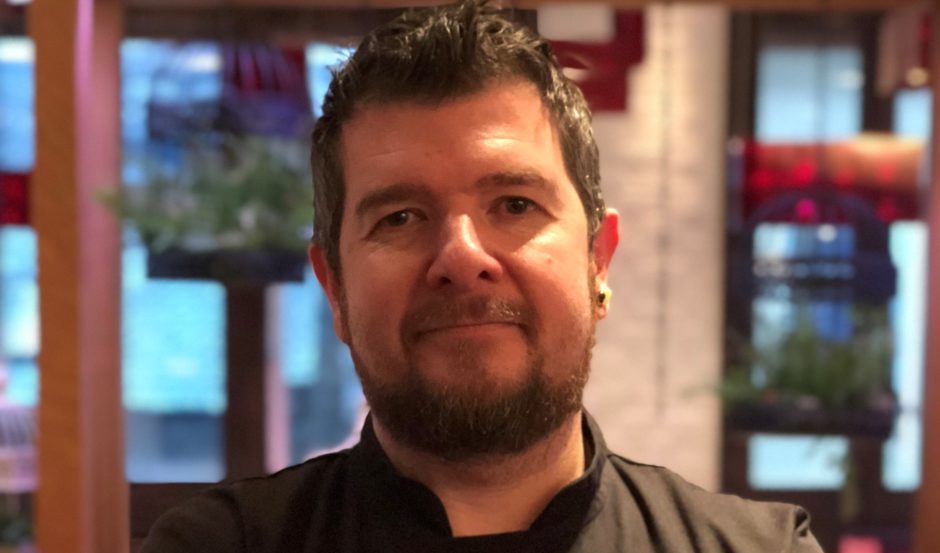 Nik Biok, executive chef at top boutique hotel Tigerlily in Edinburgh, shares his love of global cuisine with Caroline Lindsay
Q Desert island food and why?
A I love chicken satay with peanut sauce, like our chicken skewers, with plenty of Korean spices and prawn crackers. Any excuse for a BBQ!
Q Favourite TV chef and why?
A Tom Kerridge. His work is always about good produce packed with honest flavours.
Q Favourite cook book and why?
A It's very hard to choose when you are a compulsive cookbook purchaser! I love regional cookbooks; I have a 1955 Glasgow Housewives Association cookbook that is full of great traditional baking.
Q Favourite ingredient and why?
A Lime leaf. It adds such a zingy citrus flavour to whatever you cook it with, from a spicy rendang beef curry to a rich plum relish.
Q Most hated ingredient and why?
A Smoke flavour liquid. I hate all artificial flavourings, I prefer food to have an authentic flavour. Don't be lazy – if you want a smoky flavour in your food, just smoke it.
Q Perfect dinner guest and why?
A My wife – the conversation is always lively and she loves a good rioja rose, as do I!
Q Favourite kitchen gadget and why?
A My KitchenAid is very well used – I love to bake and it makes light work of almost any recipe.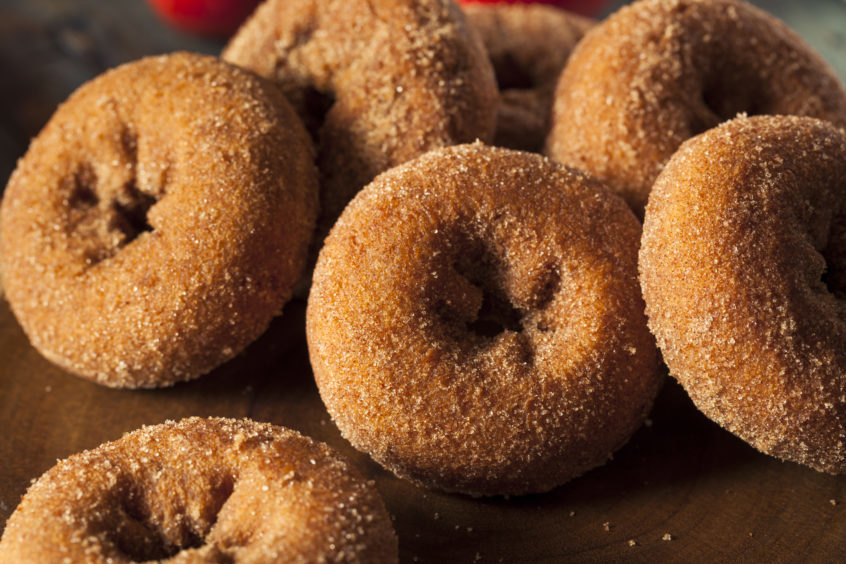 Q Favourite music to cook to and why?
A Early 90s dance tunes. Nostalgic, cheesy, upbeat and a perfect antidote to stress – just what you need in the kitchen, in my opinion.
Q Perfect menu?
A Simple, fresh, honest produce and flavours. My ideal night at Tigerlily would start with the chicken bang bang salad or the chicken skewers, followed by the veal escalope with pancetta potatoes, and then our passionfruit pavlova to finish. Fresh, vibrant and delicious.
Q Favourite country for food and why?
A Indonesia. It's a country with more than 6,000 inhabited islands spread over an area as wide as San Francisco to New York. Due to the islands separating the population, you get diverse cuisines throughout. I also love it because I grew up there as a child and it holds many fond memories for me.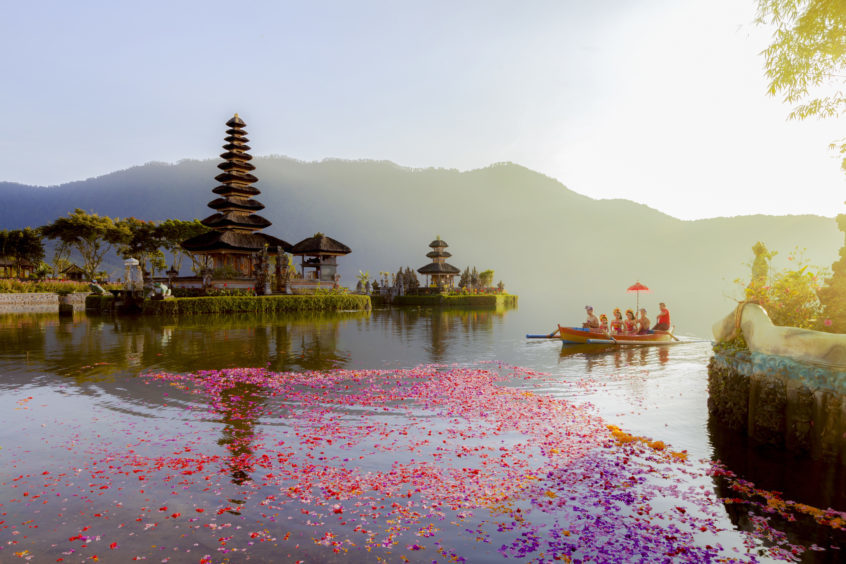 Q Favourite chef, alive or dead and why?
A Tetsuya Wakuda, a Japanese chef in Sydney who has had Tetsuya's, a world-leading restaurant for over 30 years. His ability to fuse Japanese and French cuisine in a delicate, subtle manner is inspirational.
Q Favourite culinary season and why?
A In Australia, from October to January is the best, for the 100 days of the cherry season.
Q Salt or pepper and why?
A Salt. Because why use pepper when you can use chilli?
Q Favourite herb and why?
A Thyme. It always adds to a dish but never dominates.
Q Favourite spice and why?
A Cinnamon. Where would the doughnut or carrot cake be without cinnamon?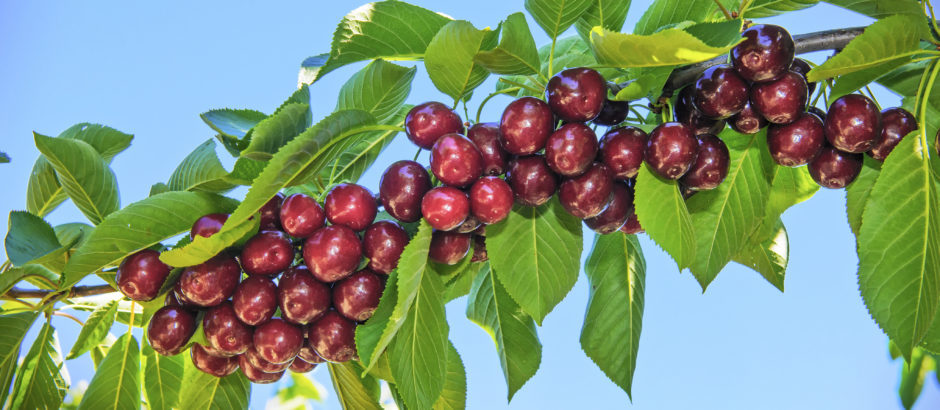 Q Favourite way to cook the humble potato?
A Miso dauphinoise potatoes – thinly sliced potato baked in cream with garlic, pepper and miso, a surprising twist on a classic dish. I also love the recipe I've shared here for pancetta potatoes, which is just the perfect comfort food on chilly winter days.
Q Favourite go-to recipe if you're in a hurry?
A Superfast pasta! Boil pasta, drain and place in a mixing bowl with flaked smoked mackerel, crème fraiche, spring onion, lemon juice and Dijon mustard. Mix and serve for a seriously simple and delicious meal in a flash.
Q Favourite naughty nibble?
A A slice of our passionfruit pavlova – it's so fresh and zingy, and the berries and almonds served with it just add an extra level of sweetness.
Q Favourite health food?
A Apples – I'm addicted to them. I need to eat at least two a day. Funny, I don't see the doctor very often…
Q Ideal picnic dish?
A  A good Caesar salad, but with a few slices of jalapeno chilli and lime juice thrown in to add a bit of vibrancy.
Q Ideal BBQ food?
A It has to be the chicken satay.
Q Are you critical of the food when you're dining out?
A Yes, but on a sliding scale of what you are spending. Everything is relative – if you're spending top dollar, then you should expect to receive food of that standard.
Q Do you tip in restaurants?
A Yes, but only if the food is good. All the rest of the service is just window dressing. I cannot remember the last time I did not tip.
Q Top tip for failsafe cooking?
A Practice. Cooking is like playing an instrument – you only improve if you do it on a continual basis.
Q Worst cooking sin in your opinion?
A Chefs who cook with anger, not joy. I am firm believer that a happy chef equals happy food.
Veal escalope with pancetta potatoes, pea and tarragon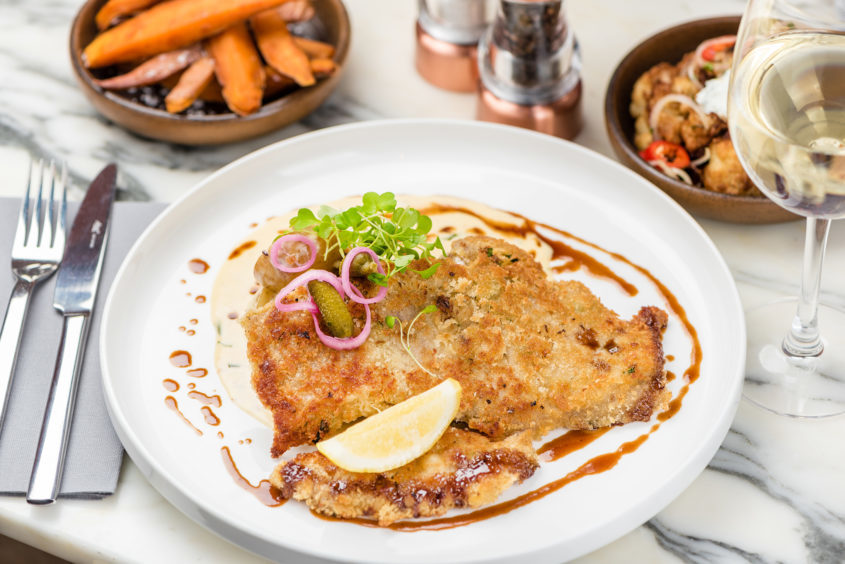 Serves 2
Ingredients
50g butter
2 x 200g veal escalopes (you can also use a chicken breast if you like)
2 cup panko (Japanese) breadcrumbs
3 whole eggs
1 tsp grain mustard
2 tbsp grated parmesan
½ tsp garlic, finely chopped
1 tsp picked fresh thyme leaves
1 tbsp chopped flatleaf parsley
1 cup plain flour
½ tsp cracked black pepper
For the pancetta potatoes: 500g boiled and cut in half baby potatoes
50g pancetta batons
Splash of oil
1 tsp garlic
50ml white wine
150ml double cream
½ cup frozen peas
1 tbsp picked fresh tarragon leaves
Pinch of pepper
To serve: pickles of your choice
Wedge of lemon
Directions
Melt the butter then place back into the fridge to reset. When it has, you will see that now the butter has separated and the base is a milky liquid. Pour this away so you are now left with a clarified butter.
Beat down either your veal or chicken with a meat tenderiser to a 3mm thickness.
Mix in a bowl, eggs, mustard, parmesan, garlic, thyme, pepper and parsley.
Dust meat in flour and black pepper and then shake off excess. Dip into egg mix then breadcrumbs. Gently hammer the meat with a meat hammer to push the breadcrumbs on to the meat. This will give you a thinner coating of breadcrumbs.
Heat a large frying pan on a medium to high heat. Add clarified butter and cook the escalope till golden on each side (around three minutes). Drain on to a cloth and sprinkle with sea salt.
For the pancetta potatoes: Heat a medium size pan. Add potato and pancetta batons with a touch of oil. Cook till pancetta colours and is crispy. Add garlic followed by white wine then cream. Reduce till the thickness of custard before adding peas, tarragon and pepper. Do not add salt as the pancetta will season your dish.
Serve potatoes on a plate, place escalope on top.
Serve with pickles and a wedge of lemon.