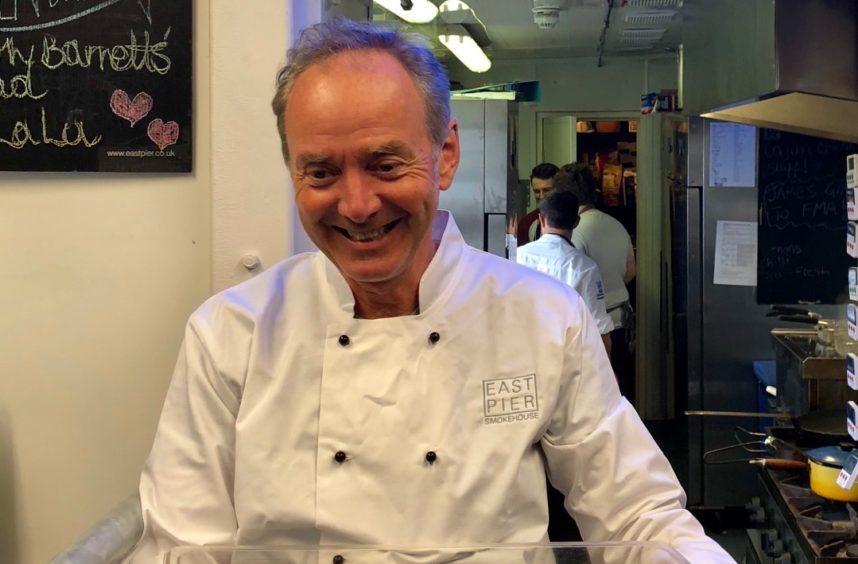 East Pier Smokehouse chef patron James Robb understands the importance of putting his customers first, discovers Caroline Lindsay
Q Desert island food?
A Lobster. Easy to catch, easy to cook – no equipment required and incredibly healthy. Scottish lobsters are, of course, the best so I would just have to get used to what this desert island has to offer.
Q Favourite TV chef?
A Keith Floyd. His food was about experience, people and location. And a laugh.
Q Favourite cook book?
A La Potiniere. Hilary Brown. Classic French food distilled from many visits to France's best restaurants. The recipes are detailed with many instructions but they are about simplicity and taste. The book is from the early 90s – pre foam, smears and dods.
Q Favourite ingredient?
A We smoke butter here and then blend it with garlic and herbs. Adds depth of flavour to anything – pan-fried sardines, cullen skink or even on top of a barbecued steak.
Q Most hated ingredient?
A French beans or Kenyan beans as they are now.  Green one moment and grey the next. Childhood trauma.
Q Perfect dinner guest and why?
A My grandfather and I have the same birthday. We always ate orange jelly in a rabbit mould together. I could ask him about the Somme and what he ate there. Although he would be 128 now so I doubt the chat would be up to much. I think he would still manage the jelly.
Q Favourite kitchen gadget?
A The radio. Our kitchen is situated in the North Sea. The shipping forecast is always useful when it comes to ordering food.
Q Favourite music to cook to?
A We were given an album called 'Songs in the key of Fife' by Andy Shanks to play in the restaurant. It's great. You can peel potatoes whilst listening to a misty lament about creels and the Isle of May.
Q Perfect menu?
A Smoked salmon and lobster salad followed by smoking sea bass straight from the hot box.  To finish, stilton cheesecake and rhubarb in red wine syrup.
Q Favourite country for food?
A I went to Japan earlier in the year. Even the airplane food on JAL was a revelation. They seem to serve everything in a box so I felt right at home.
Q Favourite chef, alive or dead?
A Pru Leith. Well, she is not really a chef but she did start off cooking before she became superwoman and foodie celebrity. I worked for her in London. She once told me: "It's all very well being creative but you have to give people what they want".  Ignore this at your peril.
Q Favourite culinary season?
A  Spring. Wild garlic at Kellie Castle. Oh and the peach, nectarine and honey taste of Alphonso mango from India.
Q Salt or pepper?
A Pepper. Old-fashioned ground white pepper. It adds heat and depth.
Q Favourite herb?
A  There is a huge rosemary bush in the garden. I use it in fish, for the barbecue and in goats cheese scones. The smell of it cooking fills the whole house.
Q Favourite spice?
A Paprika. We smoke it. We add it to potato salad, curries and lobster salad.
Q Favourite way to cook the humble potato?
A  Chips. If they are good they are really good. Change your oil regularly.
Q Favourite go-to recipe if you're in a hurry?
A Curry. My partner grew up in India. We eat a lot of curry. A trip down Leith Walk in Edinburgh once a month is essential to stock up on spices. At Dishoom in St Andrews Square they serve a black dhal that I am currently trying to recreate.
Q Favourite naughty nibble?
A Pitta chips, jalapeno houmous and a box set.
Q Favourite health food?
A Mackerel. Fresh off the boat and smoked for 20 minutes. Omegatastic.
Q Ideal picnic dish?
A A box of smoked langoustines with tarragon mayonnaise.
Q Ideal BBQ food?
A I once marinated a box of nectarines in Southern Comfort and burnt them on the BBQ. Served them with just crème fraiche. They were the best burnt thing I have ever eaten off a BBQ.
Q Are you critical of the food when you're dining out?
A Not really.  But you can't help laughing out loud when you are presented with a smear of halibut or a couple of nodules of lamb. MasterChef has a lot to answer for. However, if it's good, when it all comes together – the food, the wine and the company – I can't shut up.
Q Do you tip in restaurants?
A Yes. I was a waiter once.
Q Top tip for failsafe cooking?
A Taste as you cook and before you serve.
Q Worst cooking sin in your opinion?
A Forgetting who you are cooking for.
East Pier Smokehouse, St Monans. www.eastpier.co.uk
Lobster and chips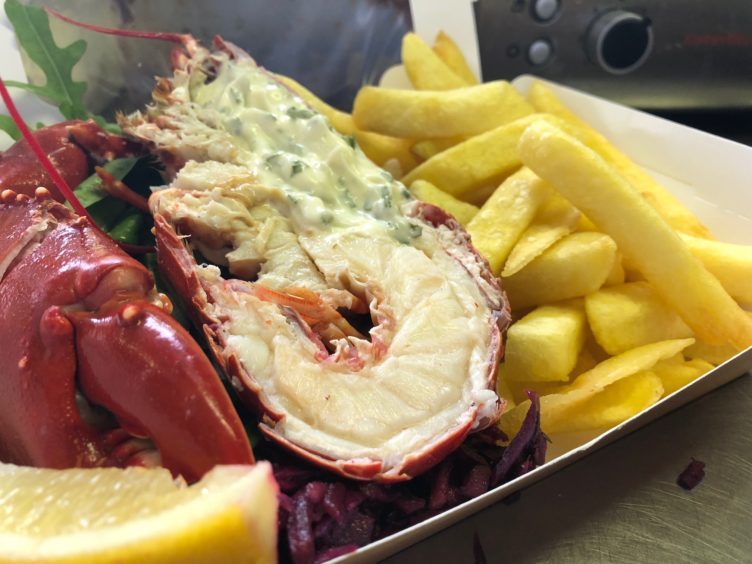 Ingredients
Serves 2, or 4 as a starter
2 live lobsters around half kilo
300g mayonnaise
15g parsley
10g coriander
5g chives
5g tarragon
55g chips
Directions
Put the lobster in the freezer for two hours. Bring the largest pot you can find to the boil. Salt lightly. Plunge in the lobster. Put on the lid. Once it is boiling remove lid and set timer for seven minutes. Remove and cool in cold running water. Chill in the fridge for at least a couple of hours.
Make your own mayonnaise or if worried about raw egg use the best shop-bought you can get. Add enough fresh chopped parsley, coriander and chives and a careful amount of tarragon so it tastes good and herby.
Switch on chip fryer.
To prepare the cooked lobster. Snap off the claws. Crack with the back of a knife the knuckle and claw so you can get at the meat. Lay the lobster flattening out the tail on a chopping board. Take a large pointed knife and at the cross in the shell near the top of the lobster plunge knife so it goes right through the lobster and onto the chopping board.
Holding the lobster firmly and with the tip of the knife still on the board cut down slowly through the body shell and tail. Make sure it crunches through everything so the tail is split. Remove knife and wipe clean then re-insert in order to split apart the other end. Scoop out any gook and green tomalley (found in the body cavity).
Leave the red roe or coral in the tail. Remove the intestinal tract from the tail that runs all the way to the tip. If the shell looks messy wipe very carefully with a damp cloth but DO NOT get any water on the tail meat otherwise it will turn to cotton wool.
Fill the shell with a spoonful of tarragon mayonnaise. Cook the chips. Serve with the lobster halves, the claws and find some electrical pliers and toothpicks to extract every last piece of meat from the lobster.
Don't forget the sweetest meat is in the eight spindly legs – snap off and lay on table then roll an empty wine bottle down the length of them.