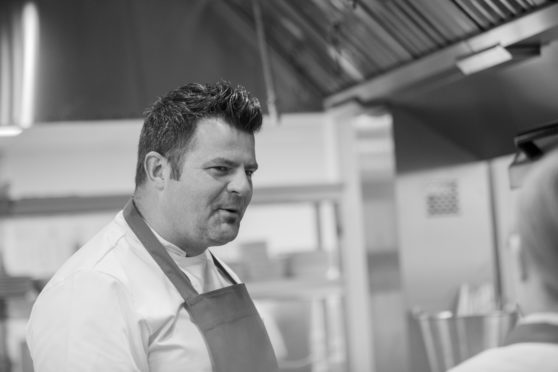 Chris Hazelton, head chef at The Rookery, Carnoustie, tells Caroline Lindsay why eggs are essential and chives charm him.
Q Desert island food?
A The versatile egg. There are so many variants to be had from just one ingredient.
Q Favourite TV chef?
A Anthony Bourdain – he produced honest food programmes, just as he saw it. He always used food from around the world and across a wide culinary sphere.
Q Favourite cook book?
A Le Repertoire de la Cuisine by Louis Saulnier. It's straightforward, full of classic recipes and techniques.
Q Favourite ingredient?
A Scottish hand dived scallops – they're sweet with such a smooth texture and are just an amazing ingredient to have and work with.
Q Most hated ingredient?
A I'm struggling to think of any ingredient, I honestly cannot put my finger on one I hate!
Q Perfect dinner guest?
A Anthony Bourdain – I reckon he would have so many great stories to tell of his culinary journeys.
Q Favourite kitchen gadget?
A The rational oven – any oven that cleans itself and saves you half an hour per day is worth its weight in gold to any chef.
Q Favourite music to cook to?
A When I'm cooking in the house, I love some classic Groove Armada.
Q Perfect menu?
A It would be a simple and honest menu but above all, using Scottish produce. It would be focused around seafood, red meat, and berries.
Q Favourite country for food?
A Scotland, of course! We have the world's best larder on our doorstep.
Q Favourite chef, alive or dead?
A Keith Floyd – a trailblazer who showed food from around Europe and further afield and brought new culinary experiences into the homes of British people.
Q Favourite culinary season?
A Spring – the re-birth of colour and flavour on a plate.
Q Salt or pepper?
A Salt, every time. It enhances everything when used appropriately.
Q Favourite herb?
A Chives – as sad as it may sound, there is something very fulfilling about fresh, finely chopped chives.
Q Favourite spice?
A Star anise – I love everything about it: the look, the smell, and the taste.
Q Favourite way to cook the humble potato?
A Our signature soup is East Neuk Smoked Haddock Chowder. The Maris Piper potato is an integral part of the dish.
Q Favourite go-to recipe if you're in a hurry?
A Steak and macaroni cheese is a big favourite at home. Scotch ribeye and creamy macaroni cheese – a real winner with the family.
Q Favourite naughty nibble?
A Cheese and ham toastie.
Q Favourite health food?
A Turmeric.
Q Ideal picnic dish?
A Langoustines.
Q Ideal BBQ food?
A Ribs (of any kind).
Q Are you critical of the food when you're dining out?
A I try not to be.
Q Do you tip in restaurants?
A Yes, if the food, service and experience warrant a tip.
Q Top tip for failsafe cooking?
A Fail to prepare, prepare to fail.
Q Worst cooking sin in your opinion?
A The microwave.
East Neuk chowder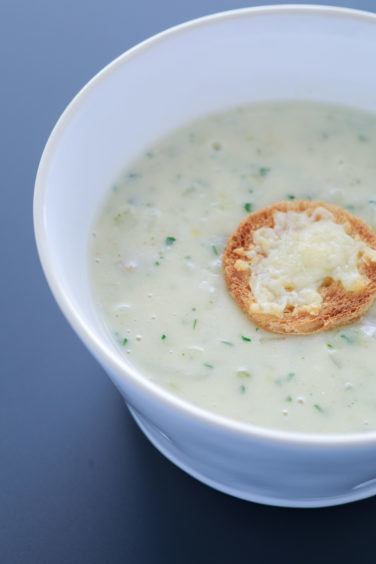 Serves 4
Ingredients
100g East Neuk smoked haddock
100g Carnoustie Farm Shop Maris Piper potatoes
100g white onions
100g leeks
100g celery
15g butter
200ml full fat milk
10g plain flour
2g parsley
Directions
Firstly, the haddock needs prepared. Begin by dicing the tail of the haddock into small cubes, while keeping the spine of the fish for the liquor. The remaining top end of the haddock can be set aside. The potatoes, onions, leeks and celery must all be washed and diced too.
Using a saucepan, add the milk. Do not bring it to the boil, only to a simmer. Add the spine of the haddock and any remaining trimmings and leave to simmer.
Next to make the roux, melt the butter by placing it in a heavy saucepan over a low heat. Melt gently.
Add the flour to the saucepan and cook for 3-5 minutes without colouring. Cooking this for too long or at too high a heat can spoil the dish so be careful to keep at a low heat and stick to the recommended time.
Slowly add the milk to the saucepan, whisking it well as you go until you are left with the consistency of a thick sauce.
At this stage, it's time to add the vegetables. Add the diced onions, potatoes and celery to the pan and cook until the vegetables are tender.
Fold in the diced leeks and haddock and allow to simmer for two minutes. Add the parsley to round off the dish before serving.