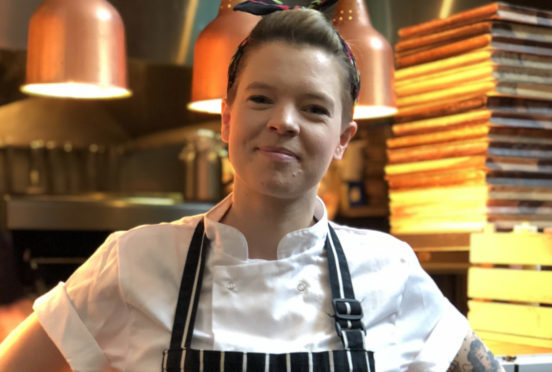 Lucy Spendlow, head chef at Forgan's in St Andrews, tells Caroline Lindsay why she loves coriander and cumin
Q Desert island food?
A Probably ramen noodles because they are my go-to quick meal.
Q Favourite TV chef?
A Gordon Ramsay because quite frankly he is a total badass, has no fear and inspires me to be a better chef.
Q Favourite cook book?
A I don't have one favourite cook book but can spend hours looking at recipes online.
Q Favourite ingredient?
A Garlic, I just love it.
Q Most hated ingredient?
A Dried fruit. I've never been a fan. I don't know why people would choose it as a snack over fresh fruit.
Q Perfect dinner guest?
A Someone who would do the cooking for a change, probably my sister as she's a great cook and makes anything I ask her to.
Q Favourite kitchen gadget?
A Tongs. I would feel lost in the kitchen without them.
Q Favourite music to cook to?
A It depends. If I'm alone in the kitchen prepping I like something chilled out like soul or folky stuff but on a busy dinner service I like to up the tempo to straight up chart bangers.
Q Perfect menu?
A I would start with crispy salt and pepper squid with a garlic aioli, followed by hot buffalo chicken with blue cheese dressing, spicy skinny fries and homemade slaw. My dessert would have to be millionaire cheesecake with extra caramel.
Q Favourite country for food?
A Japan. Everything is simple but packed full of flavour.
Q Favourite chef, alive or dead?
A My brother-in-law Adam Scott. He taught me everything I know about cooking and still continues to be my number one go-to guy for guidance and advice.
Q Favourite culinary season?
A Summer. Any chance to cook and eat food outside is always great.
Q Salt or pepper?
A SALT! You can't cook without it and who likes bland?
Q Favourite herb?
A Coriander. It's used in most of my favourite types of cuisine.
Q Favourite spice?
A Cumin. I'm a big fan of Mexican food.
Q Favourite way to cook the humble potato?
A There's no way I could pick one. Chips, dauphinoise, fondant, mashed potatoes, duck fat roasted, I love them all!
Q Favourite go-to recipe if you're in a hurry?
A Chicken fajitas. Quick to make and always tasty.
Q Favourite health food?
A I like fresh fruit, particularly watermelon, but I don't really buy into the whole super foods craze.
Q Ideal picnic dish?
A Sandwiches. They are so diverse and you can put so much between those bits of glorious bread.
Q Ideal BBQ food?
A Bockwurst sausages and spicy marinated chicken.
Q Are you critical of the food when you're dining out?
A I can be critical when I'm in a place that is charging a lot of money. I expect excellence when paying a high price when I know the price of the ingredients.
Q Do you tip in restaurants?
A Yes of course but the amount varies dependent on food and service.
Q Top tip for failsafe cooking?
A Use a temperature probe and follow a recipe. You can't go wrong.
Q Worst cooking sin in your opinion?
A Not seasoning food. Remember, no one likes bland!
Lucy's potted beef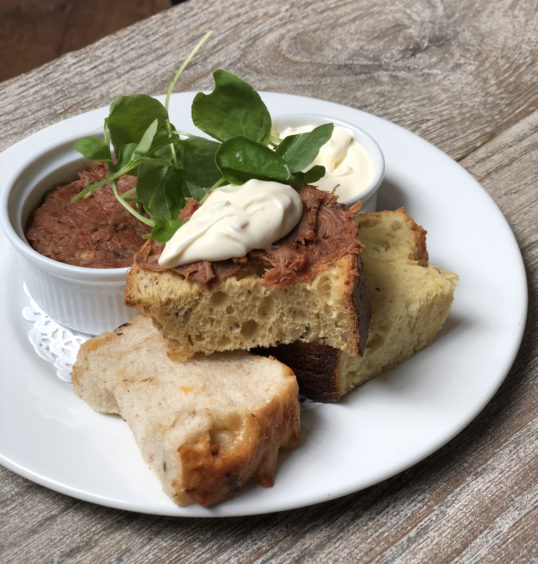 Serves 4
Ingredients
250g diced beef shin
625g chopped tomatoes
100ml red wine
1 garlic clove
½ teaspoon of fresh thyme
Salt
25g unsalted butter
25ml water
½ teaspoon of green peppercorns
1 bay leaf
3 cloves
Directions
Pre-heat the oven to 150 degrees.
Cut the beef shin into smaller pieces and place into a deep oven tray. Add all the other ingredients except the butter and mix well.
Cover the tray with foil, put it in the oven and cook for 2 hours.
Remove the tray and give the beef a good mix then re foil the tray and place back in the oven to cook for 2 more hours.
Remove from the oven and mix well, breaking up the beef as much as you can.
Place the tray back in the oven without foil until the liquid has reduced and the beef has fully broken down.
Remove the bay leaves, add the butter and mix well. Add seasoning if required and place the mixture into ramekins to chill.
Serve with artisan bread and horseradish mayonnaise.