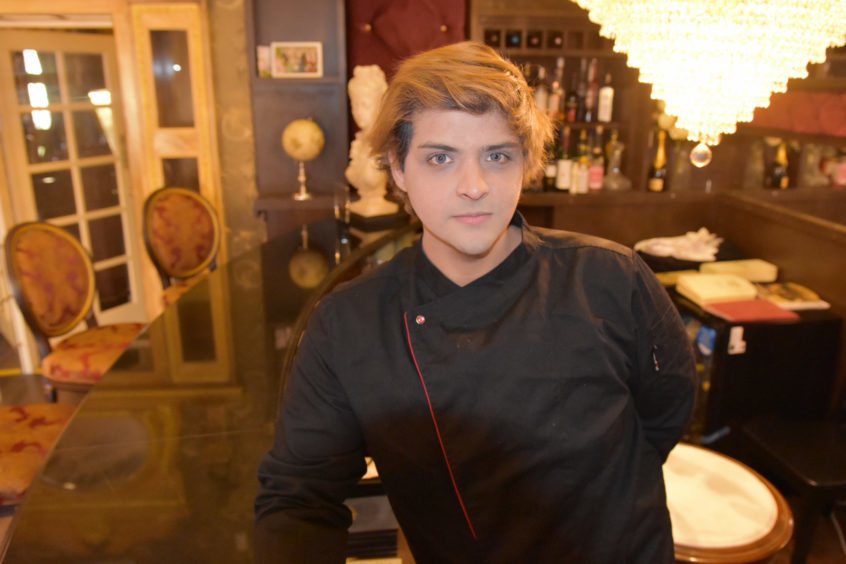 Usman Malik, chef patron at Dynasty and Oshibori restaurants in Dundee, tells Caroline Lindsay why cooking is an art
Q Desert Island food?
A Hmmm gin and tonic, limes and some nice Chinese food, crispy calamari/squid and my favourite spicy kung po chicken.
Q Favourite TV chef?
A Difficult to choose just one. Delia Smith – I loved her great classical recipes which were well explained and simply loved watching her when I was younger; I also like Nigella Lawson as she is fun to watch with contemporary dishes and fusions.
Q Favourite cookbook?
A None – I don't believe in following recipes from cook books as I enjoy experimenting with different flavours and ingredients by using my own experience. Name a dish, and I will make it for you…
Q Favourite ingredient?
A A good stock either vegetable or meat  as it can make such a difference and enhance flavours.
Q Most hated ingredient?
A That's a harsh word! I love all ingredients as each one is unique and has its own quality and taste.
Q Perfect dinner guest?
A It has to be close family and friends – there's nothing like enjoying your dinner on a large table with your loved ones.
Q Favourite kitchen gadget?
A So hard to choose because for me food is like an art – every brush and tool has its contribution towards creating a masterpiece, and all have their own purpose. However, I love my work kitchen and I have gathered amazing gadgets from all over the world.
Q Favourite music to cook to?
A Anything nostalgic that brings back nice memories.
Q Perfect menu?
A A perfect menu is a journey, a well-balanced meal including soup with crusted bread, amuse bouche, a hearty meat course and a light dessert, cooked to perfection with great flavours and spices. What could be more perfect?
Q Favourite country for food?
A It has to be Pakistan, such a wide range of food – from the north with its snow-capped mountains to the mainland with wonderful rivers and canals, and the south with the sea! Food and culture is influenced by the many countries with its borders with China/Tibet, Iran, India, Afghanistan and the Silk Road leading to the Soviet countries. It's like a world within one country.
Q Favourite chef alive or dead?
A My wonderful mother, as she inspired me when I was young – I really learned a lot from her and I still do!
Q Favourite culinary season?
A Spring, a beautiful and fantastic season with so much to offer.
Q Salt or pepper?
A If I really have to pick one then salt; however, I like the natural flavours of other ingredients to shine.
Q Favourite herb?
A Coriander as it adds such a distinctive flavour and can be used in a wide variety of dishes.
Q Favourite spice?
A Saffron, it adds a luxurious touch to any dish and I love the colour.
Q Favourite way to cook the humble potato?
A Dauphinoise potato, hearty and delicious!
Q Favourite go to recipe if you're in a hurry?
A Probably a wrap with chicken, hummus, red onions and olives.
Q Favourite naughty nibble?
A Chocolates and Krispy Kreme doughnuts.
Q Favourite health food?
A Roasted almonds.
Q Ideal picnic dish?
A Freshly baked quiche.
Q Ideal BBQ food?
A Lamb chops.
Q Are you critical of the food when you are dining out?
A No as it would spoil my evening – I try to enjoy myself when I am out for dinner.
Q Do you tip in restaurants?
A Yes, always if the food and service are good. I always ask for it to be shared with kitchen staff too.
Q Top tips for failsafe cooking?
A Ensure the ingredients and spices are well balanced.
Q Worst cooking sin?
A To overcook.
Stirfried ramen with spicy garlic shrimps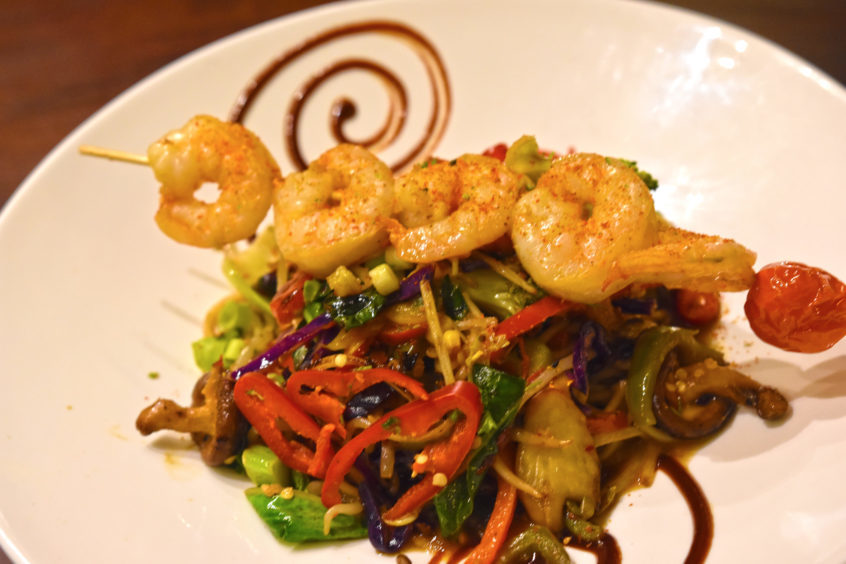 Ingredients
Serves 1
1 tbsp sesame oil
2 cloves garlic, finely chopped
Half a chilli, green or red, finely chopped
4-6 large king prawns
Handful of onion, bean sprouts, peppers, and cabbage, chopped Julienne
2 shitake mushrooms
I tbsp coriander, finely chopped
1 tsp mirin (sweet Japanese vinegar)
Half tsp dashi powder (seaweed powder with a very distinct flavour available at Asian grocers)
1 tsp light soy sauce
Pinch brown sugar
Pinch crushed red dry chillies
1-2 leaves bok choy
150g ramen noodles (after being boiled)
For the garnish: 1 tbsp spring onions, finely chopped
Few slices leek, chopped Julienne
Pinch shichimi (Japanese seven spice mix)
Directions
Please note that this is fast cooking on full flames so make sure all your ingredients are ready as we don't want to over cook meat and vegetables.
Take a wok, make sure it's smoking hot! Add sesame oil, garlic, chilli and prawns, stir quickly and all your chopped handful of vegetables including onions, bean sprouts, peppers, cabbage, shitake mushroom and coriander and bok choy. Now add mirin, dashi powder, soy sauce, sugar and chilli flakes, add a tiny splash of hot water (let's say 100ml from your boiling kettle to prevent any further burning of ingredients) and finally add your noodles, Stir fry until all the water is evaporated and juices blended throughout the noodles, dish out garnish with spring onions and leeks and sprinkle shichimi. For impressive presentation you can put prawns on a skewer. Enjoy!
www.dynastyscotland.co.uk and www.oshiborirestaurants.co.uk