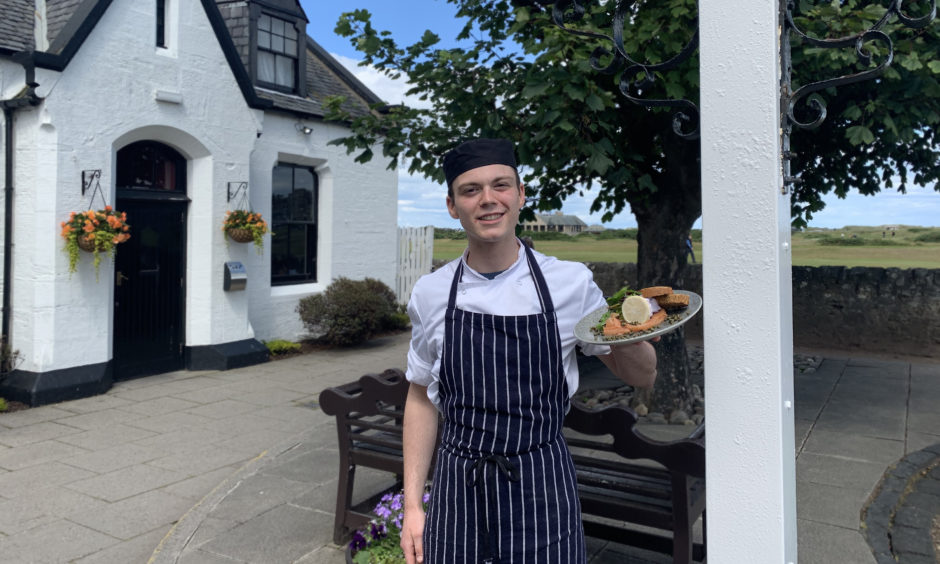 Ben Nicholl of the Jigger Inn, Old Course St Andrews, hopes his seven-year-old niece will follow in his culinary footsteps. Caroline Lindsay finds out more.
Q Desert island food?
A Beetroot – it's so versatile and very healthy, I love it in salads, smoothies and cakes.
Q Favourite TV chef?
A Gordon Ramsay, a great chef and very talented.
Q Favourite cook book?
A Nathan Outlaw's Home Kitchen – inspirational, modern.
Q Favourite ingredient?
A Mushrooms – my absolute favourite, great flavours and so versatile, go with almost everything and a great vegetarian or vegan main ingredient.
Q Most hated ingredient?
A Oysters as there are only a few ways of cooking them, I find them a boring ingredient.
Q Perfect dinner guest?
A My seven-year old niece who loves to help me prepare ingredients and cook with me. It's always a pleasure to have her helping and maybe I will inspire her to follow in my footsteps.
Q Favourite kitchen gadget?
A Thermomix – it can be used for so many things and is great for smoothies.
Q Favourite music to cook to?
A Motown and soul music – a relaxed and happy chef makes great food!
Q Perfect menu?
A Simple and fresh – simple for preparation and time, fresh for flavours. If you use good fresh quality ingredients you don't need to do much to them.
Q Favourite country for food?
A Norway – their preservation of food excites me.
Q Favourite chef, alive or dead?
A Keith Floyd – he created great, simple and delicious food. He still inspires me.
Q Favourite culinary season?
A I love all seasons – they all bring something new and exciting to look forward to.
Q Salt or pepper?
A Salt – it brings out the flavour in dishes.
Q Favourite herb?
A Rosemary – it's a unique flavour, tastes good with most things, especially on roast potatoes.
Q Favourite spice?
A Ginger – It goes with a lot of foods, savoury or sweet, and adds a warmth.
Q Favourite way to cook the humble potato?
A Roasted in the oven.
Q Favourite go-to recipe if you're in a hurry?
A Seafood: it's very easy to create dishes from a few ingredients cooked in lots of different ways – see my smoked salmon recipe.
Q Favourite health food?
A Avocado – it's so versatile, smashed on toast with eggs, or add it to cakes, add to wraps.
Q Ideal picnic dish?
A Quiche – you can add any leftovers you have to hand, make the day before the picnic and it's easy to transport when the quiche is cold.
Q Ideal BBQ food?
A Marinated halloumi – sliced or as part of a vegetable and halloumi skewered kebab.
Q Are you critical of the food when you're dining out?
A I try not to be, as I know what it can be like in the kitchen and front of house.
Q Do you tip in restaurants?
A Yes, I think it's important to show your gratitude, especially if you are in the industry and know how hard everyone works.
Q Top tip for failsafe cooking?
A Be prepared – preparation is key.
Q Worst cooking sin in your opinion?
A Badly frozen food and tasteless food.
Smoked salmon
Ingredients
Serves 2
125g Scottish smoked salmon
1 tbsp capers
For the honey mustard dressing: 2 tsp olive oil
1 tsp honey
1 tsp wholegrain mustard
1 tsp white wine vinegar
For the bread etc: 3 x slices of bloomer bread – thinly sliced
Small handful of mixed salad leaves
Half a lemon
directions
Arrange the smoked salmon on a plate and scatter with the capers, place the dressing ingredients in a bowl and whisk together, add the mix leaves to the bowl and coat with the dressing, in a griddle pan place the bloomer bread slices and half lemon cut side down, and chargrill, remembering to turn the bloomer bread.
Place the dressed mixed salad on top of the salmon and place the bloomer bread and half lemon on the place Serve whilst the bread is still warm, squeeze the chargrilled lemon over it and enjoy!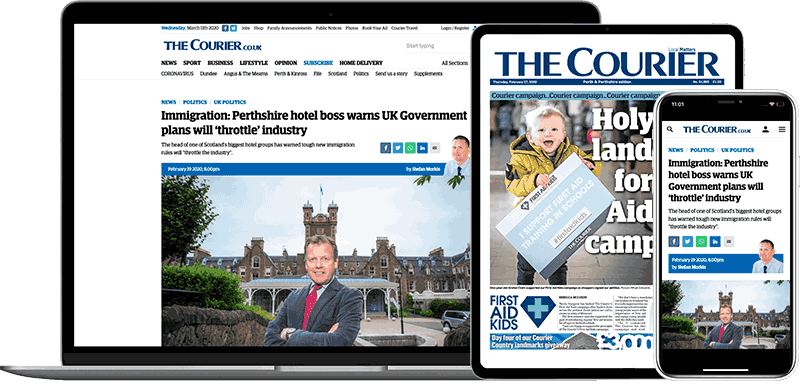 Help support quality local journalism … become a digital subscriber to The Courier
For as little as £5.99 a month you can access all of our content, including Premium articles.
Subscribe