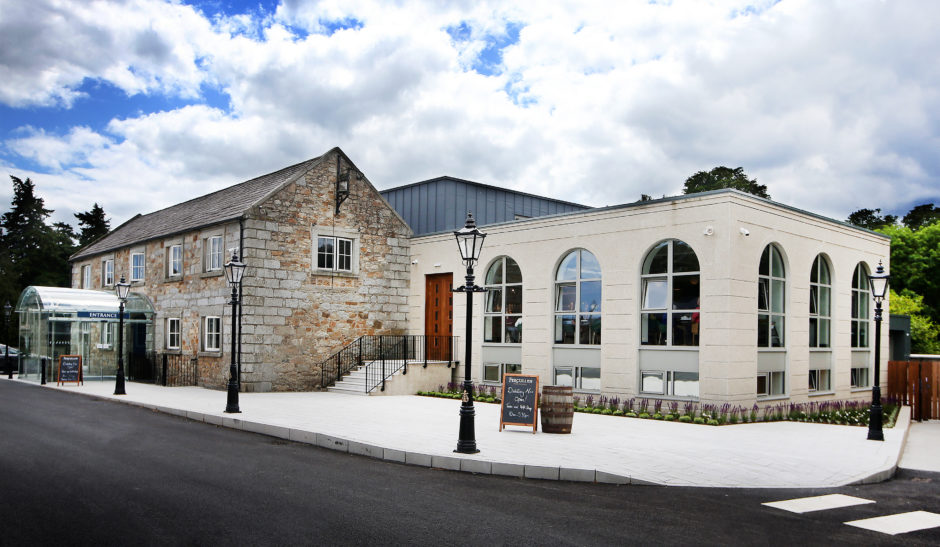 Located 20 miles south of Dublin, Powerscourt is one of Ireland's finest stately homes, has one of the world's top 10 gardens and, since last year, boasts its own whiskey distillery.
Installed in the former mill house – the old water-powered mill displayed under a vast glass floor – the distillery has a hefty copper-and-steel mashtun, four steel washbacks or fermenters and three burnished copper stills, all equipment and plumbing installed by Forsyth's of Rothes-on-Spey. Currently the distillery does eight to nine mashes a week but can achieve 20.
Its state-of-the-art visitor centre has six tasting rooms, a cinema/conference centre and a large, well-stocked shop already selling an array of whiskies although none, as yet, distilled on site.
Close by is a brand-new, one-third-filled warehouse that can hold 6,500 casks of the house nectar. Casks are almost all ex-bourbon, mostly stacked several pallets high, although certain bespoke wine casks, ex-Chateau Lafite, are stored dunnage-style. These will eventually total 397 (the height in feet of Powerscourt's waterfall), all privately bought by individuals as their own liquid treasure trove.
Two types of whiskey are being produced, all-barley single malt and barley-and-maize Irish pot-still, with single grain whisky being brought in from a noted supplier. Wash, intermediate and spirit still capacities are 13,000 litres, 8,500 and 5,500 respectively. New spirit is piped across to a spirit vat in the warehouse, diluted and filled into casks at 64% alcohol by volume, slightly above the Scots norm of 63.5 abv. Casks are filled through a bunghole in the lid rather than the more traditional mid-stave bunghole and they will be emptied via an extractor pump rather than into the usual floor trough.
Distillery head is Alex Peirce and the master distiller is Noel Sweeney, one of the great names of Irish distilling, who came to Powerscourt after 30 years at Cooley distillery at Dundalk, launched and run by the noted Dr John Teeling, whose sons,  Jack and Stephen, recently started Dublin's first new distillery in over a century.
Powerscourt distillery tours started in May. The shop stocks three main whisky lines, all named Fercullen—a blended whiskey, 10-year single grain and 14-year single malt, all previously distilled by Noel Sweeney, until in-house spirit can be bottled. All three were delectable, especially the latter two.