Garry Watson, chef proprietor of Gordon's Restaurant in Inverkeilor, plums up a tasty dessert
Plums are the juiciest fruit in the stone fruit family and come in so many different varieties – some sweet, some slightly more tart – and vary in hue from deep purple to red, yellow and green. Therefore, colour isn't a useful guide to tell ripeness.
Instead, look for smooth unbruised skin with chalky bloom, and firm flesh that gives a little when it's gently squeezed. If they feel soft at the point where the dimple meets the stem, they're overripe.
Avoid split, brown or shrivelled examples. Plums will keep for four days at room temperature, or store in the fridge in a perforated bag for up to a week.
They are great for cooking sweet dishes including comforting pies, crumbles, cakes and tarts. Plum jam and chutneys both work really well and are great for using up a glut of fruit.
One of my favourite restaurant dessert combinations is plum compote with dark hot chocolate fondant and pistachio ice cream.
Plums also work brilliantly in savoury cooking served as a relish with grilled oily fish like salmon or mackerel, or with roast duck or pork in a sweet and sour style plum sauce.
Try my really simple yet impressive warm plum compote with honey and whisky ice cream dessert. What's great is it doesn't require an ice cream machine to churn.
Heat 90g of heather honey in a small pan then set aside. In a small bowl, whisk 4 egg yolks until pale and thick then slowly add the warmed honey until combined.
Whisk 330ml of double cream until it forms firm soft peaks, then fold in 20ml of your favourite malt whisky (mine being local Glencadam single malt from Brechin).
Finally, fold the honey and yolk mixture into the whipped cream until combined. Pour into 4 x 200ml dariole moulds lightly greased with oil then put in the freezer to set.
For the plums take 4 plums, halved and stones removed then place in a ovenproof dish and mix together with zest of 1 orange and 1 lemon, 100g demerara sugar, 1 cinnamon stick, 200ml red wine and 50ml port.
Cover with foil and bake @ 160C for 20-25 minutes until the plums are tender.
Remove the dariole moulds from the freezer and briefly dip in hot water to remove from moulds then place on serving plate (allow to sit at room temperature to slightly soften), serve with the warm plums and spoon around some of the cooking syrup.
The compote can be made in batches and frozen in a small freezer tub then thawed out overnight in the fridge when required. It also works great served with Greek style yoghurt flavoured with honey and Swiss-style muesli for breakfast.
---
Read more in this series…
Chef's Table: Courier Country's fruit harvest lends itself perfectly to the easiest cheesecake ever
Chef's Table: The Arbroath smokie is top local fare, says Garry Watson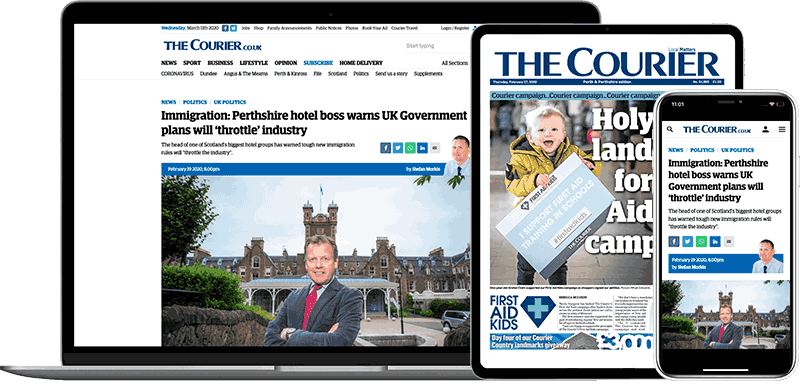 Help support quality local journalism … become a digital subscriber to The Courier
For as little as £5.99 a month you can access all of our content, including Premium articles.
Subscribe