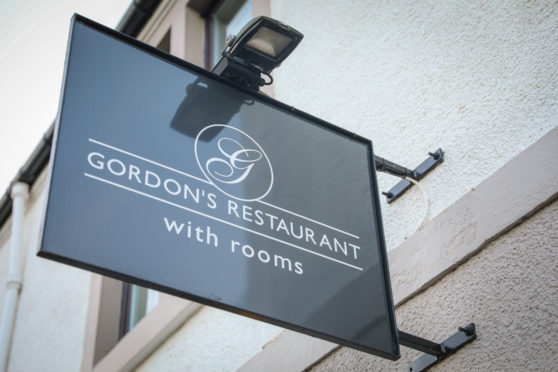 Gordon's is something of a cherished institution amongst a certain sector of the population of Angus and Tayside who, I would say, don't ever have to worry about the wellness of their heels, their proximity to a Lidl or the stabling of the horses.
As an experience it's quite precise and as a dining option it's quite expensive, especially for around here. Opened over 30 years ago by Gordon and Maria Watson, it sits in an unprepossessing small Angus village close to Lunan Bay.
For years I had been driving past the marked turn-off, never realising that the restaurant was there and that it was actually a bit of a thing. That thing has led to them winning multiple awards including 3 AA rosettes and, in 2012, the AA Scottish restaurant of the year.
It also won the coveted Courier Menu Food and Drinks Award for best fine dining restaurant last year. Judging by their reviews, their customer loyalty is strong, and I can totally see why.
That it's not really for me is not their fault.
I had a perfectly nice evening here and really enjoyed the food. The service was very good. The room was fine. I admired the Timorous Beasties wallpaper. But what was missing? What made it that I walked out the door feeling little different to when I walked in?
For me the night felt more like an anachronistic exercise in fine dining than an experience to treasure. All the elements were there but there was something intangible which made the evening feel a bit sterile.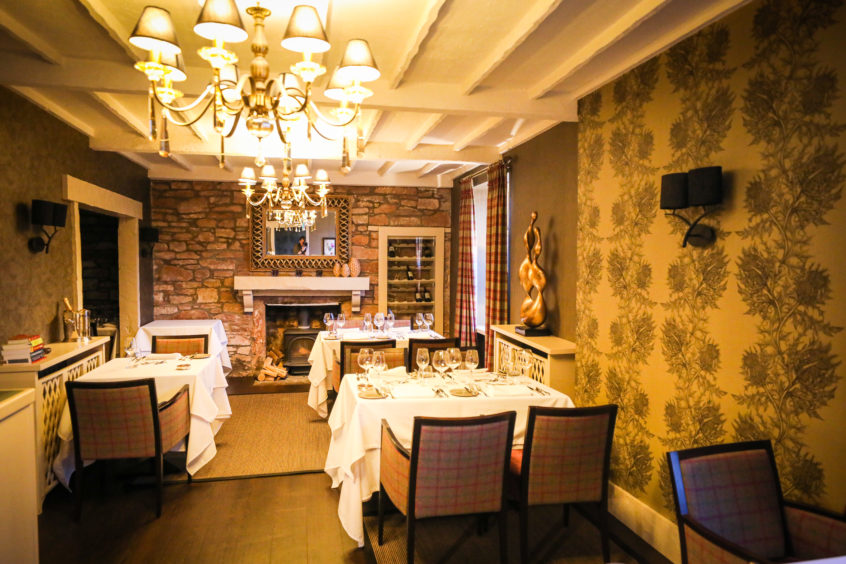 Firstly, a room this small really needs to be full; you need the buzz of conversation to counter the embarrassing hushed reverence that can often come from a fine dining experience.
Tonight only one other table was occupied, which meant the room felt cold – and I don't just mean the air. Maria is a good host but is constantly nearby, making you feel more like a guest in someone's home. Some people love this house party atmosphere. I don't, and I hate feeling like every word can be overheard, every action seen.
Changing or at least dimming the lighting would help – it's way too bright and not conducive to relaxation. Lighting the wood burner (it was probably the coldest night of the year so far) would also have helped bring warmth to the space.
Gordon's is only open for dinner and that dinner is £69 per person. Coffee is £5 extra. Is it worth it? Well it depends on how much money you have to throw around and where you want to throw it. The food is pretty great, the ingredients excellent quality and the presentation is wonderful.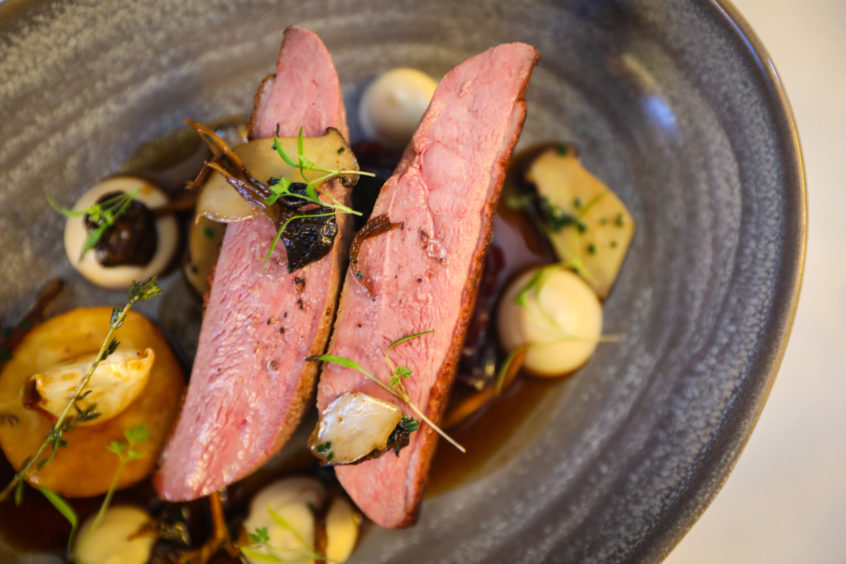 Nonetheless, my main course of hake had some surprisingly jarring elements, such as the burnt (their description) pak choi and the coriander; admittedly this is just one dish amongst many but, on a menu with so few choices, anything that isn't immaculate will stand-out.
It's a long evening with pre-courses galore, so much so that by the time of the pre- dessert my friend Maxine had to be pre-retired from the line of duty, the wax and wane of multiple courses rendering her full.
We'd eaten a lot over about three hours, with many highlights. My twice baked Isle of Mull Tobermory cheddar soufflé was a textbook creation, as fluffy as a Prince under scrutiny, but oh so much lighter and easier to break down. A complete joy!
Maxine's venison tartare, pistachio aioli, pickled shimeji and apple salad brought on slight starter envy from my side of the table. A beautifully balanced dish showing consummate flair.
The veloute served between courses was listed as comprising carrot, mushroom and crème fraiche but really it became so much more than these component parts. This ambrosial creation could have led me to buy a very expensive Thermomix, the piece of kit used to make this nectar, had I been drunk enough and able to get online.
A real delight. The home-made bread, by the way, is excellent, especially the salted focaccia.
I think Maxine made the better choice of main course (there were but two). Her Gressingham duck, purple cabbage, celeriac puree, cider fondant and cracked pepper jus looked wonderful and was pronounced divine. My hake was good but I wasn't so excited by the pak choi, the coriander and the curry dressing, all of which I thought jarred with the fish.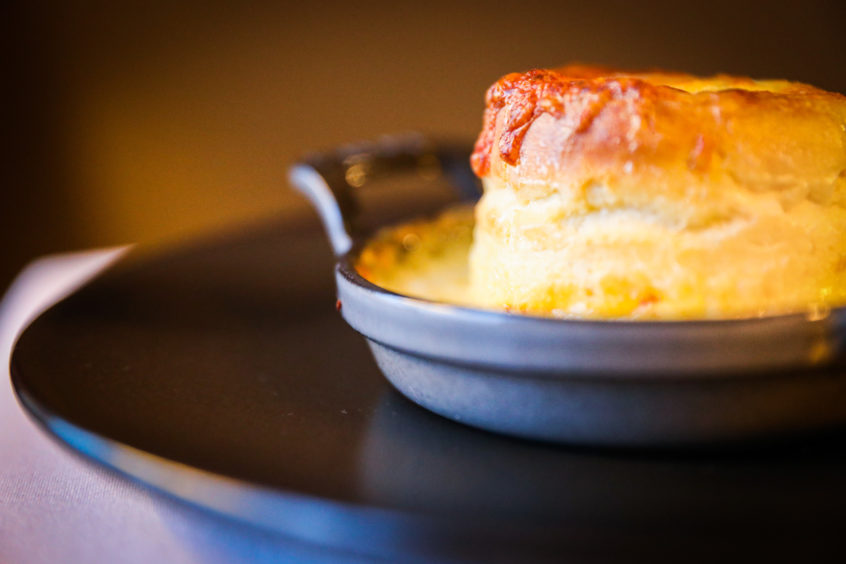 Pre-dessert was an exquisite lemon posset whilst the main dessert was a pannacotta with mango, passion fruit, mint and honeycomb – wobbly, silken, perfect.
Maxine did try a sliver of one of the three cheeses on offer – the Fat Cow, which comes from the same place in Tain as the very good Minger. Oh how we laughed along with the ghost of Sid James!
Cheese taken as an extra course is an additional £12.50 per person. With coffee, that would take the meal to almost £90 a head. Petit fours include chocolate truffles easily as good as those made and served in Sally Clarke's in London, hitherto the gold standard of truffledom. I took some home and ate them for breakfast.
I feel genuinely sorry that I didn't respond better to Gordon's. They try so hard and Garry can obviously cook brilliantly. They have nice rooms you can stay in; it's such a personal business for them, and one they put so much work into.
To run a fine dining restaurant like this in somewhere so rural takes so much guts, and I admire what they have done greatly. And to carry on after the death of Gordon himself must have been so tough. Respect to them for achieving all of the above.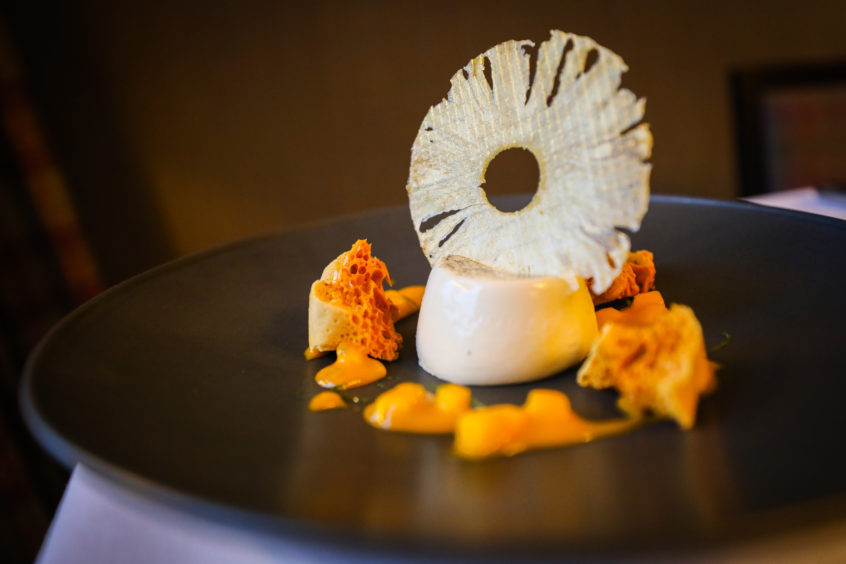 For me though the evening had a ritualistic, almost formulaic feel that was at odds with the obvious bounty of the food and the skill in cooking it. That's the problem with casual fine dining, when you haven't got the high-octane grandeur and glamour of the Ritz as an enhancement.
This casual fine-dining feels neither one thing or the other, both too formal and also , bizarrely, not formal enough. Tonight felt curiously drawn out, like a play that should have had both acts cut or a song that needed the chorus to come in quicker.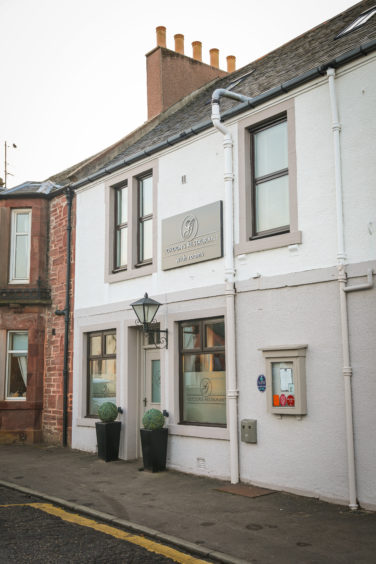 It was all very correct, polite and well-mannered and maybe I'm just someone who wants a maverick touch in amongst the classicism – an element of surprise, of strange juxtaposition, of something feeling so wrong that it becomes right.
So, a great place for some, but not for me.
Gordon's Restaurant with Rooms
Main Road
Inverkeilor
by Arbroath
Angus, Scotland
DD11 5RN
t: 01241 830364
£69 per person; coffee and petit fours £5; cheese as an extra course £12.50
Value: 6/10
Menu: 8/10
Atmosphere: 6/10
Service: 9/10
Food: 10/10
Total: 39/50