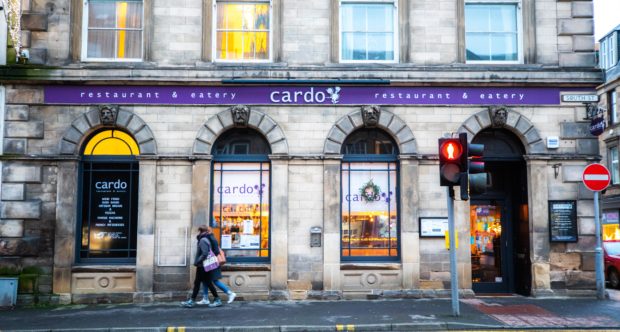 For Murray Chalmers, Cardo was a bit of a find, although he admits that might amuse many citizens of Perth because he's since learnt his great discovery actually opened in 2005. But, as he says below, it was a pleasant surprise.
I must have walked past Cardo loads without noticing but was recently tipped off about it by chef Adam Newth; Adam's opinion is normally spot-on and I'm happy to say this retains his consistent strike rate.
Little prepares you for what's inside – to the degree that I felt a mild sense of panic that Adam had got it wrong when we got near.
It's not that the exterior of the former bank (just along from the glorious time-warp that is the Salutation Hotel) is unattractive – more that the messaging of the place seemed a bit diffused and confused.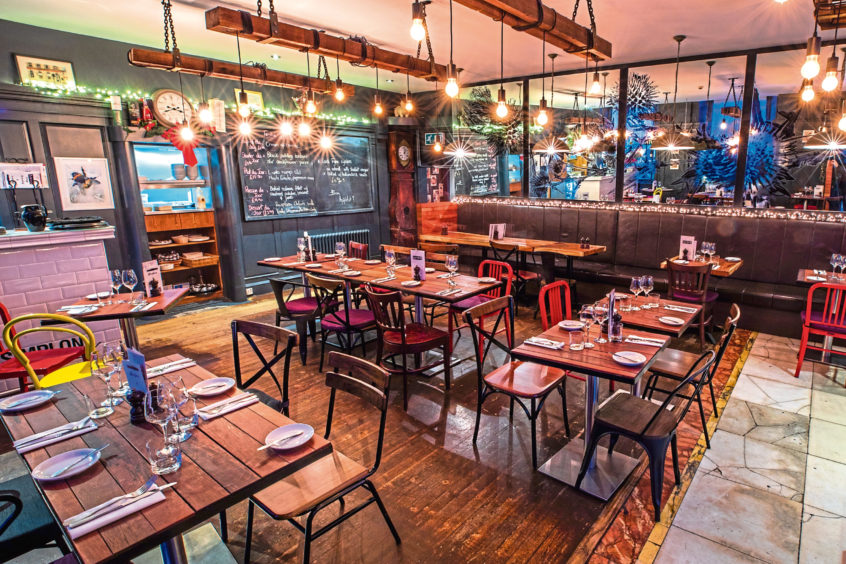 I'd heard it was French but then the signs outside mentioned pizzas which I assumed might be an attempt to cover a lot of bases – and not just those crisp circles of joy emerging anointed with tomato and mozzarella from the wood-fired oven.
This made me stop thinking about eggnog and ornaments and start questioning nothing less than the nature of authenticity (get me!) – because here I am doubting the mixed messaging of a place in Perth while knowing very well that the one restaurant in the village close to my house in rural France serves predominantly pizza; also the pizza van that trundles in to the next village to us in France every Monday is awaited every week with anticipation. So I had two words with myself and those words were "global village".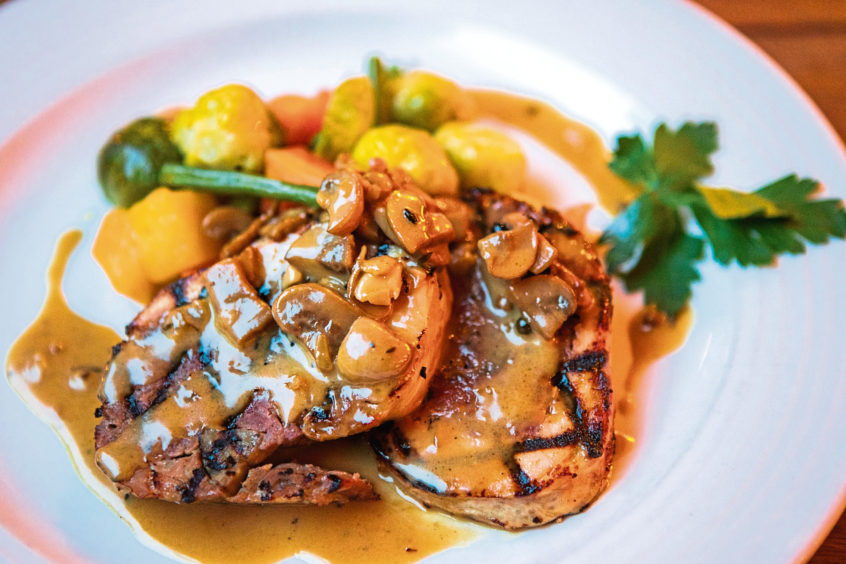 Cardo is great. It reminds me of Café Rouge which might be seen as a dismissive statement by some – but I used to love the ersatz nature of that place which, back in the day, provided a cheap fix of Europe/glamour for before it was available for the cost of a flight to Bergerac with Ryanair.
This was a different age, before we drank wine with dinner at home – you know, the dark ages.
The interior of Cardo is welcoming, even factoring in the temporary festive adornments which lend it an extra magical air.
You really want to be in the main dining room; the day we went they were really full and we were decanted into the second space which is pleasant but a bit B-list compared to the main room.
But I'd already checked out the specials on the board and was so hungry I would have eaten on the wooden floor if that's the only place they could have put us. This kind of hunger needs instant gratification; even the candles in wine bottles looked less like 1970s bistro decorations and more like a source of nourishment.
So, seated on an old pew, in a room with cheap facsimiles of French posters, we're ready to celebrate the final days of being a European nation with champagne, bonhomie and a bucket of entente cordiale towards the wonderful French nation.
Salut et bonne fete! There is a very appealing festive menu with three courses for £25 (lunch) and that's what I had.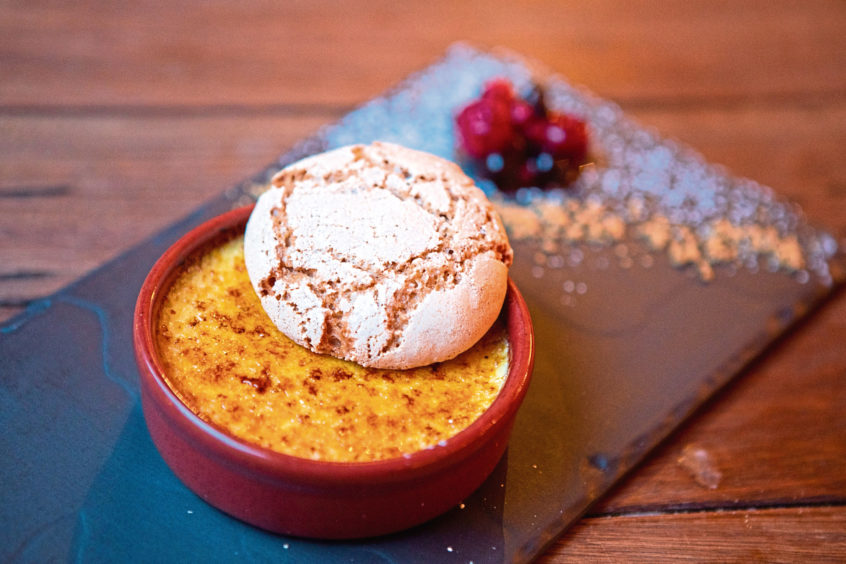 The starter was the only disappointment of the meal – a warm salad of duck confit, smoked duck, poached pear, walnut and sherry vinegar dressing wasn't punchy or gutsy enough. The smoked duck was thinly sliced and, for the life of me, I couldn't find any duck confit.
But my main course was the business; roast guinea fowl stuffed with chestnut, pork and dried fruits served with roasted root vegetables, sprouts and forestiere sauce. What a wonderful plate of food!
Everything was harmonious, everything cooked so well, and all bound together with the most delicious sauce. It's important to say here that so many other great options were available, including baked herb-crusted coley served with seafood risotto and shellfish veloute, duo of roe deer with Languedoc red wine and forest berries sauce, and a very nice sounding beef dish served with fondant potatoes and braised Savoy cabbage. A wonderful sounding venison casserole was one of the specials chalked up on a board.
David had French onion soup (£5.50) for a starter which was piping hot, thereby passing his second test of a restaurant – the first being the speed a drink and a basket of bread are delivered to the table. We both felt the soup was a bit light in that the heft of the onions just wasn't enough.
French onion soup should really be like a hot water bottle to the internal organs, hot, deep and giving a mellow glow as it slips down the throat. This can only come from good stock, cooking the onions for a very long time – I use a heat diffuser at home – and also the crucial addition of enough gruyere cheese. Here the onions hadn't been caramelised enough and there wasn't enough cheese but the soup was still good.
To follow David had the vegetarian pizza (£9.50) which had a proper crispy base and a good selection of vegetables for the topping. I would lose the raw red onions or tenderise them a bit in citrus before adding to the top but really, this was a damn good pizza.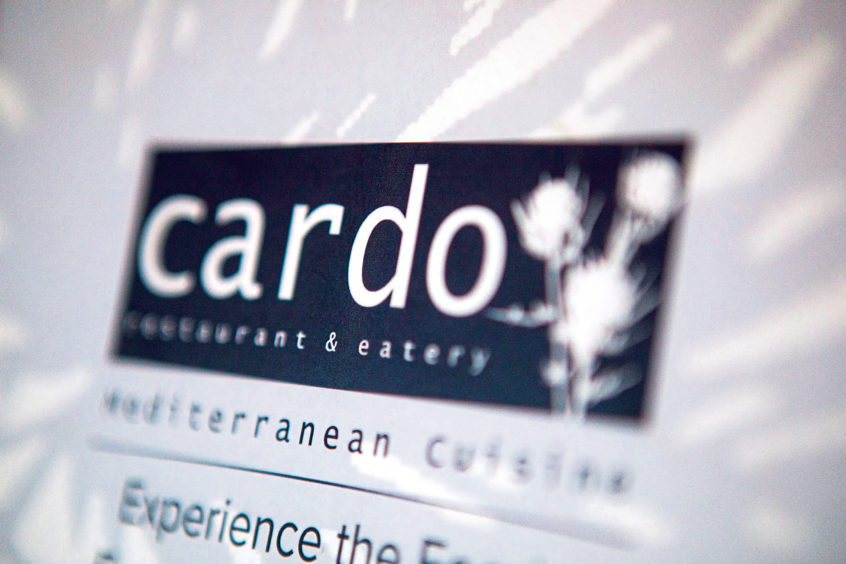 For dessert I had Amaretto creme brulee with cinnamon croquant which was as good as David's floating island with creme Anglaise and caramel sauce (Ile Flottante chez nous, £5.90).
He didn't speak as he devoured this French classic, only pausing afterwards to say: "I know I should have asked you if you wanted to try that but it was just too good to share". Such is the combative nature of true male friendship.
Despite being three courses down, we were still in the ring; I had spied a counter which seemed to be selling macarons and really, if fine dining restaurants can serve pre-desserts then why can't we have post-desserts? Five macarons (£6) later we admitted that even festive excess can have a limit.
Cardo is that rare find. A reasonably-priced bistro type restaurant selling home-cooked seasonal food in a nice environment. We'll be back.
Cardo
38 South St, Perth PH2 8PG
t: 01738 248784
Price: Starters: from £5; main courses from £8.50; dessert from £5
Set lunches from £20; dinner £25 for two courses – other set meals available.
Value: 8/10
Menu: 8/10
Atmosphere: 8/10
Service: 8/10
Food: 7/10
Total: 39/50