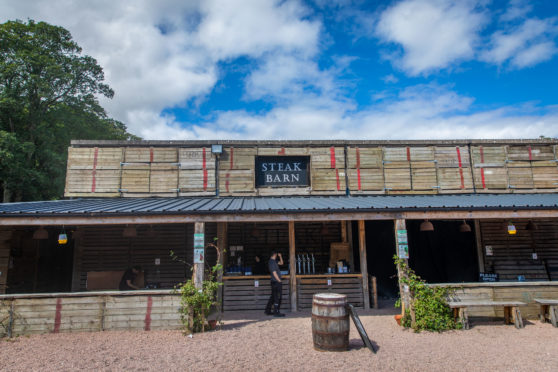 For me, vegetarianism is a bit like macrame or fishing in that, if you choose to do it, you really need to do it with total conviction and rigour.
Thus, although it seems irrefutable that eating less red meat is a win for our health and for the planet, it's also fair to say that everything in moderation – even moderation – is a fairly good way to extract the best bang for buck from our time on this Earth.
Like many of us I am not vegetarian but my consumption of meat (red meat especially) has become less whilst the quality of the meat I do eat has become better.
To me, it seems eminently sensible that if you're going to eat meat then choose the cut well, know the provenance and eat the best you can afford. This brings us neatly to the butcher's counter, where it all begins.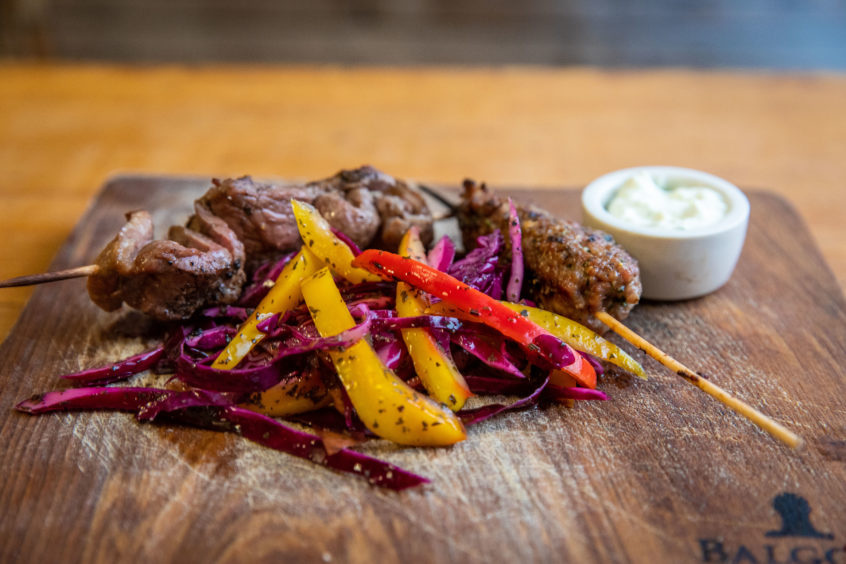 I have always been impressed by the butchers at Balgove Larder , which itself is a skilfully created culinary/lifestyle destination  just outside St Andrews.
For, whilst the whole Balgove shopping experience can sometimes seem like a braying merry go round of affluent good taste, there is something profoundly grounding about the butchery; basically, there is no way to get over the fact that you're going to buy and eat something which was alive, had a head and internal organs, and isn't sanitiszed by shrink wrap and fancy packaging. The meat is perfectly butchered, brilliantly displayed and the knowledge of the staff is wonderful.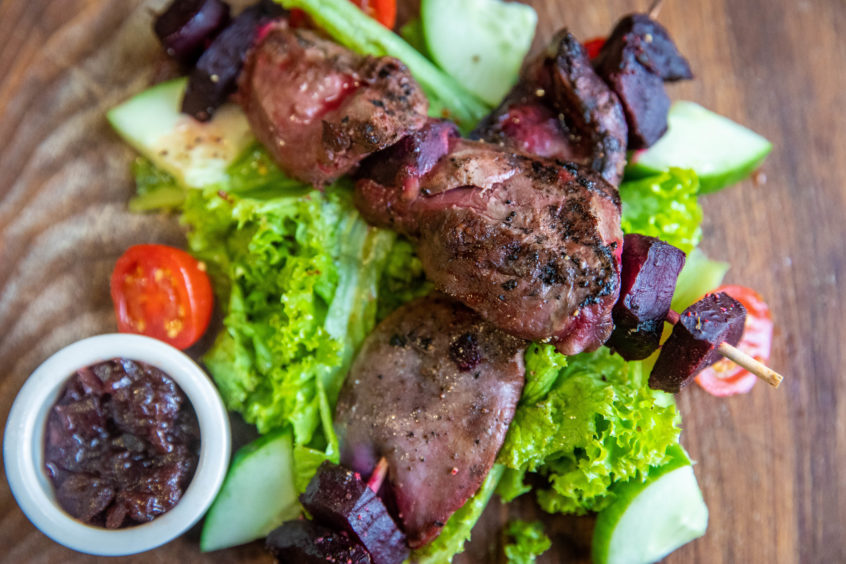 It's that same meat that you are going to be eating when you go to the Steak Barn next door.
The barn itself is genuinely rustic in that it's constructed largely from old potato boxes. But there is a playfulness evident in the design which means you enter through a heavily curtained opening next to the bar outside – and all of a sudden you're in another world. It's huge, featuring loads of long tables made by the resident joiner from trees from the Estate.
It's noisy, bustling and vibrant, a transformative experience which encourages bonhomie – which is just as well as you're going to be sharing a table, in our case with a whole load of bikers whose discarded helmets and leathers exuded their own pungent air of rusticity to the feel of a hoedown.
Really, there's little point in coming here if you don't eat meat. I mean there ARE veggie options and there ARE mussels, squid and also fish burgers, but I think this is a place for people whose passion for beef is as high as the flames dancing from the coals of the grills behind the open kitchen counter.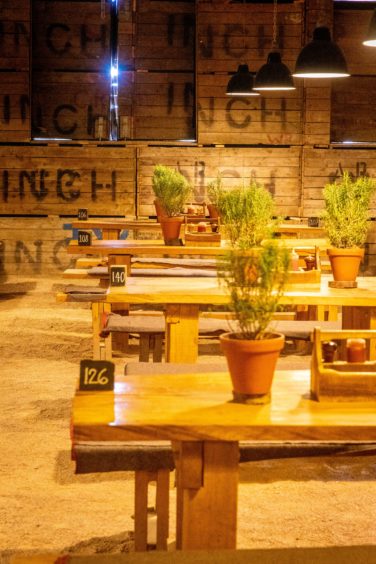 My sister Elaine and I had both decided to have a meat-filled Monday (Paul McCartney please forgive us) so even our starters were pigeon and lamb; pigeon and Balgove beetroot kebabs with Balgove red onion chutney for me (£8.95) and Balgove reared lamb kebabs with Balgove minted coleslaw (also £8.95) for Elaine. You will probably already have noted the repetition of the word Balgove on the menu but actually this isn't just a cliched marketing conceit, it really is because all of the meat and most of the in-season vegetables come from the farm, or other neighbouring farms.
So whilst displays of provenance can become tiresome, here the produce is so local that I think it's completely reassuring and laudable. Both starters were delicious, the meats cooked to absolute perfection although both a little under-seasoned and, strangely, the salad leaves had no dressing other than a slick of water left from where they had been washed.
Our main course was just unspeakably, unassailably brilliant – probably the best steak we've ever had. We were feeling extravagant because it was the day after my birthday so, from the sharing board, we chose the Rolls-Royce of steaks, a 500g double fillet Chateaubriand with all the trimmings for £66.95. I know it's a lot of money and have to say that many other cheaper steaks are available but this was a treat and, remember, it is for two.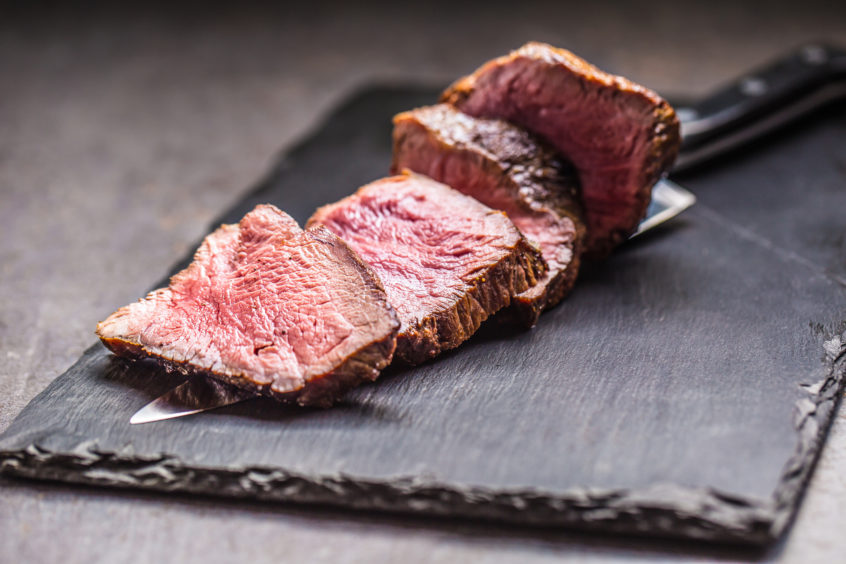 Anyway, you know the cliché about good steak cutting like butter? This was like cutting clotted cream or raw silk, a beautiful piece of beef cooked perfectly rare as requested and tasting heavenly. I have to admit  that the look of rapture on my face was selfishly tempered by the thought that I hoped my sister wasn't too hungry –  because I could easily have eaten this charred slab of perfection myself, all 67 quids worth.
The accompaniments were ace. A massive bucket of twice cooked chips was initially deemed too big – until we tasted them and found ourselves eventually scrabbling for any potato shards at the bottom. Portobello mushrooms were meaty and good. Onion rings cooked in Eden Mill Clock Ale beer batter were crispy and non-greasy – almost a health food really. Peppercorn sauce was a perfect emulsion.
Bearnaise sauce tasted excellent but was disappointingly cold; our third sauce choice had seen us go off-piste from the recommendations and order roasted garlic and parsley butter but this was an exploration too far because the butter was fridge cold and thus didn't melt unctuously onto the steak. It needed to be softened. So stick with what Balgove suggest – after all, you don't need to be a free thinker ALL of your life.
The only real dud in a dish of supreme celebration was two grilled beef tomatoes, which had an acrid whiff of the barbecue that wasn't hugely appealing.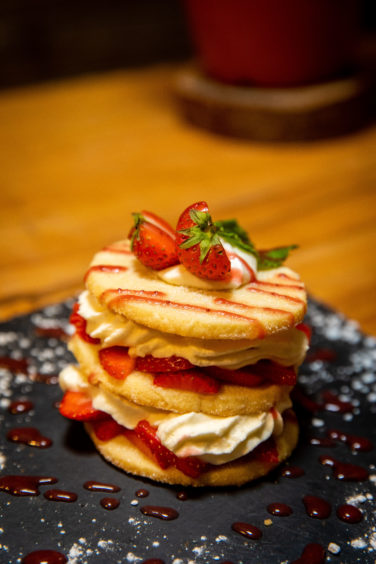 Service was good but a bit impersonal. Nothing fell flat but, for instance, no one came to ask if everything was OK because they all looked a bit harried. The house wine is good. The water glasses are ridiculously small.
Food is served on wooden boards which bear and bare the incisions of previous diners which I didn't mind but my sister thought was an affectation that was both unappealing and cliched (she's a chef and ex-restaurateur so she thinks about stuff like this for a living).
They don't take reservations so you turn up and take your chances – but there's loads of seating, relatively quick turnover and there's the bar outside if you do need to wait.
I loved the Steak Barn as a concept because it seems to have integrity and a very clear idea of what they want to offer: it's a very pure idea of husbandry and provenance and the importance of keeping food miles as low as possible. This is a place where ethics meet commerce and everyone wins because this kitchen produces truly great food.
Steak Barn
Balgove Larder
Strathtyrum
St Andrews, Fife
KY16 9SF
t: 01334 898 145
w: balgove.com
Prices: starters from £8.95; mains from £9.50; dessert from £5.50
Value: 8/10
Menu: 9/10
Atmosphere: 9/10
Service: 7/10
Food: 9/10
Total: 42/50