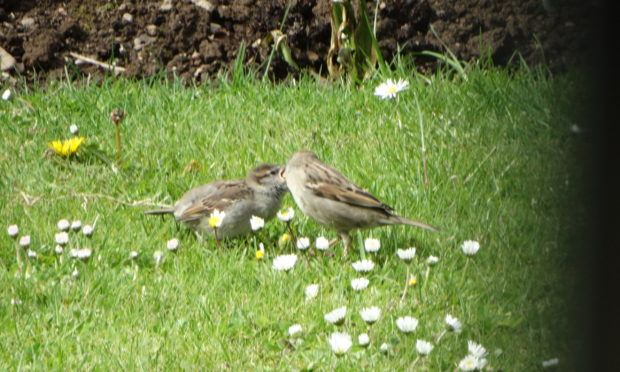 The fields are filled with buttercups. In the hazy, golden days when granddaughters Cecily and Tilda were little I used to hold one beneath their chins and tell them I was checking to see if they liked butter.
If the yellow petals reflected on their skin – it always did, of course – I would solemnly pronounce that they were, without a doubt, butteries. They were much impressed by their grandfather's wisdom.
It's very different now. They are grown-up, sophisticated and wearily worldly wise, fondly tolerating their old relative, patting the ancestral pow and placing a kiss on my wrinkled brow. What you might call the new usual.
Dandelion clocks – ghostly balls of parachute seeds – were another source of harmless entertainment. It's been an age since I played games of "she/he loves me, she/he loves me not" with my granddaughters, blowing the seeds off the plant head until they were all gone.
It was a chancy business, though – you had to be careful to get the puffs right so that it finished on "he loves me" otherwise it all could end in tearful recriminations.
A folklore has grown up round many of our plants and flowers.
In my Man with Two Dogs talks I've often told the story of the game of Carl Doddies which goes back to 1746 and the Battle of Culloden.
It was the last battle on British soil, fought between the Highland army of the Old Pretender, the would-be James VIII of Scotland and III of England, led by his son Bonnie Prince Charlie, and the Hanoverian army of George II led by his youngest son Prince William Augustus, Duke of Cumberland a.k.a the reviled Butcher Cumberland.
The government army inflicted a bloody defeat on the Jacobite troops which paved the way for the brutal suppression and destruction of the old Highland clan system.
Both players in Carl Doddies hold a plantain ribwort, the roadside weed with brown spiked head resembling an arrowhead, each trying to behead their opponent's flower – a playground portrayal of the battle.
Carl is the Scottish diminutive of Charles; Doddie the diminutive of George – hence Carl Doddies.
As a floral tribute to the victorious Cumberland, the English named the flower dianthus barbatus, Sweet William. We Scots retaliated by calling the noxious smelling ragwort, Stinking Billy.
Country folk call the roadside weed, common sorrel, Soldiers Blood. It's not the plant that is so called but its small blood-red flowers which die away in autumn to rusty coloured seeds – for all the world like the blood of Scottish soldiers spilt on the field of conflict over the centuries.
I drove to a small disused sand quarry expecting to see the sand martins that have nested there for as long as I can remember. I was surprised – and dismayed – to find that not one has arrived this year.
My next call was to see the house martins that nest at The Burn House. Again, not one to be seen and the old nests left from previous years seem to be in very poor state.
I've hardly seen a swallow and a reader from Hillside, Montrose has emailed to say she has seen only one swift – and you need two to nest.
It's unprecedented in my experience, and very worrying, and too late now to think that the birds are just late in arriving. I have no explanation for the situation.
It has produced opportunities for other birds. For the past five years house martins have returned to a nest in a window of the Doyenne's upper floor showroom, but they haven't appeared this year. A resourceful pair of house sparrows have commandeered the nest and are sitting on eggs.
I've seen the same thing before when a pair of wrens took over a swallows' nest in our porch. The swallows returned as usual expecting to take over their summer quarters but were loudly driven off by a pair of the most aggressive and ill-natured wrens I've ever heard.
This is the time to see wild hyacinths, or English bluebells – as described by Mary McMurtrie in her definitive book, Scottish Wild Flowers. The true bluebell has narrow, bell-shaped flowers and long shiny leaves. I've come across a pink variant on my walks with Inka but these may be garden escapees as Mary McMurtrie makes no mention of them.
Our native plants are often swamped by the larger and more vigorous Spanish bluebells which are an unfortunate introduction into our gardens and woodlands, and nowhere as graceful as our own.
As we head to the summer solstice, and the longest day, in June, I don't need the torch to see my way when I take Inka out last thing.
Several nights ago a single, short, alarm bark from the wood alerted me to a roedeer, probably a doe which had returned to feed her newly born calf. which she leaves concealed throughout the day, returning at night to suckle it.