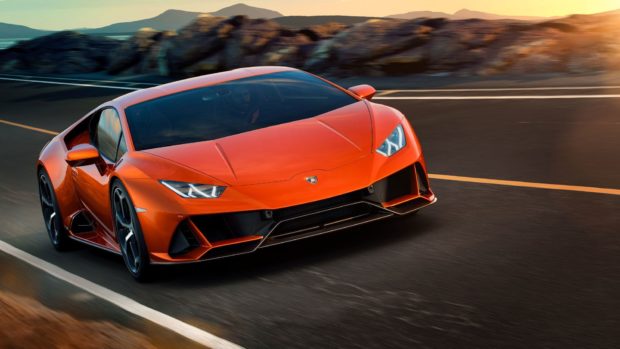 Lamborghini has showcased the replacement for its Huracan supercar – the Evo.
The Huracan Evo gets a bold new styling package which takes cues from the flagship Performante model, as well as more power.
It sees a new diffuser, taillights and a high-exit exhaust all added to the car, giving it a far more aggressive appearance. Even the underside of the car has been extensively styled to improve aerodynamic efficiency.
These updates are thought to apply to the all-wheel-drive LP610-4 Coupe and Spyder models, though it is expected that rear-wheel-drive LP580-2 models will receive the facelift too.
The Huracan Evo's performance has been boosted over the previous car too. Power is now up to 631bhp – an increase of just under 30bhp over the old car – and it'll hit 60mph in just 2.7 seconds. Drive comes courtesy of a naturally aspirated 5.2-litre V10 engine, and Lamborghini claims that the Huracan Evo will hit over 200mph flat-out.
It features both rear-wheel steering and torque vectoring for enhanced cornering abilities, while Enhanced Lamborghini Dynamic Steering (LDS) gives greater responsiveness in the bends. It means that the Evo has improved low-speed agility as well as excellent high-speed stability.
Inside, the Huracan Evo benefits from an 8.4-inch colour touchscreen, which features multi-finger gesture control and Apple CarPlay, as well as traditional functions such as satellite navigation and media controls.
Lamborghini quotes the new Huracan Evo's price in the UK as £165,256, excluding retail price taxes.
In other motoring news, Volvo could soon offer a set of driver-facing cameras to monitor driver behaviour and even predict health issues before they happen.
The system's been in development since 2017 as part of Volvo's research into autonomous cars, part of plans to have a fully self-driving vehicle on the roads by 2021. Though many drivers may worry about the threat of constant surveillance, Volvo says the cameras will remain an optional extra.
The cameras will be capable of facial recognition, identifying who's driving the car and setting items such as the seating position, climate control and infotainment to their individual requirements.