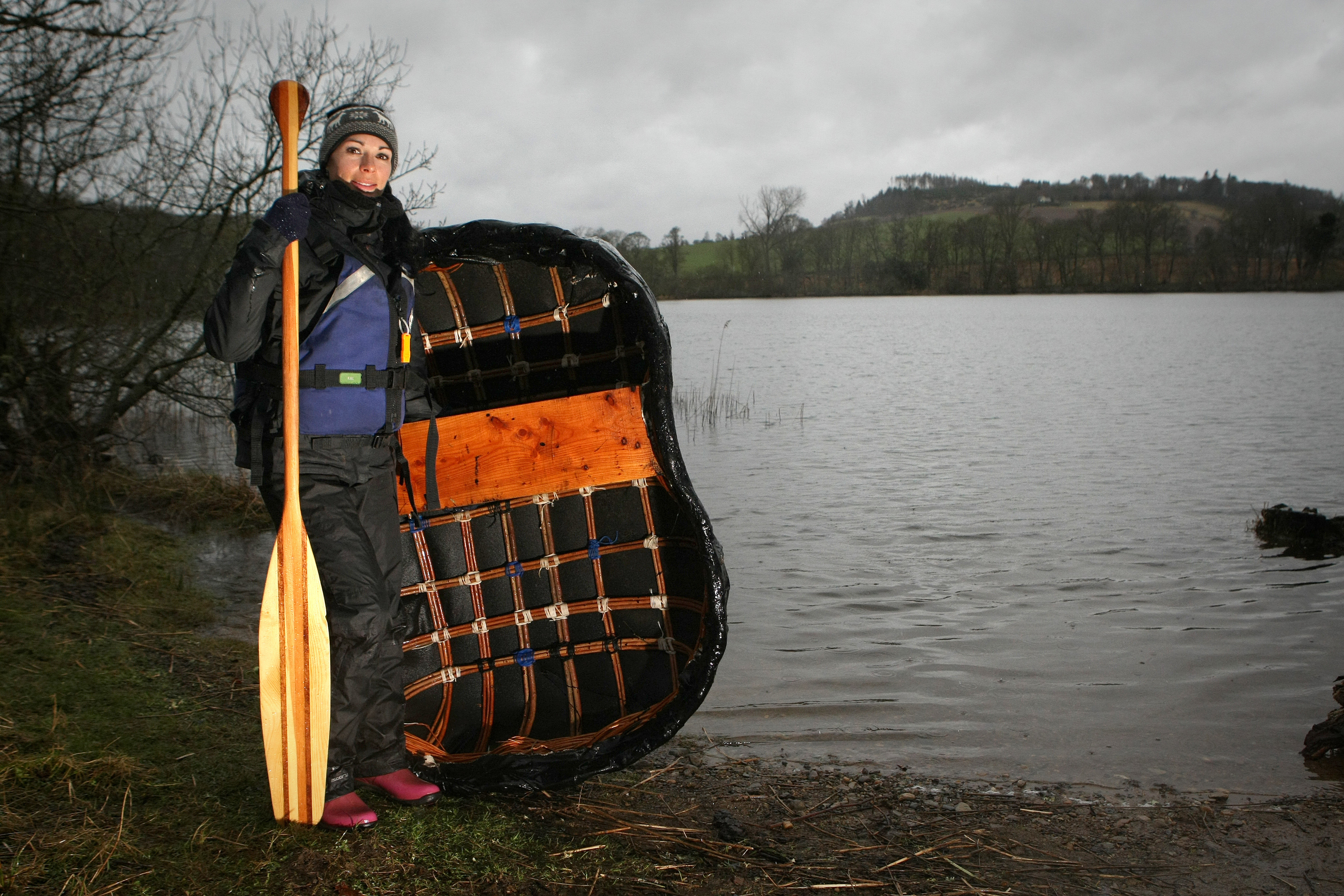 In 1974, fisherman Bernard Thomas paddled a coracle across the English Channel in less than 14 hours.
I'm pondering this amazing feat as I spin frustratingly round and round in circles in a coracle on Clunie Loch, near Blairgowrie.
My aim is to paddle forwards but it's just not happening.
The trick, coracle maker Jane Wilkinson, tells me, is to wrap your arm around the paddle and make a figure-of-eight movement, also known as sculling. If you try paddling as if you're in a kayak, you'll go nowhere.
Coracles (or currachs as they're called in Scotland) are "skin-on-frame" boats which along with dug out canoes, were the earliest boats ever constructed, dating back to Neolithic times.
Small, oval-shaped and lightweight, they are an effective fishing vessel; when powered by a skilled person (that won't be me then), they hardly disturb the water or the fish, and can be easily manoeuvred with one arm.
They were used as recently as the 1960s on the Tay to catch river mussels.
Jane, who is one of Scotland's leading willow artisans, runs coracle building courses with participants guaranteed to take away their very own boat at the end.
She teaches you how to paddle it, too, so you'll be able to while away the summer evenings fishing or simply enjoying floating in your very own little boat.
The best thing? A coracle can be constructed in a couple of days and you don't need to come armed with any special skills.
Jane, who runs Special Branch Basketry, sources willow for the gunwale from Somerset and harvests the bigger willow for the coracle's framework herself in winter.
"I was originally drawn to working with willow out of a love for trees and woodlands and also from a desire to do something sustainable," she says. "Basketry was the perfect solution. I now grow and harvest an increasing proportion of my own willow, and then have the pleasure of weaving it into a basket, sculptural piece, creels or coracles.
"I chap on doors of people who grow it in their gardens and ask if they would like it pruned. And if it is the right species of willow, I can use it for weaving big structures."
The main framework consists of a number of large stakes which are pushed into the ground. You then weave around these stakes to form the structure of a coracle.
"The next step is to drop the seat plate into position and then finish off weaving the rest of the gunwale (top edge or rim)," explains Jane, showing me how it's done.
"You then bend all the uprights over to make the bottom of the coracle."
One you've got the basic shape, you weave other strips of willow into the frame, adding strength.
It's at this point that I get involved, "lashing" together the points at which the large rods intersect with cord.
The boat is then pulled out of the ground, allowed to dry (willow shrinks) and the cover is added to the frame.
At one time, the skin would have been cow or bull hide, but Jane uses heavy duty cotton painted with bitumen paint to make it waterproof.
"They are a 'skin-on-frame' construction, the frame usually being made of woven sticks or split laths," Jane explains. "The skin has to be stretched across the frame."
It takes a few days for the coracle to dry out, but luckily, Jane has a selection of "here's some I made earlier" for me to try out.
With the help of Piotr Gudan from Blairgowrie-based Outdoor Explore, we head to Clunie Loch for a paddle.
Jane gets in first and gives a demo. It looks deceptively easy.
Stepping into the dinky craft, I'm thrown off balance and almost end up head first in the water. I hadn't expected it to be quite so unstable. A degree of balance is required.
Once I've planted my feet firmly and am sitting upright, I feel more secure.
Piotr and Jane offer advice to stop me from spinning uselessly.
"Imagine a figure of eight on its side, drawn with the blade of the paddle," says Jane.
"This stroke – a sculling stroke – pulls you forwards. If you try a straightforward stroke at the side of the boat, you will just spin in a circle."
It takes a fair bit of getting used to but the very fact Bernard Thomas manoeuvred one of these crafts across the channel is testimony to the seaworthiness of the coracle.
If you get the chance to take part in one of Jane's courses, go for it. It's a physically demanding project, but it's great fun and you achieve a huge amount of satisfaction completing your boat and launching it for the first time.
info
Jane's next coracle course runs from June 3 to 5 in Alyth. It's running as an Alyth Craft Tourism event. specialbranchbaskets.com