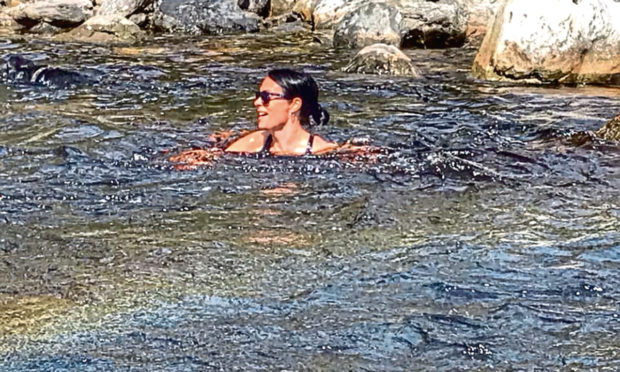 As lockdown eases, Gayle rediscovers the exhilarating joy of open water swimming at spots across Aberdeenshire and Angus.
Wild swimming. It's a phrase which, for me, conjures up images of people gleefully streaking through bog and heather in a mission to reach some remote wilderness waterway for an invigorating dip.
It doesn't have to be quite so extreme to classify as a wild swim, of course.
You can drive to a loch, river, pond or the sea – any body of natural water – and plunge right on in.
But when I swam at Collieston Beach in Aberdeenshire last weekend, I didn't feel I could label it a "wild" experience.
That's because there were loads of other folk enjoying the water, whether paddleboarding, pier jumping, kayaking or generally splashing around and making a noise.
I only noticed two other swimmers – and one was wearing a wetsuit – but it was an absolutely glorious experience, and not at all cold.
Wild swimming, or, if you prefer, open water swimming, is growing in popularity, and the easing of lockdown restrictions has given it a big boost.
I've enjoyed a fair few wild/open water swims in my time so the concept isn't new to me, but with the recent glorious weather, I've been hunting out new spots most weekends.
It must be the sheer sense of exhilaration that makes it addictive – the tingle of chilly water on bare skin, the feeling of being immersed in nature, the life-affirming sensation of being truly alive and at one with the world. In other words, the buzz.
Whatever it is, it's downright amazing.
On the weekend prior to my Collieston trip, I swam just round the corner, at heavenly Hackley Bay.
This little-known hidden gem of a beach, at the heart of Forvie National Nature Reserve, is sheltered by high cliffs and backed by sand dunes.
It's an easy wee stroll from Collieston, or if you do it from Newburgh, you pass the remains of a 12th Century church. This swim felt a wee bit more "wild" because there were fewer folk around and I was the only human being anywhere near the water.
My dog, Toby, adores swimming, and while keen to let him paddle around with me, I was slightly worried he would get "rudder tail" if he stayed in too long.
This condition struck him last year when we trekked up to the breathtaking Falls of Damff in Glen Esk and both swam around in the perishingly cold plunge pool for a good half an hour.
It was certainly invigorating but poor Toby couldn't wag his tail for a week afterwards because the excessive cold and swimming had resulted in a nasty case of the aforementioned "rudder tail", also known as "cold tail", "dead tail" and "broken wag".
This meant a muscle in his tail had been strained. He wasn't a happy lad and I felt like a very bad owner.
Since that alarming experience, I've been very careful about where he swims and for how long.
I didn't take him with me when I swam in the River Don at Burnhervie, under the "Shakkin Briggie".
Again, this didn't feel very wild as I'd gone on a Sunday and screaming teenagers were hurling themselves from the bridge parapets into the deep pools below.
But it was warm, relaxing and in a really beautiful setting.
I've been based in Aberdeenshire since March but I made it back down to my "real" home in Angus for two swims recently – at Loch Brandy and Carlingheugh Bay near Arbroath.
The walk up to Loch Brandy in Glen Clova was a stiff, sweaty one, and I was looking forward to cooling off.
However, this was a truly Baltic, shock-to-the-system, physically painful experience, and one which was over very quickly.
I felt a wee bit of a failure getting in and out quite so rapidly but my goodness, it was super-cold.
Perhaps I could've acclimatised had I gritted my teeth and pushed on through the pain but I didn't see any pleasure in that. Luckily, things were much warmer at Carlingheugh Bay. I'd walked there along a coastal path from the tiny fishing village of Auchmithie but you can also reach it from Arbroath.
There was a fair bit of seaweed floating around when I got in, and I silently screamed every time a clammy frond brushed my leg.
My main fear was that I'd encounter a jellyfish or, heaven forbid, a bloom of jellyfish.
There have been loads of reports in Fife and Angus of encounters with these monsters and I, for one, am not a fan.
A friend revealed she had been "ripping tentacles" of a hideous lion's mane from her skin even after she'd exited the water.
That, and the fact the blighters give you an almighty sting, is something that troubles me.
Wetsuits will protect you from the jellies if you're really worried, with the exception of your head, face, hands and feet, of course.
Using gloves, boots, and a hood will further eliminate the possibility of being stung.
I've compromised and bought myself a rash vest (which won't really do anything other than protect me from bashing myself off rocks) and I just keep on praying I don't encounter one of the sinister-looking beasts.
If you'd prefer not to go open water swimming alone – probably best not to go solo for safety reasons anyway – there are loads of friendly groups you can join.
Last year, I headed to Perthshire to join Clunie Loch Wild Swimming Group for a session.
The girls I swam with were "skin swimmers" – those who sport just swimsuits.
For them (and me) it was about enjoying the peaceful, almost meditative experience of being immersed in water and nature.
However, there are other group members who take things more seriously, training for long-distance events and races.
Certainly, there's safety in numbers but whether you want to head out solo, with a friend or a group is a case of whatever floats your boat.
As lockdown continues to lift, I can't wait to head deeper into the wilderness to discover more remote and definitively "wild" swimming spots.
info
As lockdown eases, many people are flocking to the country's waterways.
The Outdoor Swimming Society advises swimmers to swim locally, respect the environment and take your litter home, maintain social distancing and swim in smaller groups if possible.
Check out the Facebook pages of Clunie Loch Wild Swimming Group, Aberdeenshire Open Water Swimming, Fife Wild Swimmers, and Wild Swimming – Scotland.