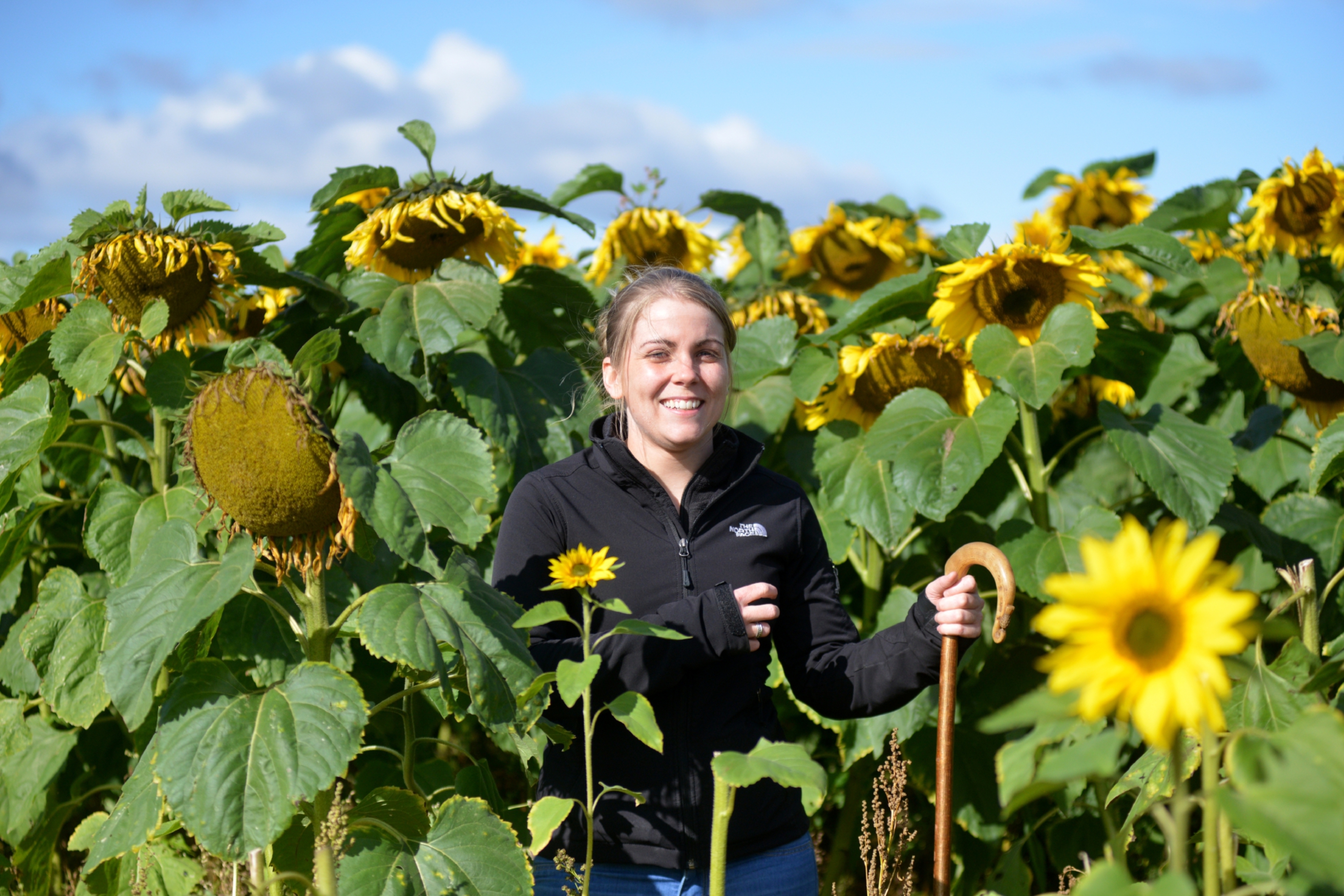 Claire Pollock gave up her job in accountancy to become a farmer in Fife. Gayle finds out more…
Having always been told to heed the warning – never trust a bull – it feels somewhat terrifying to be standing in the middle of a field with a giant, muscle-bound bull, his harem of cows and their calves.
The fact his name is Precious doesn't make him any less scary looking.
I'm spending the morning with young farmer Claire Pollock as she checks on livestock across four farms her family looks after in Fife.
Claire, 26, is a seventh generation farmer, although she didn't plan to be, having studied accountancy and finance at Aberdeen University and taken on a job at an accountancy firm in Cupar on graduating.
"My heart wasn't in it," says Claire, as she puts out a hand to stroke a curious cow's muzzle.
"I was desperate to get back to the farm every day and knew I couldn't carry on with the job. So I gave it up and became a farmer in 2013!"
Claire's family set up Ardross Farm Shop in 2005 after her dad got fed up not making enough money from farming beef cattle.
The family pride themselves on using "traditional" methods (not using chemicals or antibiotics where possible, and choosing docile animals which can live happily and healthily outdoors.
"We choose cattle for their docility; that's why I'm perfectly happy to stand among the cows, the calves and Precious the bull," smiles Claire.
"I'd be able to tell if anything untoward was going to happen, but these ones, which are stabiliser breed, are very quiet and docile."
Reassuring words indeed, yet I still hover on the fringes of the field, one eye on the gate.
So why stabiliser cattle? Apparently calves are really small, meaning their mums are able to calve without help from humans.
"I've never calved a cow in my life!" laughs Claire. "But hopefully I won't need to. The calves are born small, but after about six months, they're the same size as other breeds.
"They're grass fed, so meat is leaner and healthier and not pumped full of nasty chemicals."
Next on Claire's list of duties is checking on the sheep so we head up to Gibliston Farm where her flock of "easycare" are grazing.
Unlike many breeds, their tails are undocked and they don't need sheared because they self-moult. "They lose their wool gradually," explains Claire, picking up a clump of fluffy yarn stuck on a rock.
"This means less intervention from us which is great, because that makes for happier sheep."
As we stroll towards the sheep, I have a thought – where's Claire's sheepdog?
Sadly, she can't have one right now as she's allergic to dogs but she hopes that in time, she'll be able to overcome this. For now, she makes do with just a shepherd's crook.
As well as cattle and sheep, the farm produces cereals, vegetables and honey, which are sold in the shop.
It's not an easy life and right now, with the harvest underway, Claire is up every two hours through the night keeping her grain dryer going.
"There's no such thing as a typical day," she says.
"One day last week, I was up at 5am doing the accounts, then at 7am I was loading cattle. The next job was turning straw and then I went to help on the shop tills! Then I checked on the sheep and went out to feed my bees!"
Describing her family as "traditional farmers", Claire says being as natural as possible in their methods is paramount.
How does she feel when it comes to taking animals to the slaughterhouse? Is that not a difficult time?
"I know they've had the best possible life ever, right up to slaughter," reflects Claire. "They go early in the morning with a guy who works for us, so anxiety is minimised. I sleep at night knowing I've done the best I can."
While farmers who provide supermarkets with produce rarely hear from customers, Claire loves the fact that farm shop clients often give feedback.
"They'll come in and say, 'I ate one of your steaks last night and it was amazing. That's so rewarding."
info
All livestock, aside from the bull, is bred on the farm. There are 100 breeding cattle and up to 300 cattle in total), and 100 breeding ewes (up to 270 sheep altogether).