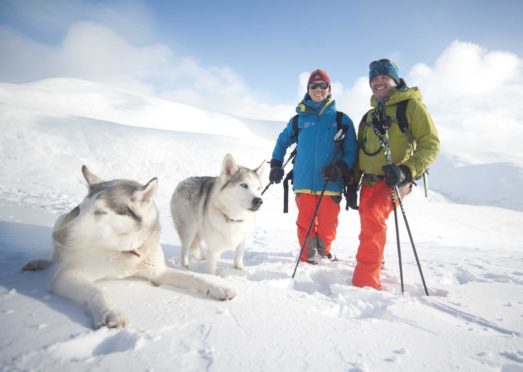 Brave, hardy and dedicated, they give up their  time to volunteer with Scottish Mountain Rescue. Gayle Ritchie joins teams on an avalanche rescue training weekend in Glenshee
An avalanche has been triggered in the Southern Cairngorms and a walker is missing in Glenshee.
It's down to members of Braemar Mountain Rescue Team (BMRT) to locate him.
The avalanche area is south of the ski centre, over a steep snow-covered bluff, and it's a tough uphill slog before the team can begin searching.
They find him buried under a foot of snow, traumatised but seemingly uninjured.
After a medic checks him over, he's placed on a vacuum mattress, loaded onto a stretcher and taken down the mountain.
A situation like this is one that Scottish Mountain Rescue (SMR) teams up and down the country deal with on a regular basis.
But today's "casualty" is fake (a volunteer is acting out the role) and the "avalanche" has been created by members of the team, including SAIS (Scottish Avalanche Information Service), as part of a training exercise.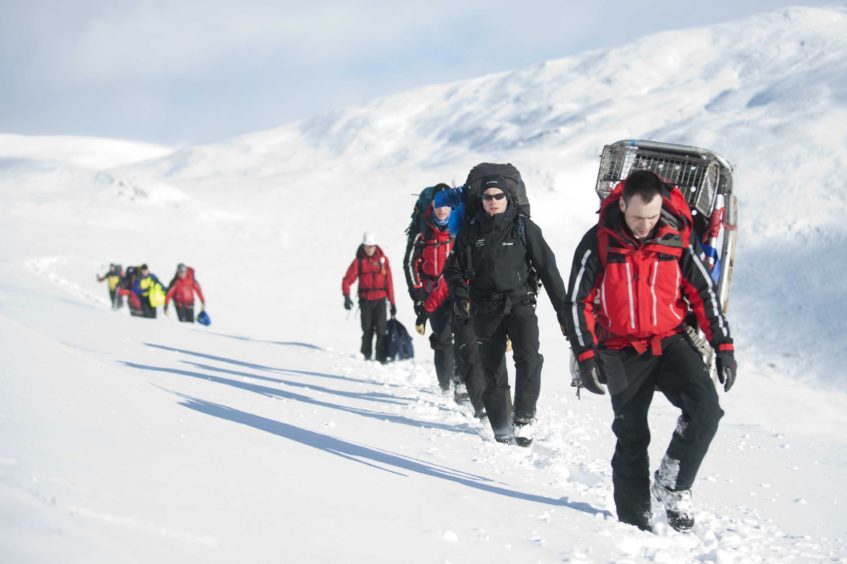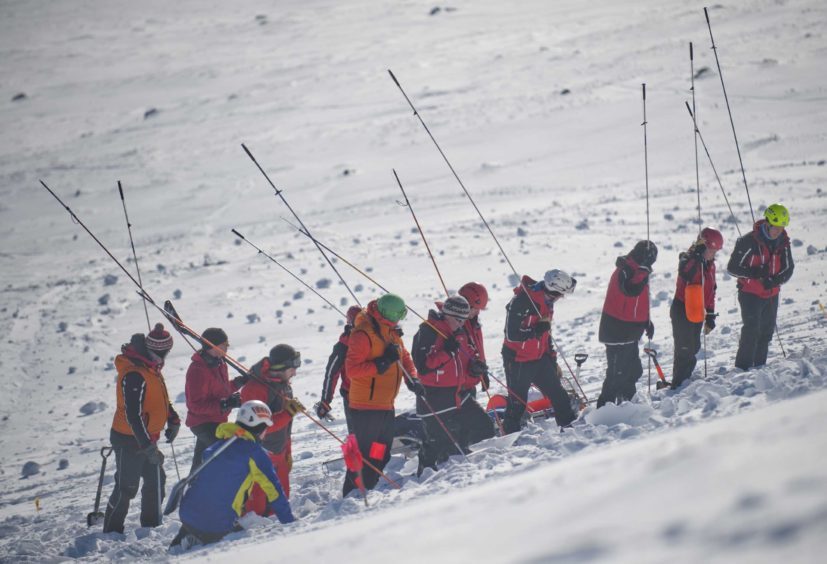 With 177 avalanches recorded in Scotland this season – 85 of them in February alone, according to the SAIS – it's vital that mountain rescue teams undertake extensive training so they can respond as effectively as possible.
I've been invited along to witness some of the scenarios encountered by these unsung heroes. Volunteers who give up their time to carry out rescue missions, today there are 40, including teachers, forestry workers, oil engineers, police officers, countryside rangers, gamekeepers, doctors, IT consultants and retail managers.
On the Cairngorm plateau, wind-chill can drop to a teeth-chattering –35C so ex-policeman John Drysdale kits me out in a snuggly down jacket, which is apparently "fit for Everest".
As we trudge up the hill, John gives me some tips on what to do if I'm ever "avalanched".
"You'll be disorientated and won't have a clue whether you're upside down, so the best thing to do is spit," he explains.
"If your saliva travels downwards, you're upright. Then you'll need to fight your way to the top, fast. The fear factor comes quickly and the weight of snow on top of you can feel like concrete. But if venturing into avalanche-prone areas, it's essential to carry an avalanche transceiver which emits signals which can be picked up."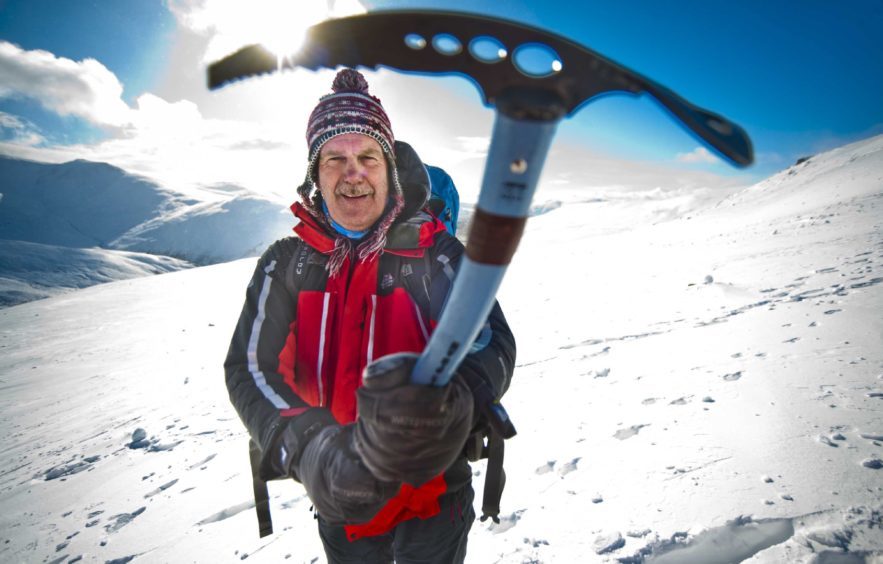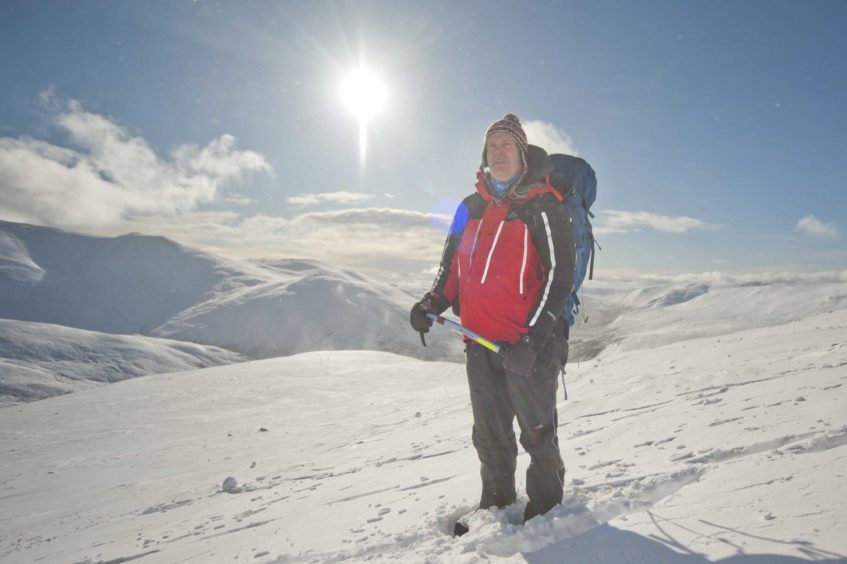 There's an amazing camaraderie between team members – they smile, joke and poke fun at each other – but dealing with death is a major part of the job.
Most have at some point been hit hard by traumatic expeditions but they can't afford to let their emotions take over. It's only later, when they're in the pub or back at base, that they open up, although talk is often tinged with black humour.
In his 30-plus years of volunteering with BMTR, John, 60, has made more than a few heartbreaking discoveries.
He's still haunted by a rescue mission in 1989 involving a German tourist and his two young children.
Their plan was to walk from Braemar to Aviemore via Ben Macdui but when they failed to return that evening, the alarm was raised.
"Despite it being August, they were caught in a bad storm. The father was found first, having become hypothermic," recalls John.
"He'd become weak carrying the kids and left them to get help on his own. The team found the children a short distance away.
"The boy was alive, but the girl was dead. We found that difficult to deal with, as many of us were fathers."
Another tragic call-out was to Lochnagar where two climbers had fallen. One had died on impact and the other had broken his femur and bled out.
"PTSD can be an issue when dealing with traumatic injuries, so as a team, we need to look out for each other. But we're offered counselling after any traumatic rescue," says John.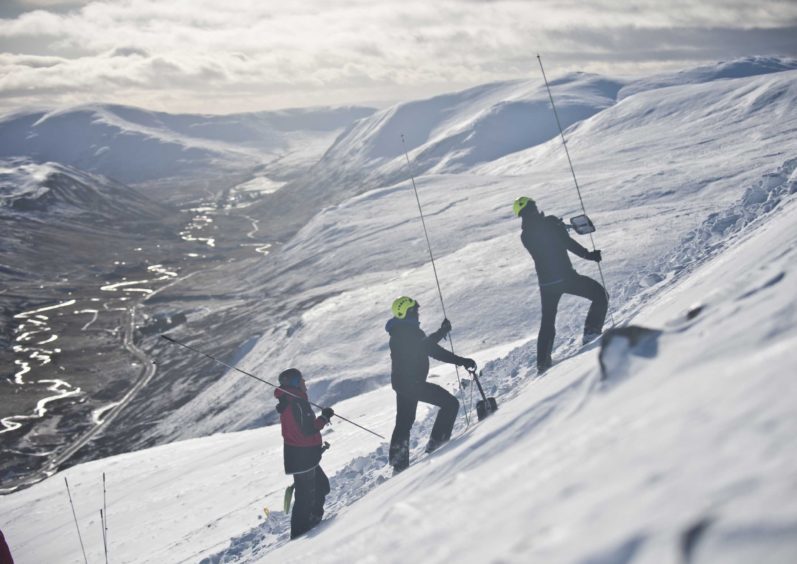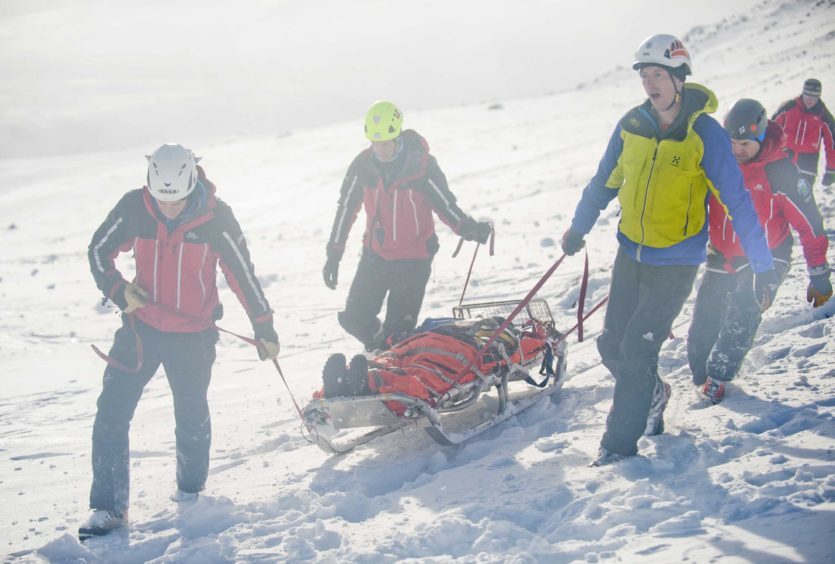 While most people go into the hills prepared, there are exceptions, and John has come across those dressed in jeans and trainers, with no waterproofs.
"It's difficult to convince some folk how quickly conditions can change; how it can turn from a nice sunny day to a snowstorm with gale-force winds. The advice to hill-users is to take adequate clothing, food and shelter, to let someone know where you're going and always take a map and compass and know how to use them."
Laughing, John tells me he will never forget the day his eyebrows and moustache froze…and when white lines began forming on a colleague's cheeks – a sign of frostbite – he knew things were serious.
"Situations can turn bad for anyone, not just the guy from Fintry who walks up Lochnagar in shorts," he reasons.
"For us, it's about putting something back into the community. Most of us have years of experience of going to the hills, so we see it as a chance to rescue fellow mountaineers and walkers."
As we pause to enjoy a flask of tea, the silhouettes of a man, woman and two dogs appear on the blue-white horizon.
It's Sam and Paul Noble of SAIS and their huskies returning from analysing the snow to produce the following day's avalanche forecast.
Pointing across the valley to Glas Maol, Paul tells me that recently, a block of snow the size of a small car avalanched down the mountainside.
"The Cairngorms have complex and challenging terrain and we monitor the conditions and stability of the snow," says Paul, who reveals he has scaled Everest twice.
"We flag up the most dangerous areas to warn skiers, walkers and mountaineers and many people change their plans based on our forecasts."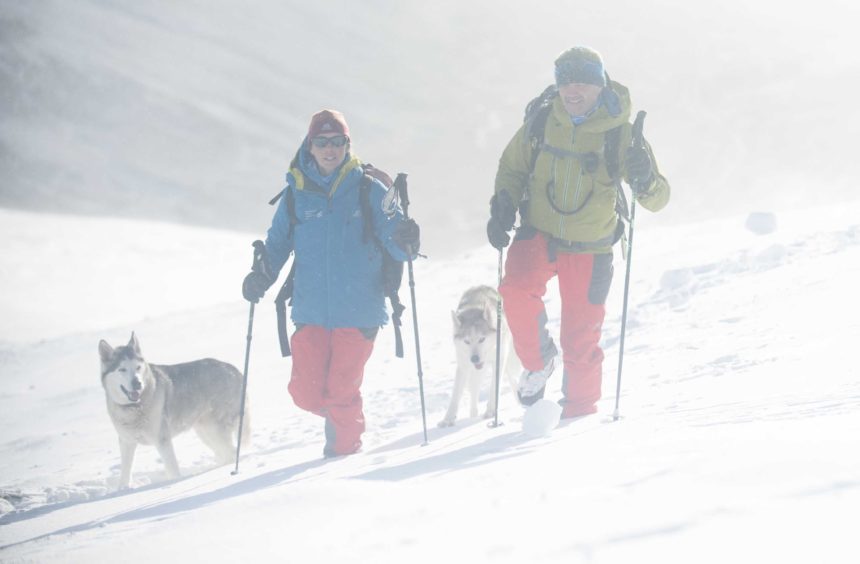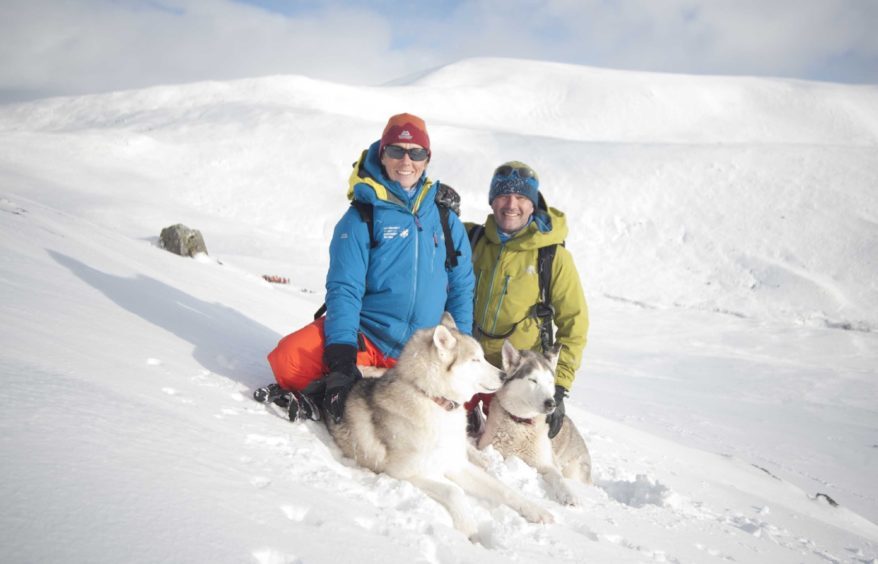 It's a tough job, with SAIS out in the foulest conditions, and I wonder how Sam – who is tiny – copes.
"It takes a certain mentality," she smiles. "I'm a mountaineering instructor by trade and avalanche forecasting is a specialist branch.
"Avalanches can knock you off your feet, slide you off cliffs and injure or kill you. We mainly see trauma injuries as opposed to asphyxiation. Full burial in Scotland can happen but is rare."
Looking around at the sea of men, Sam agrees it's a male-dominated environment. "Women are generally smaller and it's physically and mentally a tough job," she says.
"The mountain won't treat you any different whether you're male or female, and we're expected to do the same job. Blokes have a physical advantage so you need to be stronger and harder, confident and committed. You don't want to be the person they end up looking after."
Another issue is going to the loo. It's an easy task for men but when you're female, it's a different story.
That's why Sam hasn't had anything to drink all morning and I feel mild panic as I sense the familiar pressure in my bladder building…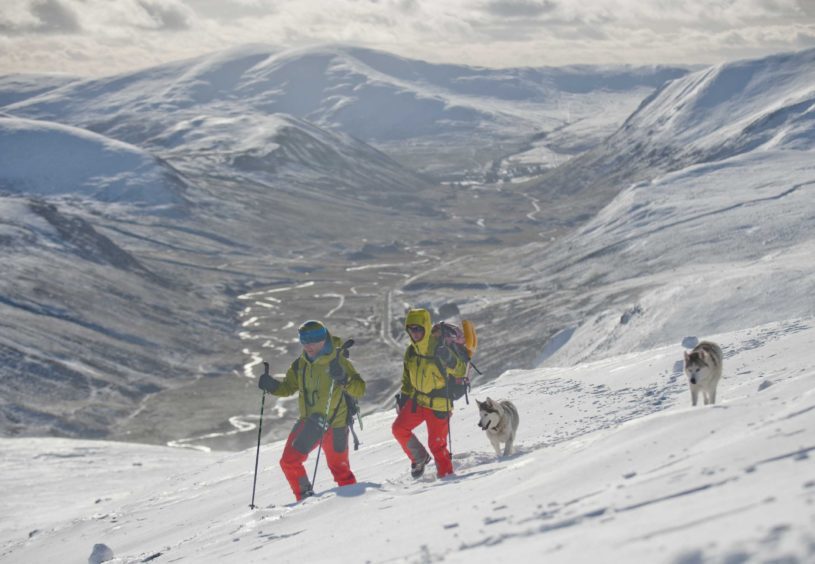 Willie Brown-Kerr, an oil company director, takes my mind off my predicament with his demonstration of how to erect a storm shelter.
As president of BMRT and a team member for 30 years, he's described as the "granddaddy" of the team.
"If you get caught out in bad weather, wear all your clothes, get into your survival bag and throw up a shelter," he advises.
Another option in winter is to dig a snow hole and sit in it, and I have a crack at this with an ice axe.
While some slate those who venture out into wild conditions and get lost, Willie stresses that the team never projects negativity onto incidents.
"We see them as unfortunate accidents. We're all hill people who understand why others do it. Nobody goes out to have a bad day.
"If you've not taken a map and compass and you're relying on visibility, and the weather closes in around you, the chances of survival decrease.
"If you've not got additional warm clothing and a bivvy bag and you break your ankle, your chances decrease further.
"People download maps on phones but batteries die, so never rely on them as a primary navigational tool."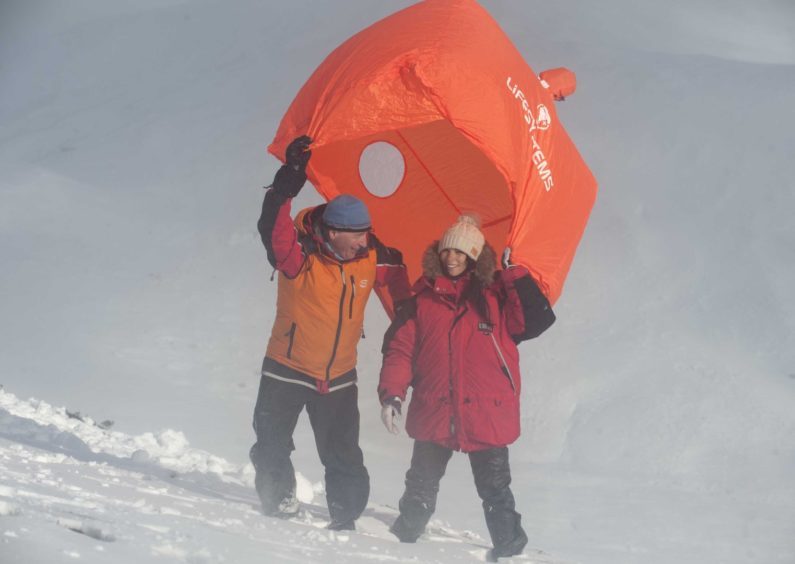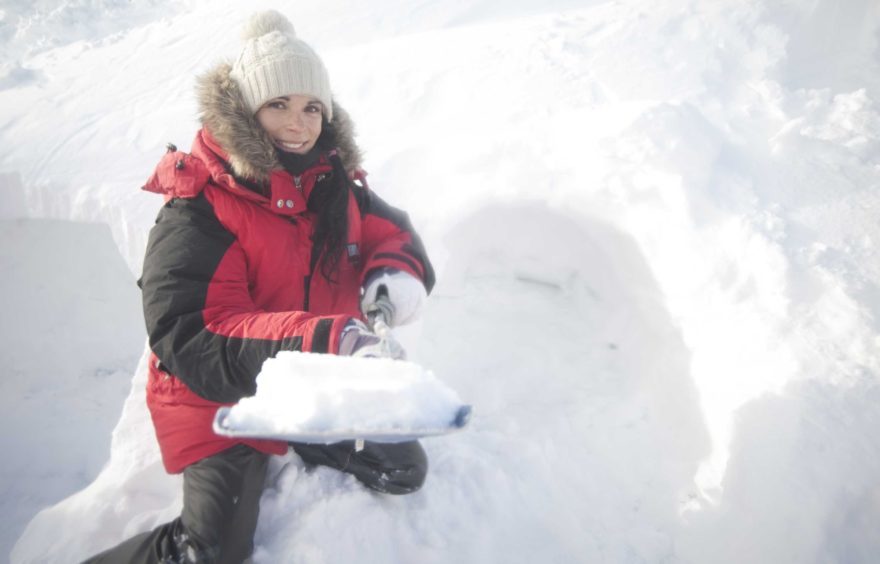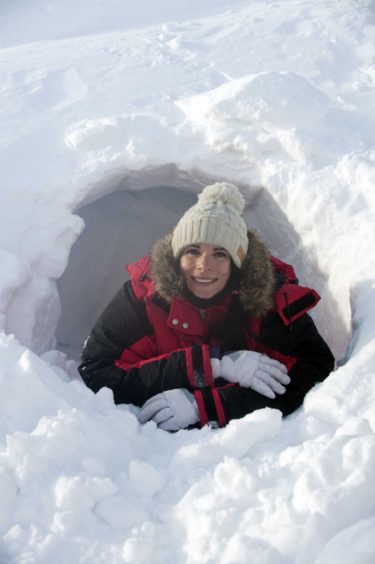 The most difficult rescues tend to centre on people who have gone missing with little knowledge or experience, or when they fail to inform anyone of their plans.
"Some people travel to the hills, determined to walk, no matter what the weather forecast is predicting," says Willie. "They stubbornly carry on and get lost. Hypothermia is a killer and wind-chill can be –35C."
Other frustrating calls include those along the lines of: "My husband was walking in the Cairngorms and hasn't come home" which gives rescuers little to go on and means they need to check all potential car parks which is a huge waste of time.
While teams find bodies, what hits hardest is when they are those of young, active people.
"That rips everyone apart," says Willie. "Some of us, in our youthful days, made poor mountaineering decisions, but survived to tell the tales. It's an uncomfortable feeling picking up the body of someone who could so easily have been yourself and you reflect on why they perished instead of you.
"It's sad and reports of deaths and tragic loss of lives seem to prevail in the press, but most of the people we rescue are alive and very pleased to see us."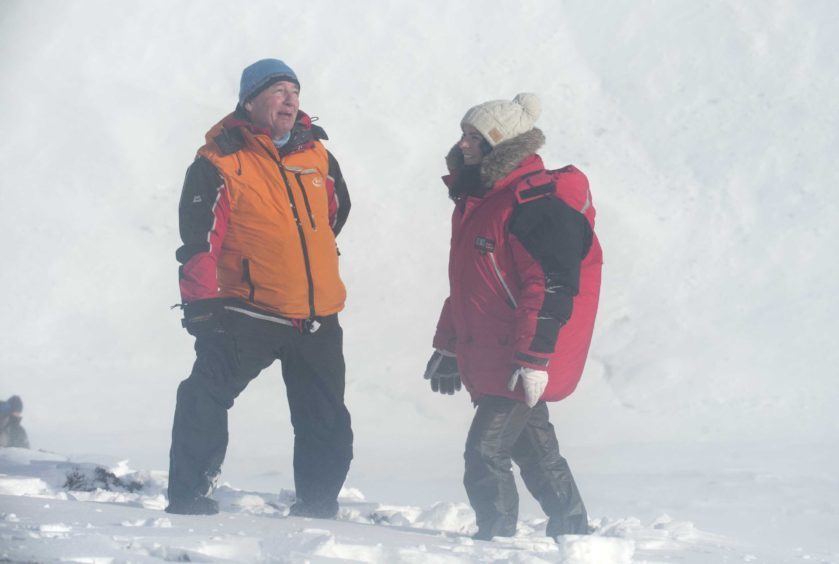 To be a member of SMR, you need to be able to drop everything and go when a call comes in – rescue missions won't wait!
"Rescuing is about more than just volunteers," says Willie. "It's about the support of family, colleagues and employers. Without their support, our lives would be very difficult.
"I've walked out on birthday parties and had to cancel family plans galore – my poor wife!
"We once planned one party for 120 with bar, music and catering. At 4pm, the beeper went. A teenage had got lost skiing and there was a possible avalanche so I had to go. When I got home at 10.30pm, the party was over. I grabbed a beer and went to bed."
As we head back to the Braemar base to collect my car, darkness is falling and the weather closes in, with drifting snow and blizzards making the drive a hazardous hell.
"Ach, you'll be fine driving back to Glamis," reassures John. "Just don't go for a walk and get lost on the way home."
info
Scottish Mountain Rescue (SMR) represents 23 volunteer mountain rescue teams with more than 800 volunteers, plus three police teams and one RAF team.
Volunteers aren't exclusively dedicated to mountain rescues; they deal with a wide range of incidents. For example, Braemar Mountain Rescue (BMRT) were instrumental in evacuating Ballater's residents during the 2015 floods.
It costs around £85,000 annually to run BMRT, most of which comes from public donations and some from the Scottish Government. Teams also fundraise by hosting various events.
SMR recorded 733 call-outs in 2016 while BMRT typically has around 35 call-outs a year.
Volunteers are always required and donations gratefully appreciated.
For more details, see www.scottishmountainrescue.org; www.braemarmountainrescue.org.uk