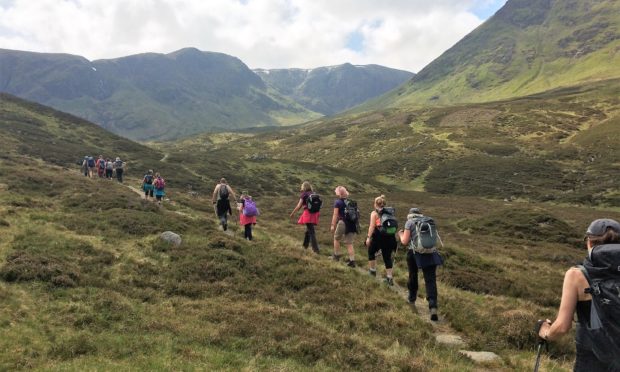 Walkers of all abilities – from hardcore hikers to Sunday strollers – are being urged to get their hiking boots on to take part in this year's Angus Glens Walking Festival.
Now in its 17th year, the festival covers 20 walks over four days, through breathtaking scenery, open moorland, heather-clad hills, mountains, rivers and crags.
Local mountain leaders and AngusAlive's countryside adventure rangers will lead the way, offering expert insight into the landscape and its rich history.
Routes include: Jock's Road (Braemar to Glen Doll; Glen Doll to Braemar); Loch Brandy and Loch Wharral; Mount Keen; Falls of Damff; Rocks of Solitude; and the Glenshee Four Munro Challenge.
New walks for 2019 include Airlie Ridge and the Two Munro Challenge (Tolmount and Tom Buidhe).
There's also a "coastal crawl" – from Lunan Bay to Arbroath Harbour via Seaton Cliffs.
Walks are from four to eight hours and range from moderate to strenuous.
Stefan Voinea of ANGUSalive said: "For those keen to tackle a Munro, there's Tolmount, Tom Buidhe, Broad Cairn and Mount Keen.
"Meanwhile, there will be more gentle rambles where people will might spot eagles, peregrine and red deer often to be found on less travelled paths.
"Jock's Road, the oldest right of way in Scotland which links Braemar with Glen Clova along a former drover's route features each year and is one of the most popular walks.
"The walks differ greatly in grading as the event looks to be as inclusive as possible.
"If you're up for a challenge or simply want to enjoy the fantastic scenery and wildlife Angus has to offer, there is something for everyone!"
Each day, participants are transported from the base camp in Kirriemuir to the start of each walk where the real adventure begins.
After the walks, they will be taken to a local hostelry for refreshments before returning.
There are only a few places left on this year's walks, including the evocatively titled "Where Eagles Soar" which takes place at Glen Doll.
Last year's festival saw walkers coming from across the UK and further afield with a group from the United States joining the event.
Event manager Norman Greig from ANGUSalive said: "There was a sighting of the golden eagles on the Four Munro Challenge and Raptor Watch walks, the baby adders on the Falls of Damff walk and a report of a lady's hair standing on end during an electrical storm!"
For more details and to book, see angusalive.scot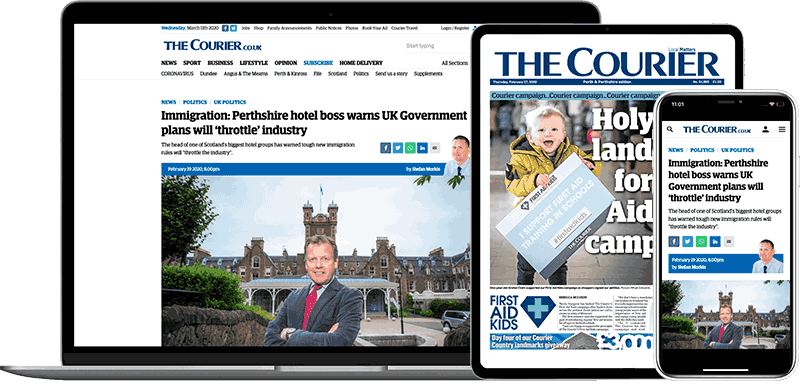 Help support quality local journalism … become a digital subscriber to The Courier
For as little as £5.99 a month you can access all of our content, including Premium articles.
Subscribe