What a buzz! Gayle meets beekeeper Meik Molitor at his apiary in Perth and Kinross…
The last time I was stung by a bee, it was on my backside, which throbbed for about a week.
Despite my suffering, the bee came off worse because of course, she died.
I'd accidently sat on the wee critter on a picnic bench near Meigle, and that was the end of her.
Unlike wasps, bees only sting as a very last resort – so unless they feel threatened (a giant buttock bearing down on one would probably instil fear), they'll leave you in peace.
However, the sting is barbed like a fish hook, so yep, it hurts.
I'm trying to cast aside such thoughts as I approach a hillside apiary outside the tiny village of Scotlandwell in Perth and Kinross.
I've come to meet Meik Molitor, head beekeeper for Webster Honey and a master of calm.
"If you're stressed and panicked, the bees will know," he tells me, as I struggle into an oversized bee suit, complete with fencing veil.
Meik, 40, is so confident he won't be stung that while he deigns to sport the top half of a bee suit, he goes bare-legged.
"It's fine if you work in a calm manner," he explains, opening up the first hive.
"I've been beekeeping for five years in Scotland. You never stop learning."
Meik's jobs is to look after the bees – which are a breed called Buckfast developed by Benedictine monk Brother Adam who was in charge of beekeeping at Buckfast Abbey in Devon from 1919 to 1992.
He also heads out to schools and nurseries to teach kids about the importance of bees in the ecosystem.
"Without bees, there's no us," he says. "We really need them because they pollinate flowers and trees, and we need the trees for our fresh air."
Meik says a "good, strong colony" in the summer can boast 60 to 80,000 bees. That's a lot of bees in one hive and while Webster Honey currently has 15 at Scotlandwell, they have hives across the country and hope to expand to around 200 by April next year.
"It depends on the weather – if it's cold, it's a concern," says Meik. "Last year was great, with lots of sunshine and water."
Bees travel up to seven miles to feed on heather and flowers, but while the workers (females) only live 50 to 60 days, and the drones (males) live 60 to 80 days, the queen lives for up to six years.
It gets rather complex but basically, there's one queen bee per hive, and she becomes queen thanks to the efforts of worker bees who feed her royal jelly at the larvae stage which is richer than the food given to worker larvae.
The queen bee, as the only sexually developed female in the colony and what Meik describes as "the big boss who decides what's happening in the hive", lays eggs to spawn the next generation of bees.
Why a particular bee is chosen to become queen remains a mystery.
She may die naturally, or the worker bees will kill her when she gets old by forming a cocoon around her so she overheats and dies. Grim stuff indeed.
Hovering beside the hive as Meik lifts out frames with varying numbers of bees crawling and buzzing around, I'm feeling surprisingly chilled out.
However, we need to keep the bees equally chilled, and that's why we've come armed with a bee smoker, which Meik encourages me to puff from time to time.
The smoker works by diverting the bees' attention from one perceived threat – us – to a greater fear – fire.
"The smoke calms them and triggers their survival instinct," explains Meik. "They interpret the smoke as wild fire and think they need to leave their home and find a new one. Their natural reaction is to first store as much honey in their bodies as they can, so they head back into the hive to gorge on it, and just like humans stuffed with food, this makes them lethargic – too slow to attack and sting."
Peering into the frame, Meik shows me a worker bee cleaning her cell.
Once she's done that, she starts feeding new larvae and then acts as a "guard" for the hive, stopping wasps and other insects from entering. At around 20 days old, she starts collecting nectar and pollen.
He gets very excited when he finds the queen, which he's marked previously with a non-toxic pen. She's longer and narrower than the other bees, and in my opinion, not as pretty!
As we progress down the hives, Meik finds some honeycomb and cuts it out so I can have a taste later.
"There's not enough honey for us to sell yet, but perhaps later in the year or in 2020," he says.
"The honeycomb cells are hexagon-shaped because it's an efficient, strong structure."
Sting-free and stripped of our bee suits, we head inside the log cabin to sample the honey. As expected, it's gorgeous.
While hopeful that there will be some to sell soon, Meik is passionate about training and educating people of all ages about the art of beekeeping.
Webster Honey runs day courses from the apiary at Scotlandwell and residential courses may be laid on soon. The business also goes into schools and nurseries.
info
Webster Honey is a sustainable honey business started by construction entrepreneur Daniel Webster and his partner, Emily-Kate McDonnell in 2016.
The beekeeping classes are run from Scotlandwell. These and school/nursery visits can be organised by contacting Michelle English on 01577 330452 or emailing buzz@websterhoney.co.uk
For more details, see websterhoney.co.uk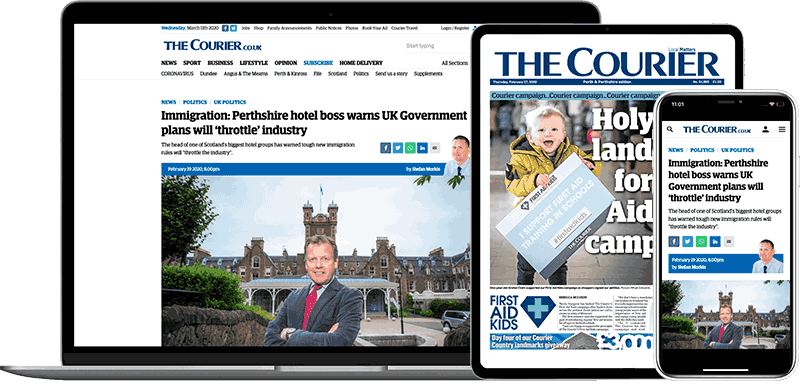 Help support quality local journalism … become a digital subscriber to The Courier
For as little as £5.99 a month you can access all of our content, including Premium articles.
Subscribe