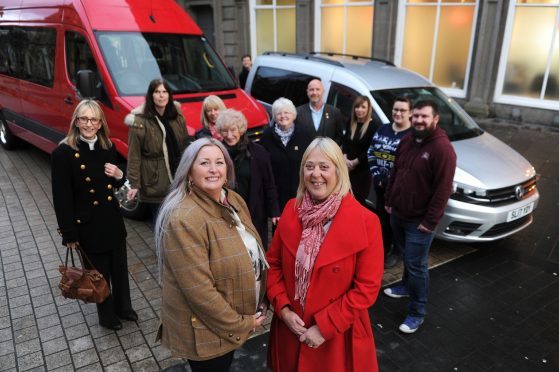 A Dundee disability group which had its lifeline vehicles torched beyond repair is mobile again thanks to Tayside Euromillions winner Gillian Bayford.
The Inclusion Group was left without transport after its wheelchair-accessible van and car, which were parked outside the group's offices in Meadowside Lane, were set on fire last month.
It had taken years to fundraise for the vehicles, which were used to pick up and drop off service users at events and activities.
On reading about the group's plight in The Courier, Euromillions winner Gillian – who scooped a £148 million jackpot with her ex-husband in 2012 – stepped in to help, gifting them a new minibus and a VW Caddy van.
Both are wheelchair-accessible and can transport more users than the old vehicles.
Inclusion Group manager Fiona Flynn said Gillian's act of kindness means "Christmas had come early" for service users.
"Discovering that our vehicles had been set on fire was absolutely shocking – just horrendous," she said.
"Some service users had to miss out on activities and we were having to pay for taxis at great expense. The fear was that they would continue to miss out indefinitely.
"When I heard that Gillian was going to kindly give us two new vehicles, I was over-the-moon. It's just fabulous – an amazing early Christmas present. We're having a Christmas disco on Saturday and we'll now be able to take people home after it."
Gillian, 45, said she was "flabbergasted" and "shocked" after reading the story at The Courier online's site.
"It was such a sad story, especially at this time of year. The group really needs these vehicles to be able to get out and do things and I just thought giving them some new ones would be a nice thing to do for Christmas.
"I'd heard of the Inclusion Group previously and had talked with one of their fundraisers, Alison Carr, about other fundraising issues.
"She introduced me to some service users and I decided I really wanted to help.
"I got in touch with John Clark Audi and within three hours, they had sourced two suitable vehicles.
"There's nothing quite like giving a bit of Christmas spirit at this time of year and I just hope that 2018 is a good year for the group."
As well as Gillian, a number of other businesses and big-hearted Dundonians have offered to help the group and Fiona has been overwhelmed by their generosity.
"The Dundee Northern Soul Oldies Club made a donation, and we've had people dropping in offering to help," she said.
"A few people offered up the use of their transport after the incident, which was just really heart-warming."
Police Scotland said enquiries into the destruction of the vehicles is ongoing.