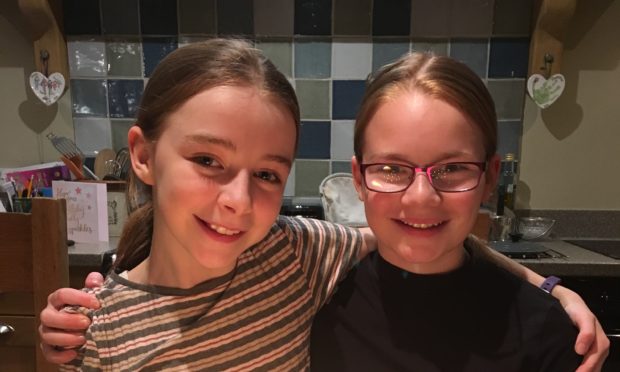 A pair of Angus pals have banded together for a festive fundraiser in support of causes close to their young hearts.
Helen Steel and Ruby Stewart have set aside their own excitement as Christmas draws near to prepare for an event this weekend in support of the charities linked to Motor Neurone Disease and the rare genetic condition Bardet-Biedl Syndrome.
The My Name'5 Doddie Foundation and Bardet-Biedl Syndrome UK will benefit from Saturday's coffee morning in Newtyle Legion Hall, with local businesses rallying round to help the 11-year-olds make the event a success.
Alyth Primary pupil Helen chose the foundation established by former Scottish rugby internationalist Doddie Weir after losing her grandfather to motor neurone disease.
For Dundee high School youngster Ruby, a family friendship with Kirriemuir couple Liam and Ashley Wilkie spurred her on to do something for the only UK charity dedicated to the disorder affecting their daughter, Caitlin.
Ruby's mum, Karen said: "The girls grew up in Newtyle and have stayed friends. They both go to Alyth Guides and decided that they wanted to do something for the charities, so they'll be splitting the proceeds 50/50 for the two causes.
"They've done it all themselves, sending out letters to local businesses to get raffle prizes and people have been very generous.
"They've made the posters for the coffee morning, been doing some baking and have also come up with other ideas including table decorations."
The event runs from 10am to noon on Saturday.
The My Name'5 Doddie Foundation has received incredible backing since the popular sportsman revealed his MND diagnosis in June 2017.
Although a much rare condition, Bardet-Biedl Syndrome received greater awareness thanks to the Wilkie family and Angus fundraisers who have supported their fundraising effoets.
The couple's daughter, Caitlin, was born with the condition which is likely to lead to the loss of her sight by the time she is a teenager.
Last year, having setting a £5,000 target for BBS UK, the couple were described as an "inspiration" after raising more than £20,000 for the charity.
They have continued to tackle a range of events to raise money, as well as receiving donations from supporters including a group of walkers who tackled an ambitious 100-mile trek in the footsteps of a regiment retreating from the Battle of Culloden.