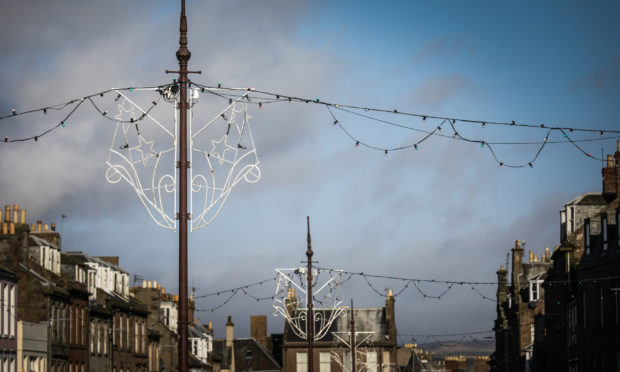 Bemused Montrose shoppers are wondering why it appears to be Christmas every day in the Angus seaside town.
The festive lights are still in place over the High Street more than a month after everyone else has taken down their decorations.
Locals fear the situation could turn the town into a laughing stock after a disagreement between community leaders led to the impasse.
Councillor Bill Duff of the SNP, said: "It is embarrassing they are still up in February. It is getting ridiculous."
The row could cost locals any future displays after community council bosses warned they would no longer take responsibility for the lights.
They are still in place after a disagreement between the Montrose Community Council and local firm Rix Shipping.
The Rix Shipping team have been responsible for installing and removing the lights – free of charge – in recent years.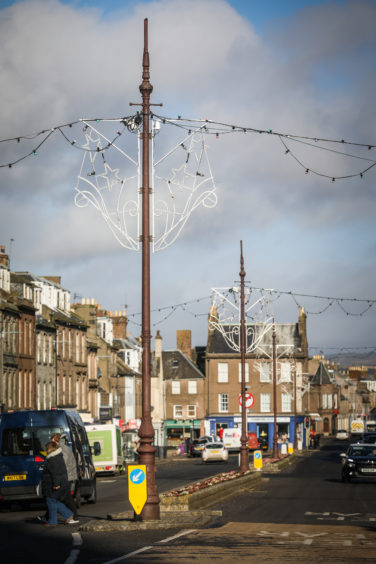 General manager Mark Cessford said he was asked in November not to take down the lights this year.
He said he was told "alternative arrangements had been secured for the role" his company had previously carried out.
"It is clear this original instruction was perhaps misguided," he said.
"The current situation is farcical and would portray Montrose as being a dysfunctional town to any outside visitor."
He said his team would take the lights down at some point this week as nobody else had come forward to do so.
"This is not acceptable. We will remove the lights within the next week, thus saving the town from any further embarrassment."
Montrose Community Council leader Charlotte May hit back, claiming safety concerns had sparked the fall out with Mark's company.
She said: "We asked him to keep the lights up when he threatened to take them down before Christmas."
She said she then found out Angus Council rules meant the same company that installed the lights were obliged to remove them.
"Had Mark not been able to, we would have sorted it," she said.
The argument began after she questioned recent safety tests carried out on the lights.
"When the lights went up the majority of them did not work and we were trying to find out why. There were broken sockets and bulbs missing.
"The emails we received in response were not very nice at all," she added.
She said the community council is now looking for another voluntary or charity group to take full responsibility for the lights display.
"If nobody takes this on then there won't be any lights," she added.
Mr Cessford said his company still wishes to be involved in the display in the future.