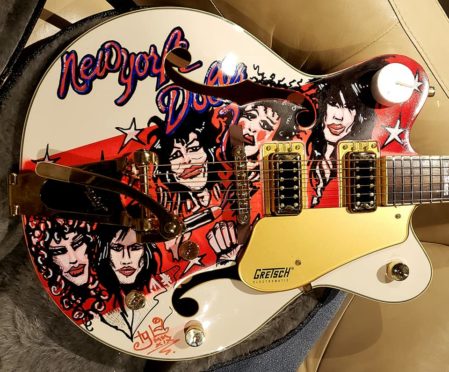 Rock legends have rallied in support of an Angus businessman's effort to support the cancer-stricken US star of one of the early punk era's pioneering bands.
Rolling Stone Keith Richards, Slash of Guns N' Roses and a host of fellow musicians have signed a unique guitar being auctioned online to help fund the treatment of New York Dolls star Sylvain Sylvain, after the globally-renowned rocker added the unlikely setting of Forfar to a tour CV stretching across five decades.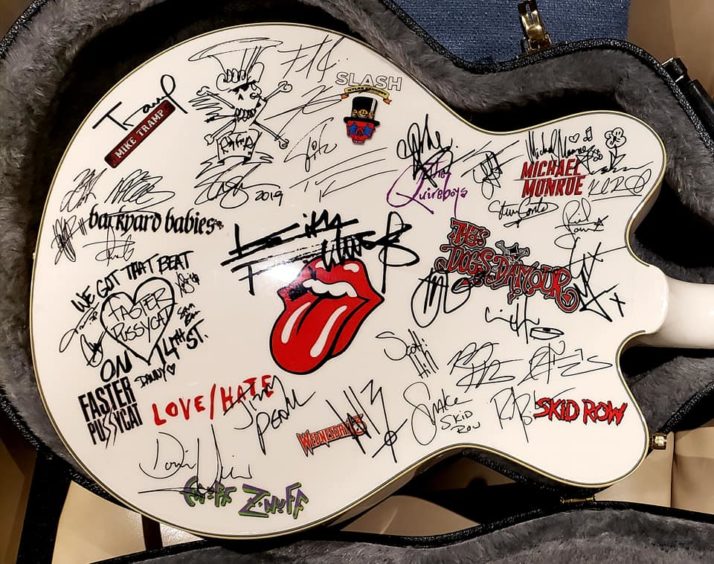 Businessman and diehard rock music fan Alan Hampton, the owner of Bar 10 in Forfar town centre, managed to bring the star to Angus during his There's No Bones in Ice Cream tour.
Sylvain's book of that title charts the story of the band formed in New York in 1971 which was the influence for groups including the Sex Pistols, Kiss, the Ramones, Guns N' Roses, the Damned and The Smiths.
Bar 10 has hosted a string of big names for intimate gigs – Sex Pistols bassist Glenn Matlock and the Skids among them – but for Alan the arrival of one of his music heroes was a dream come true.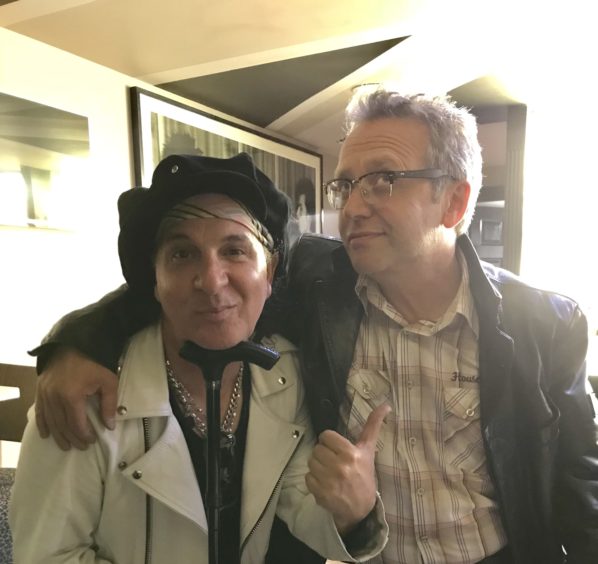 "It was something I could never have believed would have happened, but through a bit of perseverance and a lot of phone calls we got him here," he said.
"He was such a lovely guy and played for around an hour and a half to a packed Bar 10 – it was one of the most surreal moments of my life," added Alan.
Sylvain later revealed he is suffering from cancer, with the rock world and fans rallying to support a crowdfunder to help meet his US medical bills.
"I though we could maybe do something else to help and with my friend and business partner Tyla of Dogs D'Amour fame had the idea of buying a Gretsch guitar, which both Sylvain and Tyla play, getting Tyla to paint it with one of his special designs and then auctioning it off," Alan said.
The project quickly took off, with Gretsch donating one of its famed instruments and with a hand-painted New York Dolls design put on it by Tyla, he then asked his friends in the international rock community to sign it.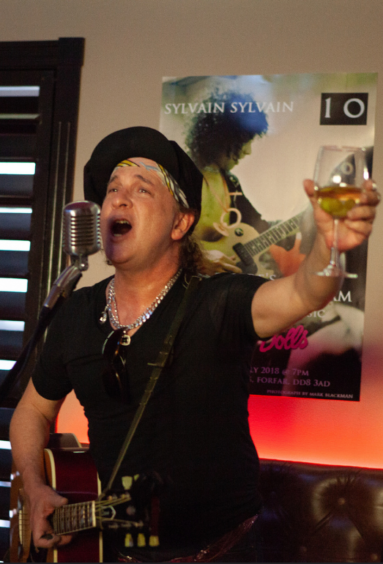 "It is an absolutely stunning guitar," added Alan. "It is a one-of-a-kind piece of rock memorabilia that reads like a Who's Who of 80's and beyond debauched rock music in all its finest glory."
Currently on offer in an ebay auction launched on Sylvain's 69th birthday on Valentine's Day, it is sitting at over £3,000, with the hammer due to fall on February 24.
In another memorable development for Alan, Dogs D'Amour and guitar legend Rich Jones of the Michael Monroe Band released a cover of the Dolls' classic song, Pills and invited the Forfar musician to play lead guitar on the track.
"That was a massive thing for me to be asked to play with a couple of my music heroes and that track is now available for download with all the proceeds being donated to Sylvain," said Alan.