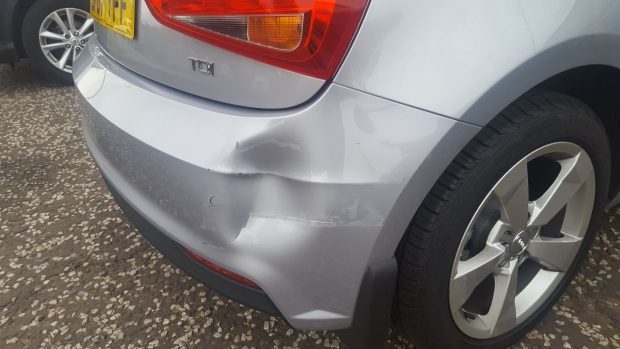 An Arbroath woman has told of her anger after her courtesy Audi was damaged in a "hit and run", leaving her £250 out of pocket.
Unless the culprit is traced, Karen Dickson will have to pay for the "big dent" left on the back of the vehicle.
Police have been notified of the incident, which happened on Warddykes Road on Tuesday.
Officers are asking for anyone with information to come forward.
Karen said: "Our Audi was in the garage, so the gave us a courtesy Audi A1 in the meantime.
"We only got it on Monday, and the next day when I came home I saw there was a big dent on the back of it.
"My partner had been in the garden cutting the grass, so he didn't see or hear anything.
"The car was parked in the car park near our house on Warddykes Avenue, but the neighbours didn't see anything either.
"If anyone has any information can they please pass it on.
"We think the car was hit some time between 1.30pm and 4.10pm on Tuesday.
"If we don't find the person then we'll have to pay the insurance excess, which is £250.
"It's an expense we could do without, especially with Christmas coming up soon.
"This is a hit and run. The dent is so big, the person responsible must have known they'd hit something – I just can't believe that someone would do that."
The courtesy car has now been returned to the garage.
A police spokeswoman said: "Police Scotland is carrying out enquiries and anyone with any information is asked to call 101 quoting ref 2457 of 3 October."