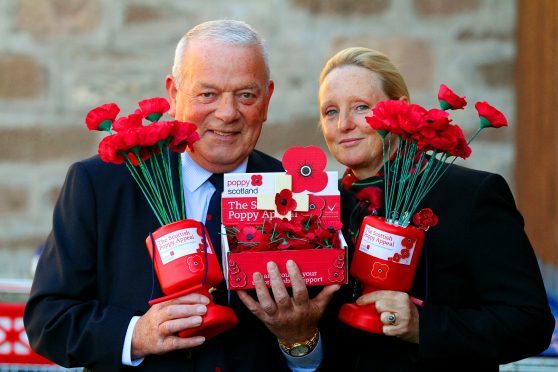 The oldest British Legion branch in Scotland could eventually be forced to close due to a lack of collection volunteers, it has been claimed.
The 96-year-old Forfar Royal British Legion Scotland (RBLS) branch desperately needs volunteers to step forward after husband and wife Charlie and Margaret Brown were left to run the club's Poppy Appeal on their own this year.
The pair, who have been involved with the Forfar branch for almost 25 years, claim in the last few years volunteer numbers have dwindled.
The pair are appealing for members of the public, ex-service personnel and current legion members to "step up to the plate" and volunteer some time to ensure its survival in the coming years.
Charlie, who is RBLS national chairman, said he has been saddened to see nobody willing to help out with poppy collections.
He said: "This year we have absolutely nobody.
"If we can't get people to volunteer and collect then there will be no money to keep the branch open and so the club will also fold.
"I don't think people realise that each local club relies on the local RBLS branch to stay open. We are really struggling.
"We no longer have stalwarts such as Mick McKeown, who passed away two years ago. It's guys like him that we really miss now. He was the epitome of a legionnaire.
"He was involved for over 40 years and used to work so hard. We need people to step up to the plate and even just contribute a couple of hours."
Charlie and Margaret both have a long association with the Forfar branch with former Angus Council officer Charlie having been chairman there for many years.
In his new role as RBLS national chairman, Charlie is required to take part in a range of commitments connected to Armistice Day events.
The pair travelled down to London last year for the national Remembrance 
commemorations with each laying a wreath at the Cenotaph.
They are both due to head down to London again this year for the events.
Charlie added: "Because we are going down to London again it actually means there will be nobody collecting up here at all.
"It's not just in Forfar but in many places there just aren't enough volunteers.
"A lot of members of the legion seem to enjoy the social side of it but aren't willing to help out the charitable side.
"This two-week period is what being a legion member is all about. It's the highlight of the year and it's where we get our money from."
Margaret, who is the branch secretary for RBLS in Fife, Perth and Angus, added: "It is basically a one-man band. With the anniversary of the end of WW1 coming up next year, we badly need members to start helping out."
It comes as former soldier Grant Allen criticised so-called military "pseudo-charities" whose "expenditure on good work is dwarfed by fundraising costs, staff salaries and shops."