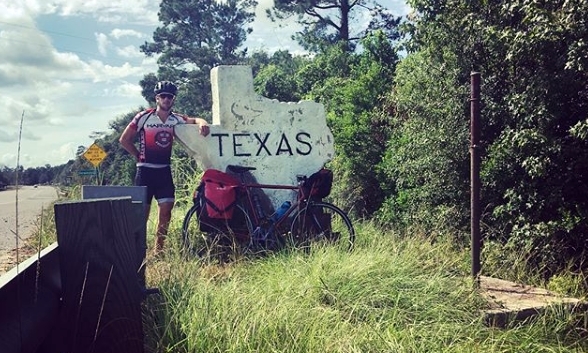 A world champion rower from Angus swapped paddles for pedals for an 8000km cycle through the North American continent to raise money for three good causes.
Kirriemuir's Sam Scrimgeour set off in early October and spent 48 days cycling from Key West, in the Florida Keys, to Vancouver, via the Grand Canyon, Los Angeles, San Francisco, Yosemite and more.
Sam took on the challenge after retiring from rowing and raised money for charities supporting athletes and an active lifestyle – Sustrans, the British Heart Foundation and SportsAid Scotland.
He said: "With changes being made in the Olympic rowing programme for lightweight men, I decided to retire from rowing, and thought it would be good to start a new journey."
Despite his upbringing in Angus, Sam admitted the changeable conditions were his biggest test.
"The thing that challenged the most was the weather," he said. "There was a lot of rain in Oregon. The wind off the Pacific hits you.
"That was a huge contrast between the south, where it was hot and humid in Florida, desert in Texas, and then rain and wind further north."
Time now for something a little different… @KeyWestExpress ferry… 2 wheels and lots of peddling from Florida to Vancouver pic.twitter.com/PunADcabs8

— Sam Scrimgeour (@SamScrimgeour) October 5, 2017
To maximise the amount raised for his chosen charities, Sam slept in a hammock each night and didn't spend any money on accommodation during the journey.
However, that brought its own challenges. One morning he was woken up by soldier telling him in no uncertain terms that he had to move on. Without knowing, he had stopped for the night at an air force base.
"I didn't expect to be woken up like that," he said. "I always tried to find a quiet place that wouldn't disturb anybody."
The @courier_dundee #texas style. 140mi from #pitstop in Austin. #cycling #roadTrip pic.twitter.com/yYNcXqioon

— Sam Scrimgeour (@SamScrimgeour) October 16, 2017
Despite the occasional mishaps, Sam says his cycle was a brilliant experience and has given him memories to last a lifetime.
"One of the highlights was seeing the Golden Gate Bridge," he said. "You see it so often on posters and films, but to actually be there and see it is quite special."
He added: "I have always enjoyed cycling so I don't see it as a challenge. It's just something I enjoy doing."
He had stops in Austin, Los Angeles and Lynden staying with family before finishing in Vancouver, where he also has family.
His great-uncle, who is in his 90s, helped devise the route.
"I'm lucky to have family dotted around the States," he added. It was difficult leaving my family after a day or two of creature comforts."
Sam won gold at the World Rowing Championships in 2015 as well as finishing first at last year's European Championships in Germany with partner Joel Cassells. He said his chosen charities support causes close to his own heart.
He said: "Sports Aid Scotland helps athletes financially before they get a chance to be on a programme. I would have liked that coming up if I knew about them.
"Sustrans works towards creating more cycle paths and the British Heat Foundation promote an active lifestyle and I believe in the mental and physical benefits of exercise."