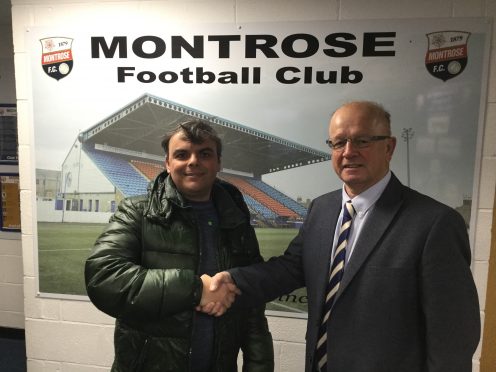 A Russian football scout has swapped the glamour of the Champions League for munching pies in Montrose.
CSKA Moscow's Sergey Vladimirovich was an unlikely visitor to Links Park for Tuesday's League 2 match against Cowdenbeath.
Club secretary Brian Petrie said the VIP guest was treated to the full "Gable Endies experience", including his favourite half-time snack.
The talent spotter normally covers matches in the Bundesliga in Germany for CSKA, who qualified for the knockout stages of this season's Champions League.
But pie-loving Sergey decided to join a crowd of 543 at Links Park during a Scottish scouting mission to watch the Old Firm derby in Glasgow.
He is now heading south of the border on another spying assignment to take in the FA Cup tie between Nottingham Forest and Arsenal at the City Ground on Sunday.
Brian said: "We were delighted to welcome Sergey Vladimirovich to Links Park on Tuesday as the CSKA Moscow scout was keen to take in a League 2 game as part of his most recent works trip to Scotland.
"Sergey was in the country to cover the Old Firm match last weekend and is heading south of the border to watch the Nottingham Forest versus Arsenal FA Cup tie.
"Having been to many other Scottish clubs over the years, he noticed Stewart Petrie's side were top of the league and decided to experience first-hand the Gable Endies experience.
"Although he normally covers the German Bundesliga, Sergey enjoys his Scottish trips as he always loves the pies.
"We gave him access to our WJ Lounge at half time so he could enjoy a complimentary cup of tea and a local pie."
Fans at football matches in Russia usually eat sunflower seeds, pistachios and other nuts at half-time although hot dogs are on the rise.
Founded in 1911, CSKA is the oldest football club in Russia and had its most successful period after the Second World War with five titles in six seasons.
It has won a total of seven Soviet top league championships and five Soviet cups including the double in the last-ever season in 1991.
The club has also won six Russian Premier League titles as well as a record seven Russian Cups.
CSKA Moscow also became the first club in Russia to win one of the European cup competitions, the UEFA Cup, after defeating Sporting Lisbon in the final in 2005.