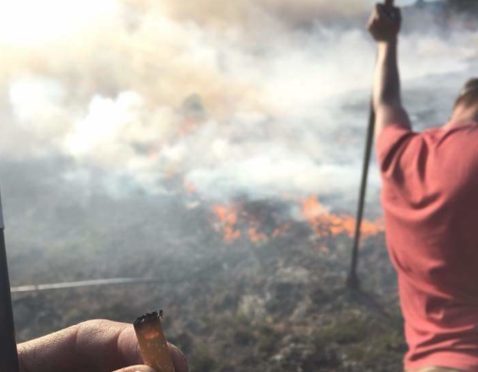 Angus gamekeepers battled for hours to bring a wildfire on the Angus moors under control.
It is believed the blaze was started by a discarded cigarette.
Members of the Angus Glens Moorland Group sprang into action, fearing the blaze would take hold on the Invermark Estate.
Two males were reported to be seen in the area and cigarette butts were found at the source of the blaze.
At its height 18 gamekeepers tackled the wildfire as temperatures soared into the 30s.
The fire started between 4pm and 4.30pm on Thursday and was quickly responded to by the gamekeepers in the surrounding area.
With their rapid response the fire was contained and under control quickly.
The area of hill is not particularly popular among hill walkers, although two males were spotted heading up the hill on the north side of Loch Lee.
A spokesman for the group said: "With the heat we are experiencing, this could easily reignite at any time and will need to be closely monitored.
"It has been extinguished, however with it burning into the peat it could easily ignite again with this heat and will require close observation.
"We have already dowsed the peat with over 500 litres of water."
The ferocity of such fires was demonstrated this week as hundreds of fire and army personnel tackled a major wildfire on the Pennine moors.
The Angus outbreak was condemned by the Scottish Fire and Rescue Service which warned of the potentially devastating consequences.
SFRS Area Manager Bruce Farquharson, chair of the Scottish Wildfire Forum, said: "Wild and grass fires can start by the careless disposal of cigarettes and barbecues or campfires left unattended.
"They then have the potential to burn for days and devastate vast areas of land, wildlife and threaten the welfare of nearby communities.
"Many rural and remote communities, such as those in the Highland area, are hugely impacted by wildfires, which can cause significant environmental and economic damage.
"Livestock, farmland, wildlife, protected woodland and sites of special scientific interest can all be devastated by these fires — as can the lives of people living and working in rural communities.
"Just one heat source like a campfire ember can cause it to ignite and if the wind changes direction even the smallest fire can spread uncontrollably and devastate entire hillsides."
The SFRS works closely with land managers, communities and other safety partners to prevent these incidents ever occurring.
Mr Farquharson continued: "Right now, many firefighters across Scotland are actively tackling wildfires, working to protect our communities and their efforts have to be commended.
"However, many of these fires are preventable, and we again urge people to read our safety advice, and enjoy the weather responsibly."