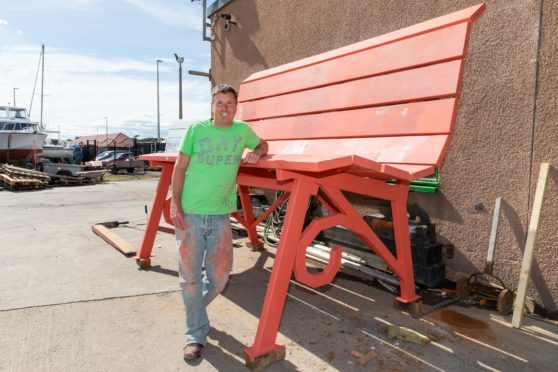 A former chief designer at BMW is trying his hand at decorating Arbroath's Keptie Pond.
The town is set to house the first "community bench" to be installed outside of Italy.
Former BMW chief designer Chris Bangle started the Big Bench Community Project around 10 years ago in the Mediterranean country.
The American-born designer came up with the idea of oversized benches in beautiful surroundings to create the sensation of a child sitting in a park or other outdoor area.
There are 53 benches across the nation in beauty spots such as Verona, Merana and Cassinasco.
With the Keptie Pond's set to be the first international one, interest in Italy has been piqued as a number of magazines are poised to cover the installation.
The idea to bring it to Arboath came from Scott Shortridge – a volunteer with Keptie Friends – after reading an article about Mr Bangle.
Mr Shortridge, 46, said: "There was a bit about his work with the Big Bench Community Project and I thought it would be a good idea to have one at Keptie Pond.
"I contacted Chris and he got back quite quick saying he was interested. I had to get some footage and aerial photographs for where it would go and they were keen to go for it after seeing that.
"I got the blessing from Angus Council with some help from Councillor David Fairweather, who was a great support, to go for it.
"Mackay Boat Builders agreed to help and told me how long it would take and a cost, so we went for it.
"I didn't realise it would be the first one out of Italy, but I've come to realise that people are very excited for it. There's going to be some coverage in the Italian versions of Vanity Fair, Elle Decor and some other magazines. I think it will bring a lot to the area."
The bench has now been fully assembled, with the help of Mackay Boat Builders, and only requires a final gloss coat of paint to be finished.
The Italian project organisers have released a "bench passport" so that people can visit all the benches and tick them off on their travels.
Each bench has an individual stamp to be collected in order to complete the passport. Information is posted near each bench.
The Arbroath bench is scheduled to be installed on August 15.