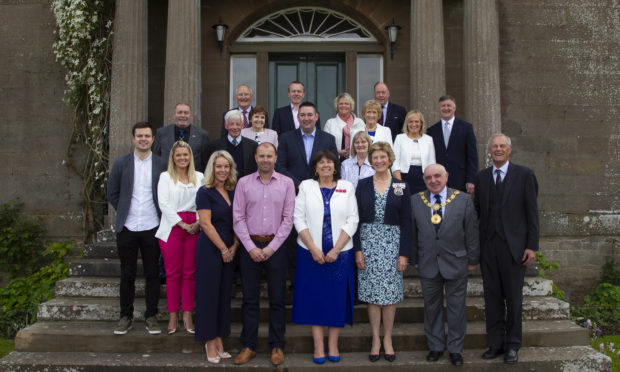 Amanda Kopel has spoken of her joy at learning how people are already benefiting from Frank's Law as she collected her British Empire Medal.
The honour was awarded in recognition of the Kirriemuir campaigner's hard-fought battle to change the law over care charges for Scotland's under-65s.
On a night of mixed emotions, Mrs Kopel received the accolade, granted in the New Year Honours list, from Angus Lord Lieutenant Georgiana Osborne.
The ceremony was hosted by the Queen's representative at her home near Forfar and took place almost two months after Frank's Law legislation came into force north of the border.
The law change followed Amanda's successful campaign, backed by The Courier, to abolish care charges for under-65s with debilitating conditions.
She and her husband, former Dundee United star Frank Kopel, launched it after he was diagnosed with dementia.
Amanda and her family continued the battle following his death in 2014, shortly after his 65th birthday.
Their hard work paid off when the Scottish Government agreed to introduce the legislation in April this year.
"I am dedicating the medal to Frankie, he is the one who paid the ultimate price," said Amanda.
"I just feel so humbled and so honoured because of the scale of this award. I keep thinking back to the day the letter arrived from the Cabinet Office with the instruction to open it immediately – it sat there for four hours before I built up the courage to open it because I couldn't think what I had done."
Amanda has received recognition from many quarters for the successful campaign.
She recently called for the new rules to be properly and fairly put in place after highlighting fears of a developing "postcode lottery".
"While the recognition is so lovely and very much appreciated, there is still work to be done to make sure Frank's Law benefits those it was designed to help," she said.
"I recently received a lovely letter from a woman from Glasgow in her early 50s who suffers from MS.
"She wrote to say that she was so pleased that Frank's Law was going to make such a difference to her life. I just picked up the phone to her and told her that was the sort of thing I was delighted to hear.
"I really was so impressed and so happy for her because she was able to tell me the difference it would make to her life, being able to get a carer in to help her.
"It was a beautiful letter and that is the sort of story we need to hear about the difference Frank's Law is making to people's lives."