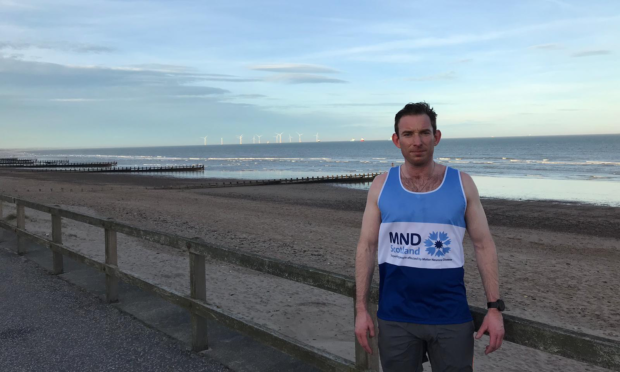 A young teacher has set off on one of the UK's most gruelling physical challenges in tribute to the Forfar man who would have been his father-in-law.
Ross Horne's journey will see him and his team sail, run and cycle between the UK's three highest peaks in memory of Gordon Orr, who passed away last year after living with Motor Neurone Disease (MND).
Ross, 31, whose family are based in Arbroath, hopes to raise £4,000 by completing the route known as the three peaks challenge, conquering Snowdon in Wales, Scafell Pike in England and Ben Nevis in Scotland.
He left on July 10 and expects to take a week to sail up the west coast of Britain and cycle between the mountains.
Ross is engaged to Gordon's daughter Nicki Orr, 29.
He said: "MND is a dreadful illness that strips sufferers of their independence, dignity and happiness. My fiancée's dad, Gordon, was diagnosed in January 2016 and although he made every effort to continue to do all the things he enjoyed including socialising, working, walking the dog and doing his garden the condition slowly stole all of this from him."
He said by the time Gordon died in April last year he "couldn't walk, talk or eat although his personality still shone from time to time, especially when he was surrounded by family."
Ross said he wanted to raise money for Lippen Care, who arranged Gordon's transport to and from Stracathro Hospital, MND Scotland and Project Scotland, on behalf of his fiance's family.
"The support they received from family, friends and local services allowed them to continue to function and support Gordon for as long as he needed," he added.
He said he deliberately looked for a way to make the three peaks challenge more difficult, hitting upon adding a section by boat when completing his planning.
He said: "Normally, people travel between the mountains by bike or car but I wanted to do something more challenging. So we're sailing up the west coast of the UK as well as cycling to the mountains and running up and running down.
"I like my luxuries, so sleeping in a boat for seven days is going to be pretty tough."
Ross said Gordon would have appreciated the ambitious journey.
"He was a scout, old school, active and fit.  He always enjoyed the outdoors and a challenge. He also loved an adventure so what better thing to do in memory of him?"
Nicki Orr said: "My dad would have been very impressed by the team's effort and itching to be part of it himself. I cannot express how grateful I am for all the love and support Ross has given me and my family and I hope the challenge can raise lots of money for three very worthwhile charities."
Donations can be made at
https://uk.virginmoneygiving.com/fundraiser-display/showROFundraiserPage?userUrl=3Peaks2019&isTeam=true