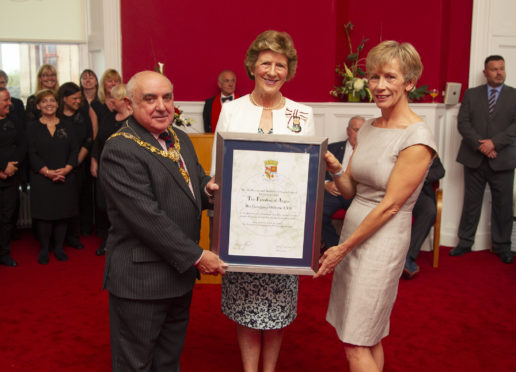 Angus has paid tribute to its longest serving and first female Lord Lieutenant in a Forfar civic reception for Mrs Georgiana Osborne as she stepped down after 18 years as the Queen's representative in the county.
At a gathering in the Canmore Room of Forfar's municipal buildings, politicians, civic dignitaries and representatives of local organisations gathered to thank Mrs Osborne for her service in a role which the company heard described by Provost Ronnie Proctor as having been performed with "vigour and great distinction."
Mrs Osborne was welcomed by music from for the Scottish Police and Community Choir, before the first public rendition of two tunes composed in her honour by Glamis fiddler Sandy Ingram, a slow air titled Air to Georgie, followed by the Lord Lieutenant's Jig.
The company included her predecessor Lord Lieutenant, Lord Airlie, and Mrs Pat Sawers, the chairman of Carnoustie Golf Links who is succeeding her in the important role.
She was also presented with the certificate confirming her appointment as a Freeman of Angus, an honoured conferred by a special meeting of the full Angus Council this month.
"I am totally overwhelmed, incredibly honoured and very proud to have been made a Freeman of Angus," she said.
Born in New Zealand, Mrs Osborne and her husband, James settled in Angus 45 years ago and her involvement in local life, particularly the Red Cross, led to her taking up senior positions with the organisation before becoming Lord Lieutenant.
She said: "I have had the honour of welcoming all the senior members of the Royal family to Angus, some of them several times over."
Her last major Royal duty was to welcome the new Earl and Countess of Forfar to the town on their first official visit at the beginning of July in a day declared a runaway success by those involved.
"Supporting the broad life of the community is an important role for all Lord Lieutenants and is a role I have particularly enjoyed," she added.
Mrs Osborne made special mention of the 13 local organisations which have been recognised with the Queen's Award for Voluntary Service, and the links with military organisation including HMS Montrose and 45 Commando at RM Condor, Arbroath.
"I feel so lucky and privileged to have been given the opportunity to serve both The Queen and the county for the past 18 years," said Mrs Osborne.
"It has been an incredible journey and one for which I shall be eternally grateful."