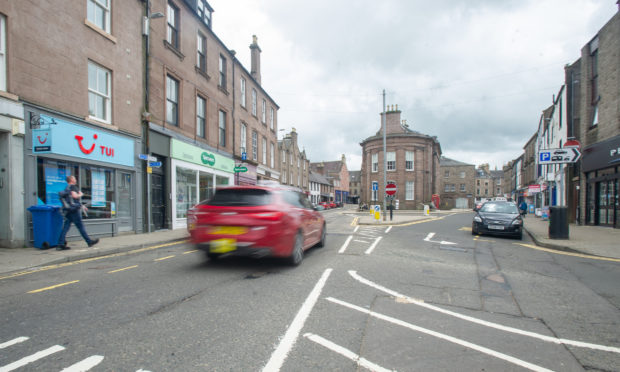 Public wifi, spruced up beauty spots and a rock and roll memorabilia museum for the home town of AC DC rocker Bon Scott have been put forward as bids for a slice of a seven figure fund to improve Angus town centres.
Councillors will decide on Thursday how the £1.08 million Scottish Government administered Town Centre Fund, administered by the Scottish Government.
Angus Council previously agreed to split the cash on a burgh population basis and a range of ideas were put forward by communities.
An online feedback page had a poor response rate, with less than 10% engagement from every burgh other than Monifieth.
Under the scheme, Arbroath will receive £312,000, Brechin £94,000 Carnoustie £148,000 Forfar £184,000 Kirriemuir £77,000, Monifieth £107,000 and Montrose £156,000 and successful projects will be chosen at a meeting of the full council.
Initiatives such as cleaning gutters and making minor repairs to town centre buildings are in the pipeline, alongside ideas to improve Angus as a whole.
Council finance chief Ian Lorimer stressed the rules of the scheme mean that unused grant must be repaid to the Scottish Government, unless the authority is given permission to go beyond the September 2020 deadline.
"This is a significant constraint on what may be practically possible to deliver within the timescales set down and restricts to an extent the options and projects the council can pursue," he said in his report.
"A number of projects and suggestions lacked clarity or detail as to the intention of the consultee so officers have necessarily had to apply judgements about what the projects and suggestions might entail.
"It must be emphasised that projects which have not been shortlisted have in several cases been because of the constraints applying to this fund rather than the project not having merit."
Schemes shortlisted for funding include:
Arbroath – Tourism app, public wifi, bike kennels and the rehousing of posters from the Abbey Quarter around the town.
Brechin – Refurbishment of cemetery den, creation of tourist points/touchscreen facility.
Carnoustie – Beachfront improvements, upgrade of underpass leading to golf course/beach.
Forfar – Public mural of Forfar history, lighting of prominent buildings.
Kirriemuir – Rock and roll memorabilia museum, updated tourist app.
Monifieth – Shop frontages improvement scheme, high street planting.
Montrose – Improvements to historic closes, public murals.