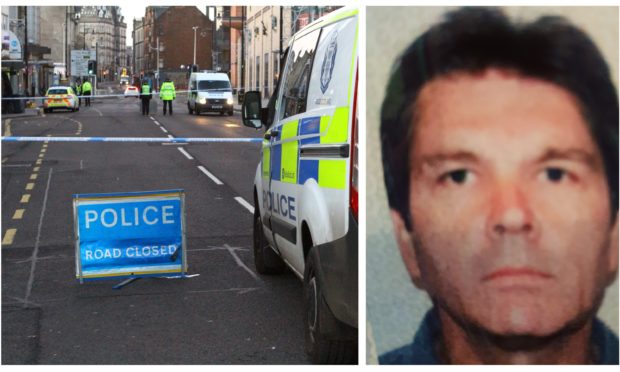 A jury has heard the frantic attempts to save the life of Brian Fox, but that the head trauma sustained during a street brawl was too much and cost him his life.
Nicholas Edwards, 61, a Scottish Ambulance Service technician, was on the scene minutes after an argument for a taxi in the early hours of January 1 this year, which ended with Mr Fox on the ground.
Mr Edwards said Mr Fox's injuries were "quite mushy to the touch".
Wes Reid, 20, and Adam Valentine, 25, are accused of Mr Fox's culpable homicide.
Both men deny the charges and Reid, of Newport Road, Tayport, said he was acting in self defence.
Valentine, of HMP Perth, also faces a litany of other assault charges.
The court was previously shown CCTV evidence which suggested Mr Fox fell backwards after being punched or pushed when he approached a group fighting on the road by the Steeple Church taxi rank.
Mr Edwards described the scene he to Edinburgh High Court.
He said: "He (Mr Fox) was unconscious. There was injuries to his face and blood around his nose and mouth.
"There was swelling, particularly at the back of his head.
"He was still breathing but it did deteriorate and we had to take action.
"We inserted a tool where you can open the airways but he didn't accept that, he spat it out."
Mr Edwards explained this was an involuntary action as Mr Fox was still unconscious.
The ambulance crew then used an nasal alternative and managed to stabilise Mr Fox as they took him to Ninewells.
Whilst at the hospital, the patient received treatment from Dr Shobhan Thakore.
Mr Thakore, 52, said: "He showed the signs of a serious head injury.
"We had to clear his airways to see the blood and vomit there.
"We put him on a ventilator to take over breathing.
"My prognosis wasn't good. There wasn't any signs of improvement.
"We did not feel he had a survivable injury, then we made the decision to withdraw treatment. As soon as that happened his condition deteriorated rapidly and was pronounced dead at 6.15am."
The trial before Lord Beckett continues.