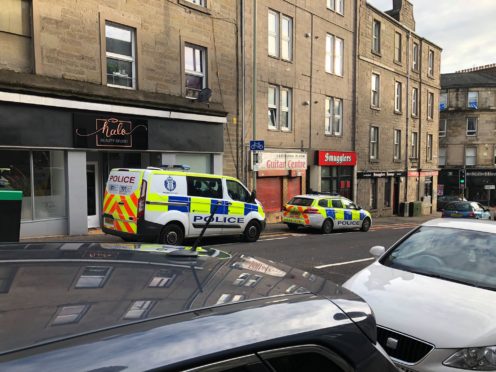 A bricklayer has been fined after being busted with eight cannabis plants worth £5000 in the shared loft space of his Dundee flat.
Adrian Bednarski admitted producing the Class B drug from his Albert Street flat but prosecutors accepted his claim it was for personal use.
The 23-year-old was caught on November 6 last year after a neighbour went to check out the source of a water leak and stumbled across the drugs.
Prosecutor Laura Hogg told Dundee Sheriff Court the man called the police after realising what he had found.
She said: "Two witnesses wished to enter the loft space above flats on Albert Street to attend to a water leak which was believed to be due to a flat with loose roof tiles.
"Access to the space is through each flat's individual loft hatch.
"The first witness attempted to climb up through the hatch but it appeared to be sealed shut.
"Upon gaining access, the witness observed what appeared to be numerous cannabis plants."
Police were contacted and Bednarski was arrested. The property was searched and eight cannabis plants were discovered with a potential maximum value of £,5000. Various drug paraphernalia was also discovered.
The discovery led to a day-long police operation during which officers were seen carrying out large bin bags full of the plants.
Workers from energy company SSE were also spotted entering the property.
They were believed to have been assessing the power supply due to concerns the lights used to grow the plants were unsafe.
Bednarski's solicitor Jim Laverty said his client had been given "somewhat of a fright" after police arrested him.
He said: "After being interviewed by police in the station he immediately stopped because he does not wish to be involved with the authorities at all.
"It's a serious offence but I would ask your lordship to consider an alternative to custody as he has no previous convictions.
"He maintains it was for personal use."
His not guilty plea to supplying the drug was accepted by the Crown.
Sheriff John Rafferty fined Bednarski, who is in full-time employment as a bricklayer, £1000.
However, he warned him: "This is now on your record so if you're in any further trouble things may be different."