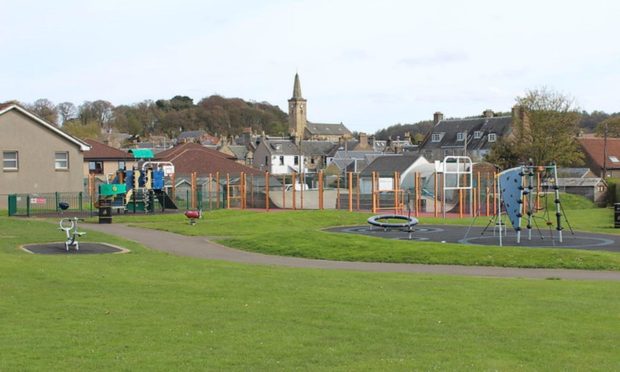 A man exposed himself to young pupils from a Fife primary school doing their Daily Mile exercise at a local park, a court has heard.
Serial sex offender Dale Henderson, 30, admitted exposing himself in a sexual manner in September, while youngsters from a primary school were walking around John Dixon Park.
Henderson has previously been jailed for six months for committing a sex act on a public bus in front of two 15-year-old girls, in May 2018.
Kirkcaldy Sheriff Court heard how teachers initially missed the incident but Henderson was swiftly tracked down after three of the shell-shocked pupils confided in staff.
Fiscal Ronnie Hay revealed a young boy – who cannot be named for legal reasons – had been taking part in the Daily Mile, which involved classes doing two laps of the park,  when he saw Henderson standing in the middle of the football pitch.
A short time later, when the boy was doing his second lap, Henderson was seen standing in a play park, close to the slide and swings, with his arms folded and exposing himself.
This was seen by at least five pupils and Henderson ran towards the boy and shouted 'what are you looking at?' before running away.
Mr Hay went on to reveal another witness, who was picking up her daughter near the school gates, saw a man acting suspiciously and looking "frantic" in nearby King Edward Street but initially thought nothing of it.
It was around this time the boy told a member of staff at the school there had been a "man with his willy out" in the park.
The matter was taken to headteacher Katherine Easson and the boy, another boy and a girl all corroborated his story when asked if they were positive the incident had taken place.
Police were contacted and clothing was later seized from Henderson's property which was all later identified by the boy and the woman who had been picking up her daughter that afternoon.
Defence solicitor Martin McGuire said his client had descended into such offending to achieve "some form of sexual gratification", and acknowledged it was now his fourth conviction for offences of a similar nature.
Henderson was sentenced to six months behind bars just over two years ago after putting his hands down his trousers in front of two 15-year-old girls on a bus travelling between Kirkcaldy and Leven Bus Station on May 22, 2018.
The then-28-year-old had been going home from the Moving Forward Making Changes treatment programme – which is designed to address the behaviour of sex offenders – when that incident took place.
Sheriff James Williamson deferred sentence on Henderson, who appeared via video link from HMP Barlinnie, until the middle of next month for further reports.