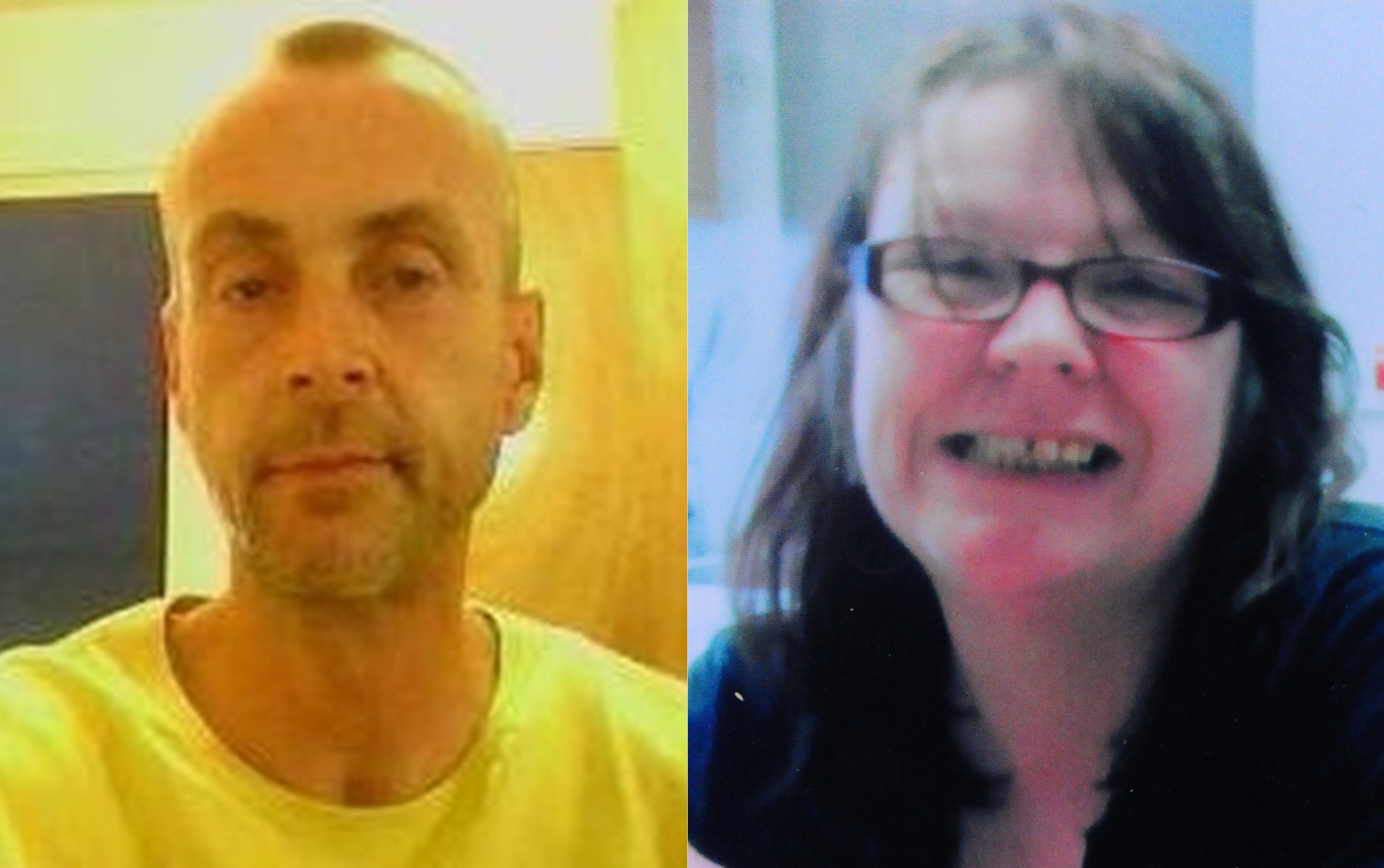 A drug addict has been found guilty of murdering and butchering his ex-
girlfriend.
Steven Jackson was convicted by a jury at the High Court in Glasgow after five weeks of harrowing evidence.
The 40-year-old bashed Kimberley MacKenzie about the head with a hammer more than 11 times and stabbed her repeatedly with a sgian dubh.
But jurors said there was not enough evidence to convict co-accused Michelle Higgins of murder, returning a verdict of not proven, while finding her guilty
of helping Jackson dismember and dispose of the body parts.
The pair were seen walking through Montrose town centre, holding hands and window shopping, while Miss MacKenzie lay dead in their living room.
The next day Jackson began sawing up the 37-year-old's body before bagging up the pieces and dumping them in bins throughout the town centre.
The couple were caught on CCTV taking a suitcase containing Miss
MacKenzie's severed head to an empty flat on William Phillips Drive.
The jury of 14 took more than 24 hours to deliver their verdicts.
They unanimously agreed that both accused had attempted to defeat the ends of justice by working together to cut up and dispose of the corpse.
Jurors also unanimously agreed that Jackson was guilty of murder, although it was the majority that ruled Higgins' murder charge had not been proved.
Lady Rae, who described the trial as "one of the most distressing cases I have had to deal with" told Higgins and Jackson: "I have difficulty finding
appropriate words to describe these horrific and depraved crimes."
She deferred sentence until January 17 for background reports.
Lady Rae told jurors that the evidence they had sat through was so grim that they were all excused from future jury duty for the next 10 years.
Jackson made what appeared to be an astonishing confession to his ex-wife, during a terrifying night at a Blairgowrie guest house.
He told Barbara Whyte that Higgins had hit Miss MacKenzie with a hammer and that he had slit her throat.
Miss Whyte said that Jackson appeared to go into a psychotic state as he told her about the murder, speaking as if he was back in his blood-soaked flat.
He even told Miss Whyte that he became sexually aroused by cutting up the corpse and made jokes about Miss MacKenzie's size.
Higgins, 29, told the jury that Jackson had assaulted Miss MacKenzie for no apparent reason when she visited his Market Street flat on October 27 last year.
Immediately after the killing, Jackson and Higgins went out to try to score heroin.
CCTV footage from the day shows how they appeared to be completely unfazed by what had happened.
The court had heard that Miss MacKenzie had been warned not to return to Jackson's flat.
It was alleged Higgins was jealous of her visiting her ex-boyfriend and "lost her temper" when Miss MacKenzie offered Jackson a sex act in exchange for drugs.
However, Higgins told the court she never had any problem with Miss MacKenzie.
Timeline to murder
The main events surrounding the murder of Montrose mum-of-three Kimberley MacKenzie:
October 24, 2015
Kimberley MacKenzie is "puzzled" to get a text from her former partner Steven Jackson's phone, saying she is no longer welcome back at his home.
October 26, 2015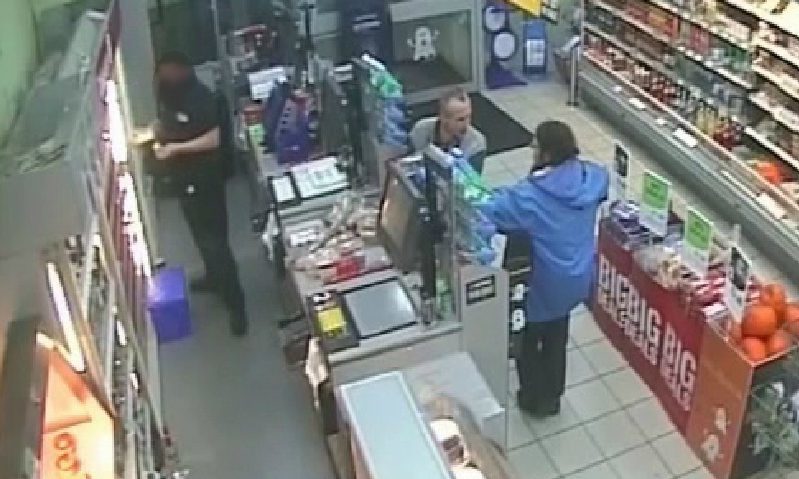 Miss MacKenzie is seen in the Co-op, High Street, with Jackson. They seem friendly, according to pal Michelle Emslie. Jackson suggests Higgins sent the text message and calls her a "psycho" and "bunny boiler."
Miss MacKenzie spends the evening with her friend Penny Verrall at her house. She leaves with Penny's 19-year-old son Danny and goes back to his flat. The pair have sex and spend the night together.
Jackson's ex-wife Barbara Whyte sends him a message via Facebook. Her first contact with him for about 17 years. He doesn't reply.
October 27, 2015
8.30am – Kimberley MacKenzie gets a lift to the pharmacist from her father.
Around the same time, Danny Verral returns to his mum's home with his brother Ryan and friend Le Davidson. They tell Miss Verrall that her son has had sex with her best friend. She goes "mental" according to partner and carer Phillip Keilloh.
11.30am (approx) – Mr MacKenzie sees his daughter alive for the last time. He drives past her in the High Street. She waves and smiles at him "as she usually did."
Miss MacKenzie goes to Miss Verrall's home, but is refused entry. Ryan says she was carrying a black rucksack with the number 90 on it.
Mr Keilloch said he and Miss Verrall went to Jackson's flat to buy legal highs "to calm her down." There, they met Higgins and told her that Miss MacKenzie had slept with Mr Verral. She produces a small dagger and asks them if they "wanted something done" about Miss MacKenzie.
Mr Verral meets Miss MacKenzie by chance in Lloyd's pharmacy. She tells him: "She's my best friend. I'm sorry for what I did."
Kimberley visits Jackson at 40A Market Street where she is beaten and stabbed to death.
October 28, 2015
Terance MacKenzie goes to Montrose police station and reports his daughter missing. He is concerned that she never met him to collect her bank card, which he was keeping for her.
Police visit Jackson's flat and tell him Miss MacKenzie is missing. They also question Mr Keilloh.
October 29, 2015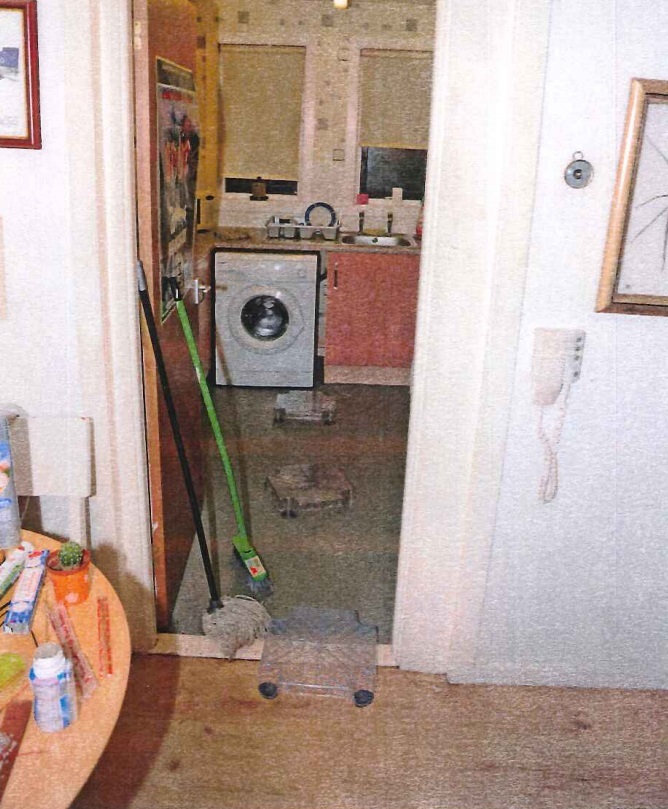 Two police officers return to Jackson's flat. They search several rooms and find Higgins in the bedroom. According to Higgins' evidence, the remains of Miss MacKenzie are bagged up in the kitchen, hidden behind the tumble dryer.
October 30, 2015
A suitcase and child's rucksack, with Miss MacKenzie's head and other parts, are dumped at 73 William Phillips Drive. Jackson and Higgins are later seen on CCTV walking through the town centre, carrying the haul.
Police return to 40a Market Street and arrest Jackson for an outstanding warrant. He spends the weekend in custody.
October 31, 2015
Higgins posts on Facebook "In a relationship" with Jackson.
November 1, 2015
Higgins sends a message to her father, saying she had "escaped from a psychopath" and had started "seeing a guy she'd been chasing for seven months."
November 2, 2015
Jackson is bailed from Forfar Sheriff Court. He sends ex-wife Barbara Whyte a Facebook message: "Just out cells. Court."
November 3, 2015
Miss Emslie learns that her friend Kimberley is missing when police turn up at her home.
Jackson and Miss Whyte agree to meet at the Fair O' Blair pub in Blairgowrie. They are joined by Miss Whyte's teenage daughter. Jackson tells her that her friend Kimberley MacKenzie died of a drug overdose two weeks ago.
11pm (approx) – Jackson and Miss Whyte go to a guesthouse on Balmoral Road. Alone in the room, Jackson tells her how he and Higgins killed Miss MacKenzie at their flat and chopped her body. Miss Whyte said he appeared amused and laughed about the police visiting the flat, while Miss MacKenzie's body was in the bath.
Miss Whyte said that Jackson had with him a machete.
November 4, 2015
9.30am – Miss Whyte and Jackson leave the guesthouse. Shaken by her "terrifying" ordeal, Miss Whyte kicks Jackson and runs to her mother's house. She later tells police that he shouted for her to come back.
4pm (approx) – Miss Emslie goes to Jackson's flat to ask about her missing friend. There are no lights on, which is unusual. She notices a strong "rotten" smell from inside.
Shortly afterwards, 48-year-old Lynne Grant visits her mum at Market Street. She sees Jackson acting "shifty" near the entrance to the bin store.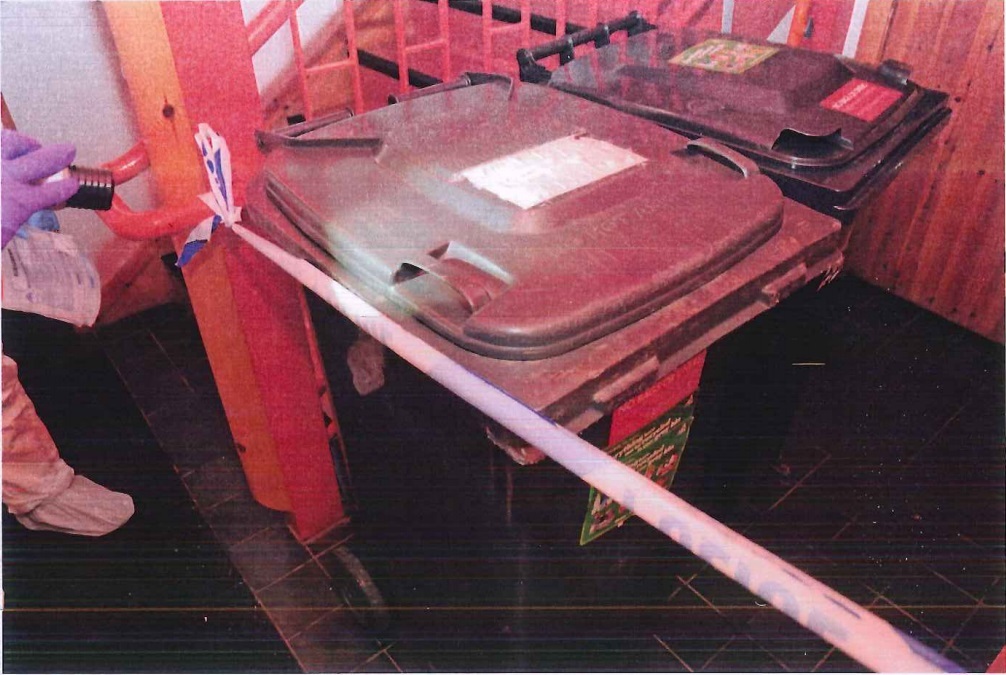 Evening – James Stibbles, who lives directly across from Jackson, finds a "suspicious bag" in his recycling bin. He takes it out and puts it into another bin.
8pm – David Melville confirms to John Cook – a friend from the local drug scene – that he has started seeing Higgins.
Police return to 40a Market Street. Jackson tells police he cut up Miss MacKenzie's body and fed her to pigs. He is taken to Montrose police station for further questioning and says that Higgins attacked Miss MacKenzie with a hammer because she offered him sex in exchange for drugs.
November 5, 2015
Police investigating Jackson's "confession" find body parts in bins throughout Montrose town centre. Jackson is charged with murder.
Higgins and David Melville take an early morning trip to Aberdeen to buy heroin.
November 6, 2015
Higgins is detained by police in Aberdeen. She is later arrested and charged.