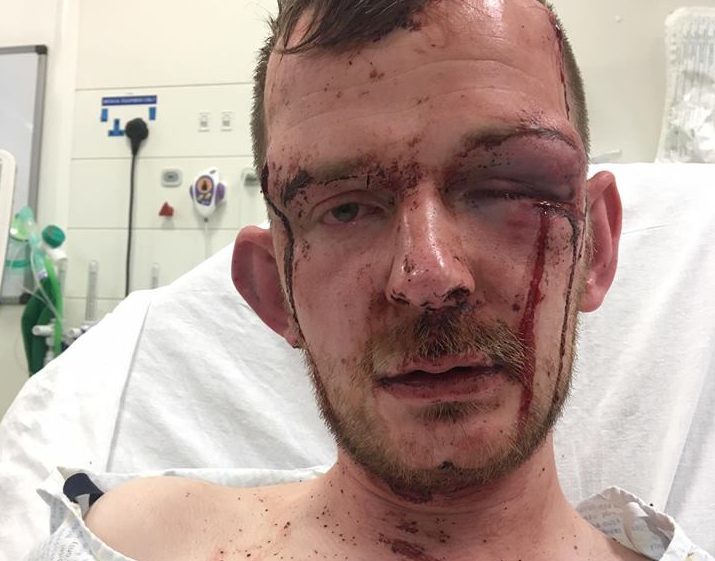 A Fife thug who left a man with special needs in hospital after battering him with a hockey stick has been jailed for 20 months.
John Arnott appeared at Kirkcaldy Sheriff Court yesterday after previously admitting the brutal assault against Peter Menellis at Kirkcaldy Bus Station in September 2017.
The 35-year-old was ordered to serve 20 months behind bars for the savage assault which left his victim with multiple cuts to his head and face that had to be stapled closed.
Mr Menellis, who has learning difficulties, was attacked after attending a memorial service for tragic teenager Libbi Toledo.
He had been standing at the bus station with friends following the gathering when he spotted the broken hockey stick.
Thinking it was dangerous, he picked it up and hid it down his trousers.
However, he subsequently got involved in a verbal altercation with Arnott and took the stick out and swung it at him.
The accused then grabbed the stick and began beating Mr Menellis on the head and body.
Witnesses saw at least three kicks being delivered to the victim's head as he lay curled up on the ground, shouting for help.
Arnott also previously admitted acting in a threatening and abusive manner on the same date at Wemyssfield Service Station and was given a six month concurrent sentence for it.
Fife brute admits savage hockey stick attack on special needs man
The father-of-five was given an additional six months, to be served consecutively, for a separate incident where he shouted, swore and urinated near the boot of his former partner's car.
Defence solicitor Mr Moore told the court his client had not entered into the brawl armed with the hockey stick which had been down Mr Menellis' trousers.
He said: "My clients position is quite clear in the narration. The complainer had realised that there may have been an incident about to occur.
"There's no dispute that the complainer armed himself with the broken hockey stick. The issue starts when the accused invites the complainer for a chat.
"I don't think the complainer thought that it was going to be a civil chat around the corner and knowing that, he had armed himself with the hockey stick down his trousers thinking that he might get the better of the accused which was not the case.
"It has been accepted that the actions of Mr Arnott go way beyond acceptable and caused very severe injuries.
"He accepts that he is on the cusp of being sent to custody."
Sentencing him, Sheriff James Williamson said: "I accept that you didn't start the fight in relation to the indictment matter however you took it way beyond anything that could have been seen as reasonable."