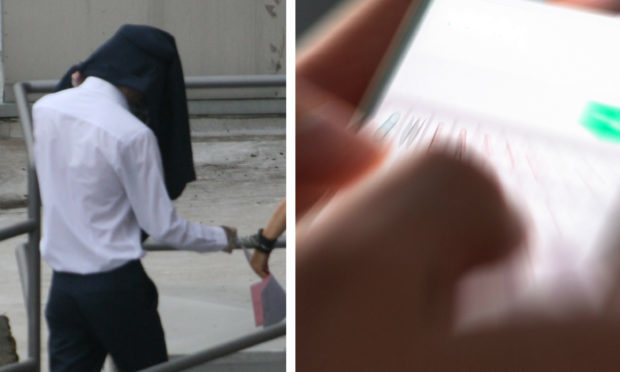 An online extortionist who posed as a fake modelling agent to con a "vulnerable" 15-year-old girl into sending naked photos to him was jailed for four years on Thursday.
Andrew O'Neill, 21, then sent a topless photo of the girl to two of her friends when she became suspicious and refused to send him any more photos.
The creep then tried to extort more images from her by threatening to send the pics to her friends and family if she didn't supply him with more indecent photos.
The horrific abuse only came to light when the girl's mother was involved – who informed the police.
They raided O'Neill's home near Dundee's Baxter Park and found evidence of his sick online scam – as well as a massive haul of child abuse images he had amassed on a laptop, tablet and mobile phone including a picture of a five-year-old girl being raped.
He was told by a sheriff that one of the images he was found with "might be described as an image of an atrocity".
Fiscal depute Nicola Gillespie told the court O'Neill's victim had been contacted by him on Facebook.
He used the psuedonym "Jennifer Watts", with a profile picture showing a young, brown haired woman in her early 20s and a profile cover photo describing "her" as a "modelling agent".
Miss Gillespie said: "The girl has high functioning autism and can remember events very clearly.
"She received a Facebook message request from a Jennifer Watts and believing her page to be legitimate accepted it.
"The accused complimented her on her appearance and said she had a lot of modelling potential.
"He asked her for clothed pictures. She was reluctant but he persuaded her.
"He later asked for pictures of her in her underwear and again she was reluctant but was persuaded.
"He later contacted her asking if she would feel comfortable sending images fully naked.
"She was again uncomfortable but he persuaded her and she sent images from the front, back and side.
"There was no contact after that and she became suspicious. Around a week later he asked for more images but she said no.
"He attempted to persuade her through flattery but she was adamant.
"Following this a school friend of the complainer received a message asking if she knew the complainer followed by a topless image of her.
"The complainer said she was contacting police but the accused begged her not to and agreed to leave her alone.
"He messaged again asking if she wanted to continue modelling but she said no.
"He threatened to send the images to family and friends on Facebook if she didn't send more."
Police were soon contacted.
O'Neill, of Baxter Park Glebe, Dundee, pleaded guilty on indictment to charges of attempted extortion committed between July 1 2016 and September 14 2016 and taking or making indecent images of children between July 11 2016 and July 31 2017.
Defence solicitor Scott Norrie said: "He is under no illusions as to both the extremely serious offences he has pled guilty to and how the court will treat those offences when considering sentencing.
"He has found it difficult in a custody setting and accepts he requires rehabilitation."
Sheriff Alastair Brown jailed O'Neill for four years and placed him on the sex offenders register indefinitely.
He said: "You constructed a deliberate deception in which you ensnared a vulnerable child.
"You exploited that successful deception to obtain photos of her partially undressed and ultimately obtaining naked photos.
"Having done that you moved on to blackmail and reiterated the threat by sending photos to two of her friends.
"You went on to download indecent images of children which included an image of the actual rape of a real five-year-old child.
"That is an image of the utmost depravity, indeed it might be described as an image of an atrocity."