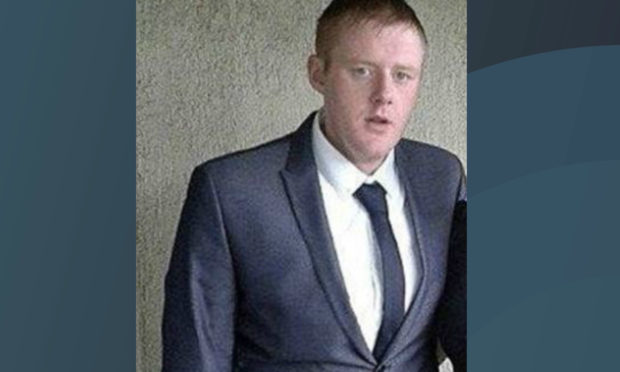 A man jailed for leaving a baby brain damaged in a horror attack he claimed was caused by the "stress" of a computer game is facing another prison term after being unmasked as a vicious domestic abuser.
Dale Thomson attacked three separate women – including the mother of the baby he left disabled for life earlier this year after attacking the tot as he babysat her.
He was jailed for four years and eight months last month after he admitted carrying out the attack after getting "stressed" while playing an Xbox game.
Medical experts predict the youngster is likely to develop cerebral palsy, epilepsy and motor and visual impairments, among other lifelong conditions.
Now Thomson faces more years in jail after he pleaded guilty to carrying out brutal attacks on three separate women.
One woman was punched and kicked while she held her baby, while a second was bitten on the forehead by Thomson in another savage assault.
The third woman – the mother of the child left brain damaged by Thomson – was at one point subjected to a brutal two hour beating that started while the woman was on the phone to his mother.
During that attack vile Thomson told her: "Look what you made me do, it's your fault, you do things to get a reaction out of me."
A sheriff told Thomson he now faces an extended sentence on the four charges he admitted at Dundee Sheriff Court on Tuesday.
Fiscal depute Charmaine Gilmartin told the court the first woman was attacked in October 2010 after an argument between the pair.
She said: "He punched her face and kicked her thigh while she was holding her baby in her arms."
Mrs Gilmartin said the second woman was in a relationship with Thomson that broke down and subsequently was rekindled.
She said: "There was an argument because they couldn't pay rent and were going to be evicted.
"She said it was because they were paying for his weed and he became angry."
Thomson then launched a horrific attack on the woman, throttling her before grabbing her face.
Mrs Gilmartin added: "He sunk his teeth into her forehead and bit her."
The final woman – the mother of the girl left brain damaged by Thomson – started her relationship with Thomson after having her daughter and they moved in together in June 2017.
Angus man admits attack that could leave baby girl disabled for life
The court heard of two attacks – the second of which a neighbour claimed went on for up to two hours.
The prosecutor added: "The complainer was on the phone to the accused's mother when he took the phone from her and said she was a 'f***ing bam'.
"Afterwards he grabbed her causing her to strike her head off a handle of a kitchen cupboard.
"While on the ground he kicked her on the back and legs."
Thomson then poured a bottle of water over her head.
A neighbour said two hours of noise followed that "sounded like him throwing her around and punching her".
Thomson, 27, a prisoner at HMP Perth, pleaded guilty on indictment to charges of assault committed at addresses in Dundee in 2010, 2015 and 2018.
Sheriff Alastair Brown deferred sentence until January for social work background reports that will allow him to impose an extended period of licence on Thomson when he is eventually released from prison.
He was remanded in custody.
In October Thomson was jailed for four years and eight months after he admitted assaulting the baby at an address in Dundee on April 1 2018.
The High Court in Glasgow heard Thomson had been looking after the girl on April 1 after her mother went to work.
He spent time that day playing an Xbox game online with a teenage boy while the child was asleep.
Prosecutor Paul Kearney said Thomson and the girl's mother went on to exchange text messages.
Mr Kearney said: "He mentioned that the game – which involved trying to complete certain 'missions' – was stressful."
The woman went on to state he looked "raging" after he sent her a photo of him playing the console.
She urged him not to play the game and asked him "not to take his feelings out on others" or she would switch it off on returning home.
Thomson later made a 999 call saying the girl's eyes were "rolling" and that she was not breathing. He claimed to have found her "floppy" in her cot.
The baby was rushed to hospital where she suffered seizures.
She was transferred to Edinburgh's Sick Children's Hospital where it was discovered she had bleeding on the brain.