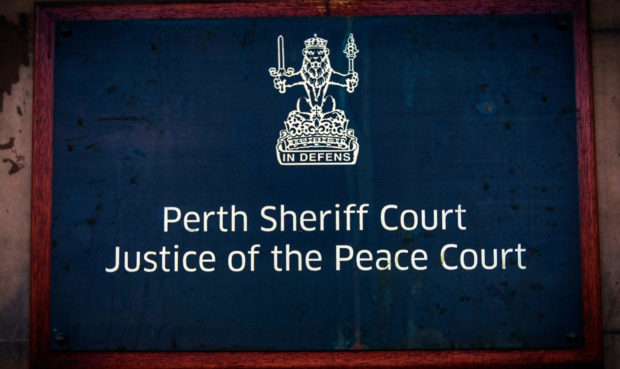 A church treasurer who spent years embezzling more than £34,000 from parish funds has been allowed to walk free from court.
Paul Melloy, 41, spent more than three years stealing money from donations at fundraising at Craigie and Moncrieffe Parish Church in Perth.
The fraud was yesterday branded "very hurtful" by the Church of Scotland.
But a sheriff refused to jail Melloy after being told he was a first offender and had arranged for his family to pay back the money he had stolen.
Sheriff Pino di Emidio ordered Melloy to carry out 300 hours unpaid work and tagged him on a 7pm to 7am curfew every day for the next year.
He said: "You will be punished by a significant restriction on your personal liberty."
Treasurer embezzled more than £34k of donated money from Perth church
Solicitor Melissa Rutherford, defending, said the father-of-two had started taking cash in a bid to cover his family's financial difficulties.
Melloy – who was also involved as a volunteer with a local amateur football club and a St Johnstone supporters group – started stealing almost as soon as he started as treasurer.
Ms Rutherford said: "He saw it as a quick fix and it snowballed from there.
"Nobody was looking which allowed him to get away with it. There wasn't a complex plan.
"His church support network has been shattered and Mr Melloy's reputation has been destroyed by his own actions."
Melloy – who was running a failing financial services business – cooked the church books to hide the money he was regularly paying into his own bank account.
Perth Sheriff Court was told Melloy started helping himself to church funds almost immediately after volunteering to become church treasurer in 2013.
Melloy, Hermitage Drive, Perth, admitted embezzling £34,771 from the church between April 7 2014 and December 1 2017.
He left the treasurer's post when the black hole in the church finances was discovered and led to a police investigation.
Depute fiscal Eilidh Robertson told the court: "He had sole access to the banking account for the church and he produced income and expenditure spreadsheets for the finance working group."
Six months after Melloy left the treasurer's role, another committee member was looking at the accounts when she noticed irregularities in a series of bank statements.
He admitted the fraud and his family have since repaid the cash.
The court heard yesterday that Melloy had moved to another parish and was offering his services as a volunteer in a non-financial role.
A Church of Scotland spokeswoman said: "We note the sentencing of Paul Molloy for embezzlement of church funds.
"This breach of trust has been very hurtful but we hope the conclusion of the court case will allow the congregation to move forward."