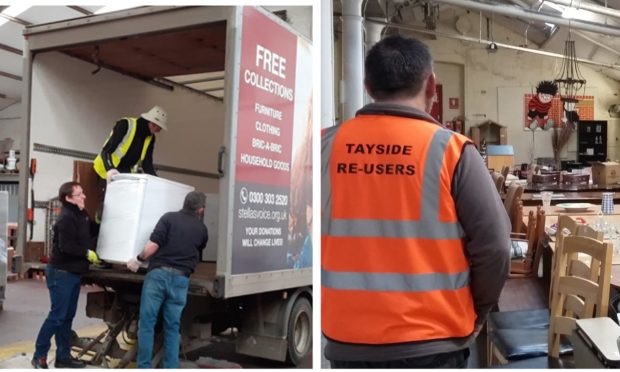 Fife and Dundee charities have stepped in to furnish accommodation and keep homeless people safe during lockdown.
Furniture Plus, Castle Furniture, and Tayside Re-users recently rushed to the aid of over 30 homeless in Aberdeenshire.
They are among vulnerable people across Scotland living in shared accommodation – hostels or bed and breakfasts – urgently being moved into individual homes to stop the spread of coronavirus.
The men and women were being moved to 10 properties by Aberdeenshire Council but needed items including white goods, tables, seating and beds.
The organisations managed to source enough stock and fellow charity Stella's Voice, based in Peterhead, made the roughly 200-mile round-trip to collect and deliver the goods.
Colin Bruce, general manager at Furniture Plus, which is based in Kirkcaldy and Dunfermline said: "As a Fife based charity, we have a long history of working to support people in need in the local area.
"But we were pleased to be called on to help out our hardworking colleagues from Peterhead by providing them with essential furniture and white goods for over 30 homeless people in Aberdeenshire.
"Meanwhile, we are also pulling out all the stops to ensure we can continue to work with Fife Council to supply them with quality reuse items to provide the essentials for local households in crisis at the moment."
The four charities are part of the Community Resources Network Scotland (CRNS) consortium which supplies quality reuse furniture to a number of local authorities.
The councils then provide this furniture to people in need either through Scottish Welfare Fund grants, or their homelessness services.
Fife Council has needed extra furniture from the consortium recently to help those in crisis while Dundee City Council sources furnishings from elsewhere.
Silv Ingram, CEO at the Castle Furniture Project, based in Cupar, said: "At Castle, we have a focus on supporting mental health as well as providing support to people in need in many ways.
"At this difficult time for many people, we have been focussing on setting up and operating our Elder's Crisis Contact help line, to ensure vulnerable older people have someone to talk to and give them advice and support.
"Being in a position to help our fellow reuse consortium members and pull together is an example of how we operate – adaptable, co-operative and go the extra mile to support the wider sector, particularly in such a crisis".