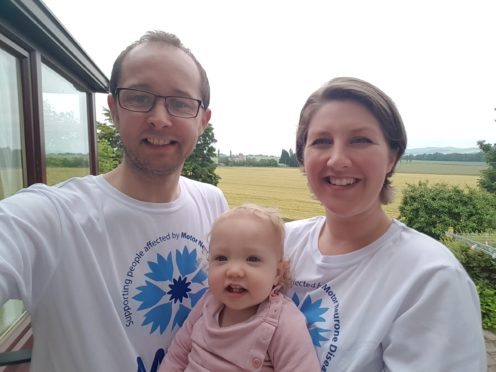 Two Dundee scientists have teamed up to raise money for Motor Neurone Disease (MND) research,
Chris Henstridge and Francisco Inesta-Vaquera, both researchers at Dundee University, will run as part of the global MND Awareness Day on Sunday.
They have also recruited family and friends from across Scotland and beyond to collectively run 361 miles, the distance from John O'Groats to Gretna.
Chris, 37, from Errol, is researching the causes of the terminal illness.
The virtual relay replaces MND Scotland's annual fun run, which usually takes place at Strathclyde Park.
Chris and Francisco's team will collectively run the 361 miles, starting with his father, Andrew Webster, who lives in John O'Groats.
Chris said: "I just established my research lab last year and I've since recruited a couple of PhD students who will work on MND-focused projects.
"Together, along with a research colleague in Dundee, we decided to set up a relay team to raise money for MND Scotland.
"We then decided to invite friends and family to run together as a large team. We have called ourselves the 'Intergenerational TransEuro Express' because we have members situated in John O'Groats to Barcelona and from one year old to almost 60 years old."
Chris, his wife Ashley, 34, and their one year old daughter, Ivy, are taking part, along with Francisco, his wife Virginia and their two children, Rodrigo, seven, and Alberto, five.
All funds go to MND Scotland and donations can be made at www.justgiving.com/fundraising/francisco-inesta